MAC Face and Body foundation- C4 Review
Hey Gurllzz,
Its time to finally talk about first in-store MAC purchase. The MUA put it with a synthetic foundation brush, just few swipes around my face and she was done, no blending nothing. I was dubious she must be in a hurry but there was nobody in the store, I also checked in mirror and I couldn't see any streak just a beautiful glowing skin. I couldn't hold myself from this magical liquid, so today I'm reviewing my favourite MAC Face and Body foundation.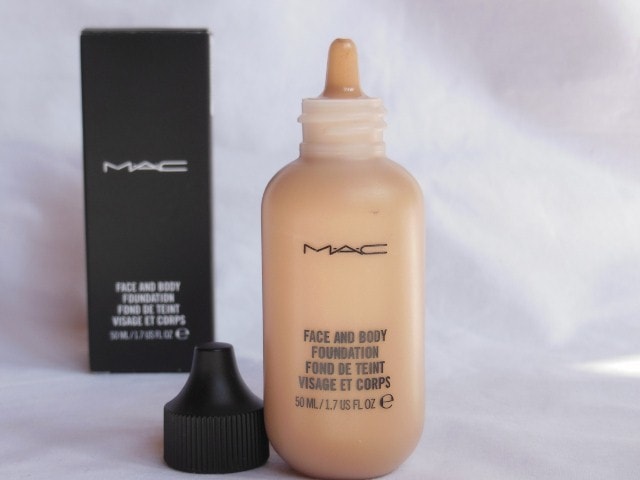 Product Claims: A comfortable, lightweight fluid foundation with a unique blend of emollients that delivers low-to-medium buildable coverage and a natural satin finish. Moisturizing, long-wearing formula glides onto face and body providing stay-true colour.
Ingredients:-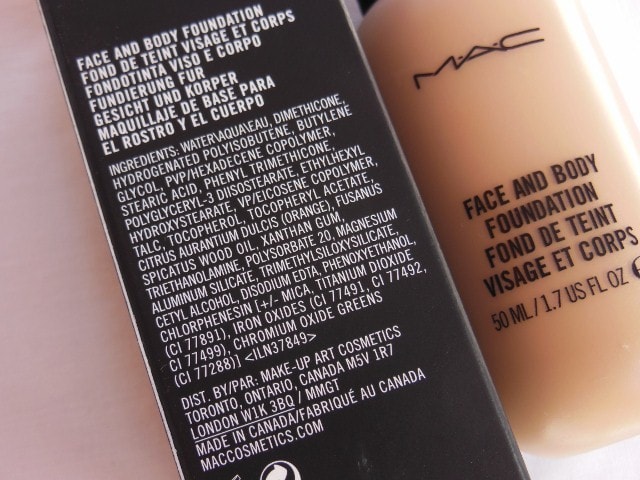 Price:- Rs.1700 for 50ml  (Available in 120ml as well)
Shelf Life:- 3 years from the Mfg date.
Packaging:- The foundation comes in a cute translucent beige plastic bottle with a nozzle on the top and a black screw cap. The bottle can be squeezed to dispense the amount required and nozzle helps in controlling the flow but be careful as you can not make the liquid back into the bottle, though I didn't faced much issues with it. Take a little amount at a time and dispense more as required. The packaging is fairly easy to use and travel with but if you do not pay attention to lock the cap tightly, the foundation might leak.
My experience with MAC Face and Body foundation- C4:-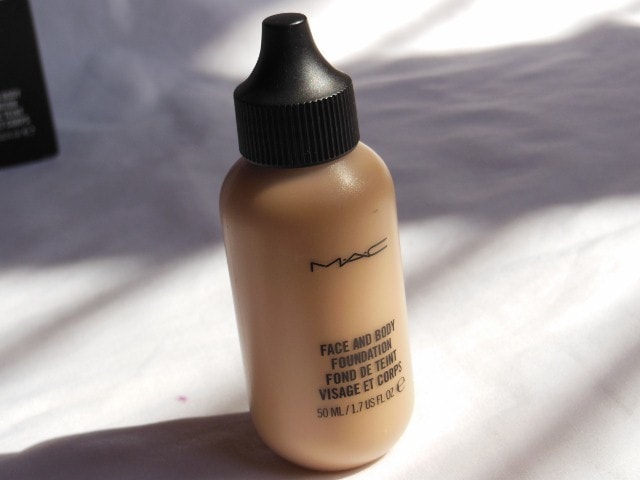 Texture: The texture of the foundation is runny, runnier than most of the liquid foundations available. It feels like it is water-based rather than cream-based due to its light, runny consistency but that eases the application part. It just melts into the skin without any blending or buffing pain. The texture is smooth that I can get a it applied with fingers as well.
Pigmenation: It adjusts with skin tone extremely well as it has enough warmth to blend completely in the skin. It provides easiest application and I don't need to worry about tricky blending thing. I am NC 40 and this C4 looks a tad warmer on me but I got it as I have darker forehead region.. I am eyeing C3 for winters and will use a mix of both for my perfect match.
Coverage: The coverage is light owing to its thin formula. It goes sheer and won't be able to cover redness or any acne marks, so I would suggest wearing a concealer beneath for covering the problem areas. Though, it can be improved by building it up in thin layers as the formula aids and it doesn't feel heavy or looks cakey. Let the first layer set and apply another thin one for more coverage. If you are looking for heavy coverage choose a different foundation.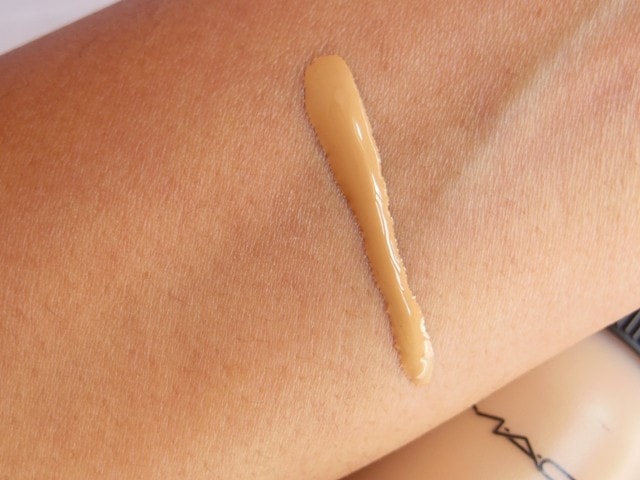 Finish: Coming to the best part of this foundation its luminous finish. If u consider it as radiant dewy that will be an under statement as it is highly GLOSSY on me! It makes me glow like I have implanted some 100 watt bulbs underneath my skin. I don't require any illuminator or highlighter with this. The finish is best suited for winters especially on dry skin which turns dull n life less due to dryness. I am always on the lookout for dewy finish foundations but this one has bowled me over with its impact.
Oily skinned girls may find the shine a bit too much to handle, on the edge of looking shiny but a light veil of powder will help control the shine but not compromise on the radiance
Staying: The foundation stays intact with least transfer till 7-8 hours one me and to improve the stay further, I set it with loose powder. It tends to get a little shiny (on my T-Zone) by end of day as I don't wear any primer beneath but it can be easily taken care by blotting or a little powder.
It can be applied with flat Top kabuki brush or even fingers. Nothing comes in its way as it blends like a dream. Immediate after application it feels a little sticky but that touch fades out pretty quick within next hour. It doesn't have any SPF so no white skin in flashes and it photographs amazingly well.
It makes my skin look awesome in pictures. I am going to use it more and more in FOTD from now on.. 😉
Don't Miss to Checkout:
Pros of MAC Face and Body foundation- C4:-
Runny Consistency
Light weight formula
Feels moisturizing on dry skin
Blends magically
Can be applied with fingers as well
Luminous glow to skin
Natural finish
Transfers only meagerly
Doesn't slip or melt
Makes a great daily wear foundation
Great for no makeup looks
Wide shade range to pick the perfect match
Cons of MAC Face and Body foundation- C4:-
Pricey but even Bourjois one costs 1450 so for MAC it is forgiving
Low on coverage, light – medium
Recommendation:- MAC Face and Body foundation is a light coverage everyday foundation for normal to dry skin. It is a liquid foundation with runny texture which feels extremely light weight on skin. My skin looks natural, healthy and refreshingly fresh like a blooming flower. I just love the way it feels on my skin. It is almost undetectable on face, like I have nothing on and still faking a healthy skin glow ;). It creates an illusion of my Skin but Better, my skin feels happy and enlightened. ;). It took me so long to pick up this but no matter how many foundations come n go this will be there in my makeup bag forever. It looks great both in person and photographs. Best ever foundation, must have for dry skinned lasses, Highly recommended!

If you have fairly clear  skin or don't mind using a concealer for covering the imperfections, this foundation can work as a polisher for your skin, adding the much need charm and glow to it.
Rating:-4.8 /5
Have you tried MAC Face and Body foundation? Which is your favourite Foundation for Summers/Winters?