MAC Cremesheen Crosswires Lipstick Review
Hello Everyone,
I have already reviewed MAC Satin Rebel lipstick form my MAC must have lipsticks and today I have this pretty coral lipstick from MAC which is raved as one of the best coral lipsticks from MAC, MAC Cremesheen Lipstick Crosswires.
Product claims: Colour plus texture for the lips. Stands out on the runway. Simmers on the street! What made M·A·C famous.
Price: Rs.1490 for 3 gms
My Experience with MAC Cremesheen Crosswires Lipstick: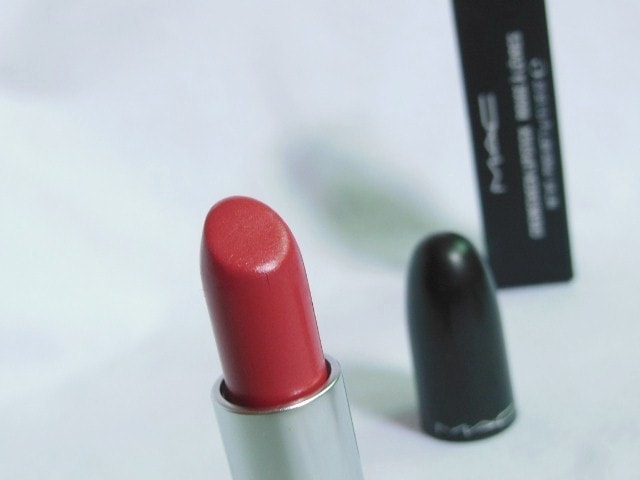 Shade: Crosswires is a gorgeous coral-pink shade, not super-bright like the usual coral lipsticks but not so muted as well that ends up making us look washed out. The crème sheen formula has soft golden sheen which isn't much noticeable but can be detected in sunlight. I had quite high expectations from this coral shade but I didn't quite liked it the way it appeared on me. The shade doesn't look flattering on me and I guess the same applies to medium fair Indian skin tones.
Formula: It has a smooth creamy texture that glides smoothly across lips. The application is nearly even but I can see it some unevenness as I go for multiple swipes. It feels hydrating to my lips but I didn't enjoyed the fact that it catches on the lip flakes and develop patterns when lips are pressed together.
Pigmentation: Crosswires is decently pigmented and has buildable coverage. I have to go for a minimum of 3 swipes to cover my pigmented lips but for non – pigmented lips it might show up well in 1-2 swipes.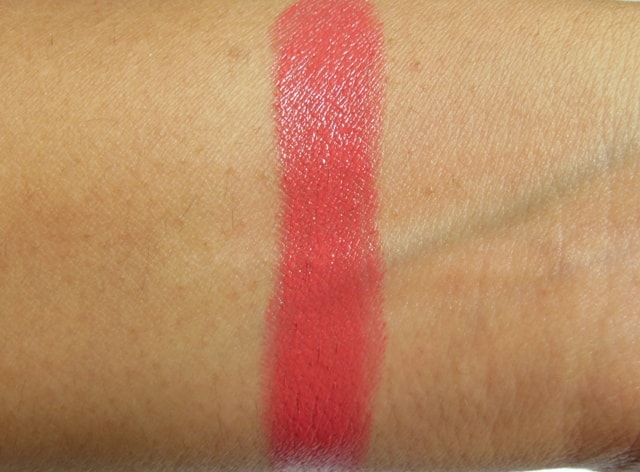 Staying Power: It does have a long lasting staining formula not common in creamy lipsticks and it lasts for 4-5 hours after which the color and sheen starts to fade. Though it is good that the hydrating feel stays for hours after it is gone and a sheer pinkish color remains on lips.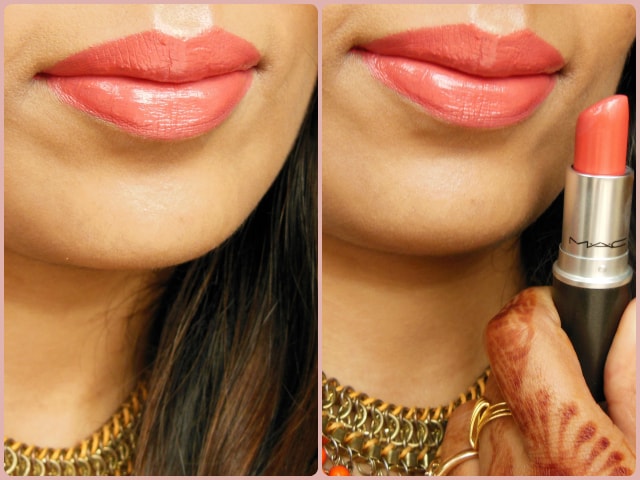 Pros of MAC Cremesheen Crosswires Lipstick:
Soft Coral Pink Shade
Glides smoothly on lips
Hydrating formula
Decently pigmented
Buildable Coverage
Last longer than a creamy lipstick
Makes a great summer shade
Cons of MAC Cremesheen Crosswires Lipstick:
Subtle golden sheen ( not my favorite finish)
Settles in fine lines
Not a flattering coral shade for Indian skin tones
On the expensive side
Recommendation: MAC Cremesheen Crosswires is one of the favorite corals amongst MAC's lipsticks and it does look pretty coral in the tube but on lips it doesn't appear that amazing. Crosswires is a soft coral pink which pulls more pink than orange and it has a subtle golden sheen which ruins the game for me. It doesn't look frosty but that glistening shine is just not for me. Pigmentation wise it does a pretty good job in providing complete coverage and it does goes on smoothly on lips but the formula isnt my favorite as it picks up lips imperfections to a great extent and gets flaky and settles in fine lines while fading.  I am sure all of you must have a MAC Lipstick wish list ready with you (just like me) so if you finding it hard to decide about which of the shades to strike off after the price Hike.. Crosswires can be first one 😉 It is just not the right coral shade for me.
Rating: 3.5/5
Have you tried MAC Cremesheen Crosswires Lipstick? Which is your favorite MAC Lipstick?