MAC Archie's Girls Ronnie Red Lipstick Review
Hello everyone,
Today I am going to review another red lipstick form my makeup collection, and that too from MAC. It belongs to one of the prettiest MAC limited edition collection launch "Archies", MAC Veronica Matte Ronnie Red.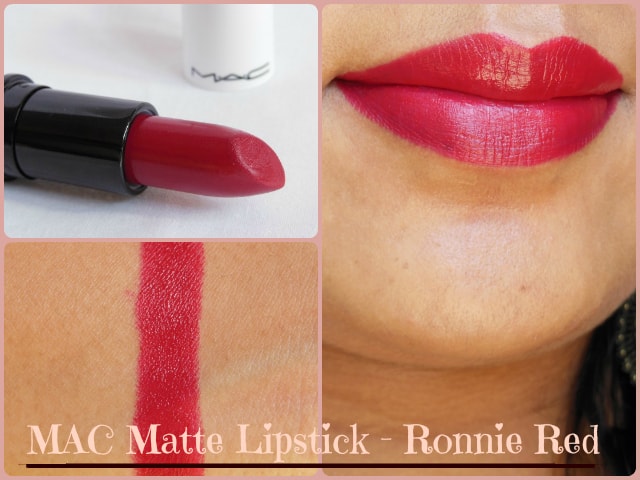 Product Claims: Colour plus texture for the lips. Stands out on the runway. Simmers on the street! What made M·A·C famous.
Price:- Rs.1100
Packaging:- Ronnie Red has the cutest Mac packaging, with bright white base having tiny Red hearts and Vernoica's face from Archies theme.
My experience with MAC Archie Ronnie Red Lipstick:-
Shade: Ronnie Red is a bright pink-red shade with blue undertones. It is claimed to have a matte finish but it is more of a satin creamy finish with a bit of shine, though it can be blotted and worn matte as a stain but on its own it has creamy finish and much different than the usual Matte MAC finishes. It reminds me of Maybelline Jewels Rubylicious Lipstick which has similar pinky red tones. These Pinky reds are not my favorite reds as I prefer warm toned Orangey Reds, I guess they look more flattering on my medium Indian skin tone!
Formula: It has a silky smooth creamy formula that glides on lips with a little slip. It doesn't look flaky like the regular matte formula and rather lips appeared much smoother with this on. It wears comfortably and never feels drying even after 5-6 hours of application
Pigmentation: Ronnie Red is incredibly pigmented and in just one swipe it gives a rich intense red color to lips and provides complete coverage to my pigmented lips.
Finish: It has that beautiful crème shine and doesn't feel drying at all on lips.
Staying: The lipsticks lasts really long as it survives easily for 6-7 hour after which it leaves a deep pink stain on lips. It can be worn as a stain or a matte formula. It refuses to budge from lips and need an oil based makeup remover to get rid of the color completely. The stain might take more than a day to leave lips.
Pros of MAC Archie Ronnie Red Lipstick:-
Glides smoothly
Incredibly Pigmented
Opaque color coverage
Wears comfortably
Doesn't make lips dry
Doesn't flake or settle in fine lines
Long wearing formula
Cute packaging
Cons of MAC Archie Ronnie Red Lipstick:-
Expensive and limited edition.
Easily dupable shade
Recommendation:- MAC Archie Ronnie Red Lipstick is cool toned pinkish red. Personally I would have preferred it with less of those pinky tones as pinkish reds are not my type. It is extremely pigmented and gives opaque coverage with comfortable to wear formula which doesn't feel drying at all. Even though it's matte, it applies easily but it doesn't have that usually MAC matte finish! If you love such reds and a collector of cute packagings.. this would have been the best pick 😉
Rating:- 4/5
Have you tried MAC Archie Ronnie Red Lipstick? Would you invest in a lipstick just because of its packaging?