MAC Alluring Aquatic Extra Dimension Eye Shadow Lorelei Review
I was taken away when I saw that pretty MAC Alluring Aquatic Collection, it looks so refreshing and drags me to beaches like nobody's business.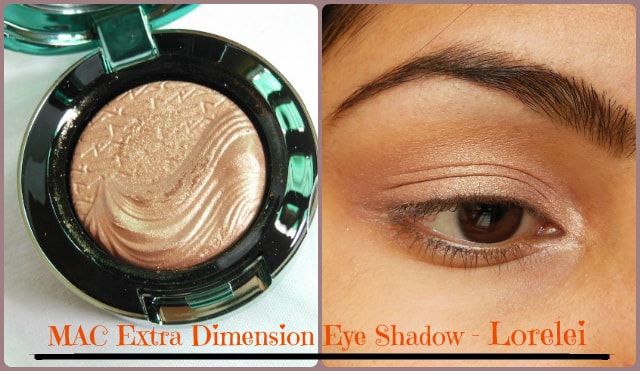 Product Claims:
Sirens of the deep inspire an aquascape of shades, as waves of tarnished olive, seafoam and darkened plum surrender to water's enticing spirit.
Sultry eyes take on a subtle radiance, while luminous Extra Dimension Blush washes over cheeks, creating a goddess glow.
Under the sea, nails glisten in aquatic chrome and metallic Nail Lacquer, as Lipstick, Lipglass and Lip Pencil dive deep into colour.
Limited-edition teal packaging, dramatically accented with sheer water droplets.
Ingredients:-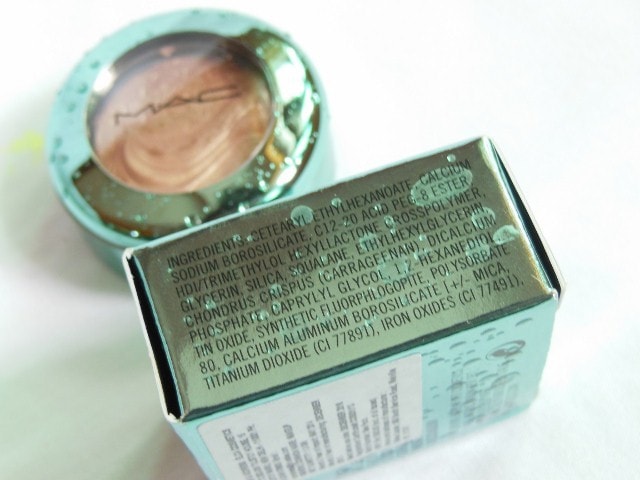 Price:- Rs.1500 for 1.3 (Oouuch.. :P)
Shelf Life:-  3 years from the Mfg date.
Packaging:- The Alluring Aquatic collection has a fresh aqua blue colored packaging with tiny water droplets embossed over it. The droplets are all over the cardbox and the round metallic case. Eye shadow has a glass lid which makes the shade visible from outside. Also, there is a plastic separator that comes with the packaging to protect the pattern over the eye shadow.
My experience with MAC Alluring Aquatic Extra Dimension Eye Shadow Lorelei:-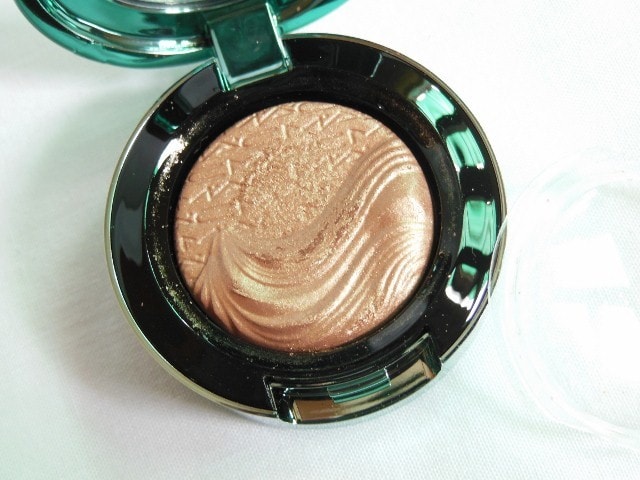 Shade: Lorelei is a charming peachy golden shade with muted bronze undertones and soft metallic pearly finish. In single swipe it adds a light wash of gold with a soft sheen. It is an extremely wearable shade and can be worn in so many ways like brow bone highlighter, eye lid color sheer or in full form, for brightening up the lower lash line and makes an amazing companion for golden-brown eye makeup looks.
Formula: It has an amazingly soft and satiny smooth texture which glides on lids effortlessly. It applies as easily as powder eye shadow but there is some amount of creaminess that allows it to stick to the lids really well even without a primer. The smoothness of the formula makes it easy to blend.
Pigmentation: Lorelei is beautifully pigmented with buildable coverage. The color shows up well in a single swipe on finger tips but it is so close to my warm skin tone that I need to pack it really well to be actually visible on my lids but that adds to the versatility of the shade. It can be worn sheer for just a wash of peachy sheen on eyes or color saturated for bright peachy golden eyes.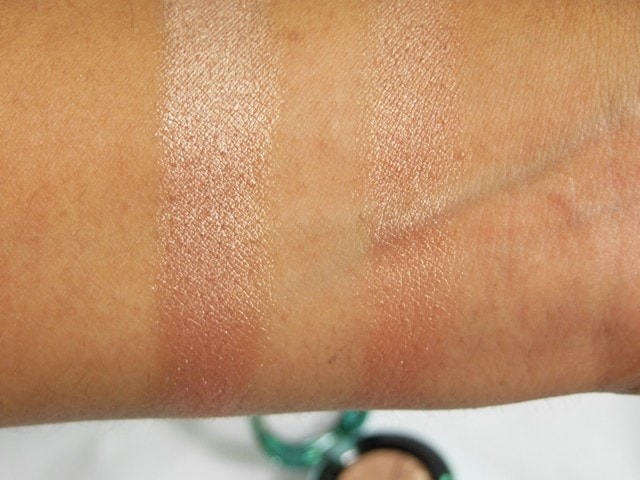 Staying Power: The Extra dimension formula stays put for 5-6 hours on my slightly oily lids without showing any signs of creasing and it can be further enhanced with a primer. I have used it numerous times and it works best when you are in a mood for that sultry cut crease eye makeup.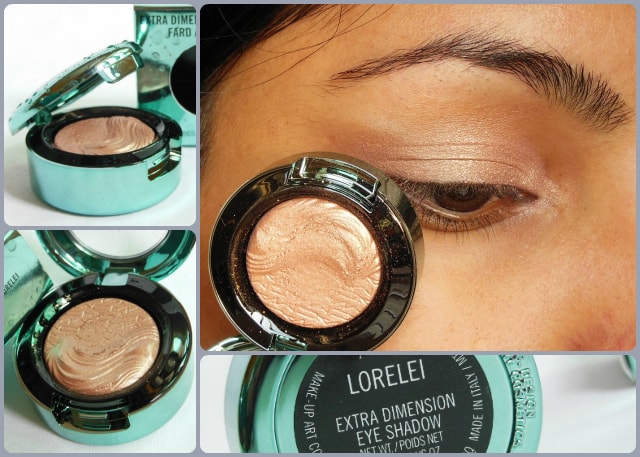 The eye shadow has a beautiful wave pattern with MAC engraved all over it but I hate when it fades after each application. 😛
Pros of MAC Alluring Aquatic Extra Dimension Eye Shadow Lorelei:-
Beautiful metallic sheen
Buttery smooth texture
Blends easily
Absolutely zero fall out
Buildable coverage
Wearable shade
Can be used as a brown bone and inner corner highlighter
Doesn't crease for 6-7 hours
Can be used dry or wet
Super gorgeous packaging
Cons of MAC Alluring Aquatic Extra Dimension Eye Shadow Lorelei:-
Costs a bomb (1500 for an eye shadow)
Semi sheer coverage but can be  layered for intensity
Color doesnt show up well on me
Recommendation:- MAC Alluring Aquatic Extra Dimension Eye Shadow Lorelei is a pretty golden beige shade with ultra fine shimmers, blended with the formula which imparts a gorgeous metallic sheen to lids. It is multi purpose eye shadow which can be worn in a number of ways as the formula is easy to work with which can be packed for opaque coverage or blended effortlessly for a diffused look but the color doesnt stand out against my warm skin tone, which defeats its purpose as an eye shadow . The packaging is prettiest ever and quality is impressive but the price is a bit too much for a single eye shadow.
Rating:- 3.5/5
Have you tried MAC Alluring Aquatic Extra Dimension Eye Shadow Lorelei? Would you invest in Luxurious Eye shadow?