LYN Live Your Now Nail Polish Collection Review
Hello Everyone,
Today I will be introducing you a new nail polish brand that have been doing rounds in My Envy Box, yes that's LYN – Live Your Now. I got a taupe brown shade in My March Envy Box but here are 5 more from their lovely collection. So, lets see how this new Salon Nail Polish range, LYN Live Your Now Nail Polishes works for me.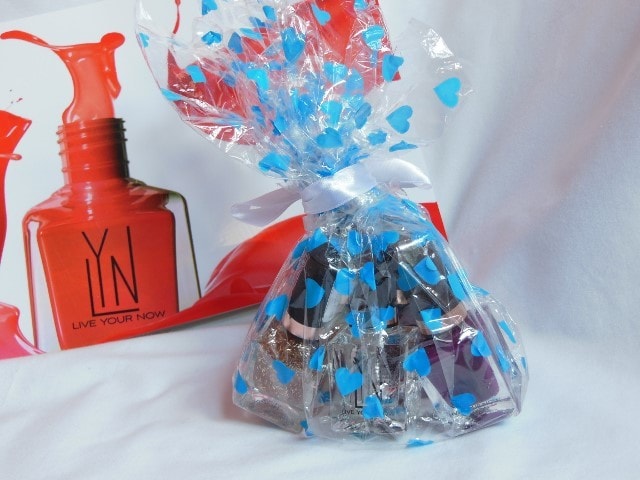 Product Claims: The Live Your Now team has worked closely with an expert formulator based in France to create a revolutionary high definition nail lacquer that promises to give you nothing less than pure color perfection.
The LYN nail colours are revolutionary High Definition nail lacquers that promise to give you nothing less than colour perfection
LYN's brilliantly curated palette of sheers, shimmers, crèmes and glitters are formulated to provide a high gloss finish for manicures that will really last
Furthermore LYN's innovative flat brush technology delivers precision colour, for a smoother, faster and streak free professional finish
The LYN lacquers are formulated with pigments that reveal their true brightness and vividness for ultimate wear
These salon quality nail lacquers glide on like satin, dry fast and are available in 100 gorgeous shades
Price:- Rs.350 for 12ml
Packaging:- Live Your Now aka LYN nail paints comes in a big square shaped bottle with matte black plastic cap.
My experience with LYN Live Your Now Nail Polish Collection:-
LYN Live Your Now has a huge collection of Reds, Corals, Greens, Plums, Pinks and nudes, so you are definitely going to fall for many and that is not it as they have variation in finishes and textures as well and come in Metal, Glitter, Sugar rush and Grain wave to make you drool even more. Being a salon range the brand has so much to offer than just nail polishes like complete mani/pedi kits and everything related to nails.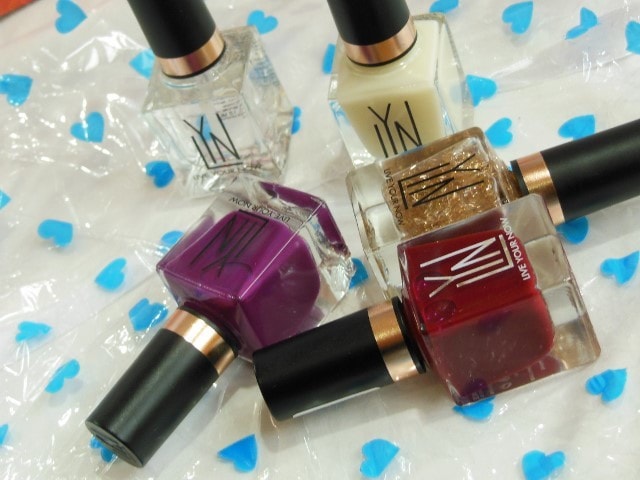 I got hold of these 5 Nail polishes from the collection and here is what I loved/hated about them:
LYN Base Coat /LYN Top Coat: These are basic nail paints that will help in a smooth and easy application of nail polishes. The LYN Base coat has a thin creamy gel like consistency that smoothen up the nail bed for nail polish application. LYN Top Coat is a clear gel that will not only protect the nail polish form chipping but also seal in the shine so the manicure looks glossy and fresh for days.
My Little Red Number: It is a rich wine red shade with dark maroon undertones and can be termed as the perfect winter shade. It is immensely pigmented and in one coat it goes almost opaque though I go for a 2nd just to please myself. It distributes evenly on nails giving a smooth clean application. It dries to to a glossy finish which lasts for days.
Grape Expectations: It is dark plum shade which reminds me of MAC Rebel Lipstick. Another great shade for fall/winter but the formula isn't as smooth as the red one. It gets a little streaky and doesn't give that super smooth even application as the formula tends to settle around the corners. The color pay-off is excellent and has similar glossy finish
LYN Bella Bronze: I have saved the best for the last, it is a shimmery or you can say a flaky gold top coat to jazz up your nails. The golden flakes are dissolved in a gel formula which applies easily and distributes the flakes beautifully on nails. The removal is also much easier than any of the glittery/shimmery nail paint.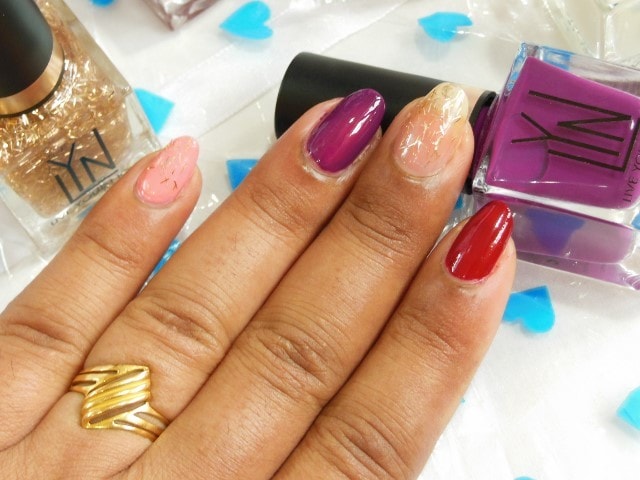 Don't Miss to Checkout:
Pros of LYN Live Your Now Nail Polish Collection:-
Even application
Excellent color pay off
Goes opaque in 1 swipe
Dries quickly
Glossy finish
Lasts for 5-6 days without chipping
Shades have lovely names
Great quality
Huge range of shades
Various finishes and texture
Cons of LYN Live Your Now Nail Polish Collection:-
Slightly pricey but the quantity provided is huge
Grape expectation doesn't give smooth finish
Availability can be an issue
Recommendation:- LYN Live Your Now Nail Polish Collection has drool worthy range of nail colors and finishes. The formula is intensely pigmented which gives an opaque coverage in a single swipe. The application is pretty smooth and even (except Grape Expectations) which dries to a lovely glossy finish in no time. The brush also helps in giving streak free application. I would love to add some from Glitter and Grain wave finishes! Overall, great polishes for the quality and quantity provided. Recommended!
Rating:- 4/5
Have you tried LYN Live Your Now Nail Polish Collection? Have you tried any Salon Range Nail Polish Collection?
PS: Product provided by brand for consideration