Luxie Beauty Glam Eyes Color Primer Liquid Eye Shadows
Hello Dolls,
Liquid lipsticks is a craze everywhere and I absolutely love the twist of having a matte lipstick formula in liquid form but another thing that I love are liquid eye shadows. Any brands have come up with their versions of liquid eye shadows and I have been desperate to try that but none of the Indian brands came up with them so when I got a chance to try  Liquid Eye Shadows from Luxie Beauty, you can imagine my excitement. So, let's check out how good are these liquid eye shadows, Luxie Beauty Glam Eyes Color Primer Liquid Eye Shadows –Starburst, Eclipse, Zodiac, Constellation, Aurora.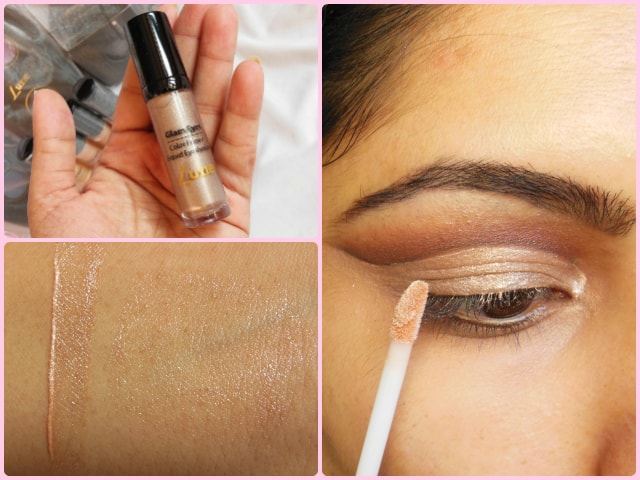 Product Claims: These are upcoming launch from brand and no info is yet updated on their website regarding these products.
Price: Sorry but not sure as of now will update you Guys!!
Packaging: Luxie Beauty Glam Eyes Color Primer Liquid Eye Shadows come is chubby glass tube packaging with glossy black colored handle. It has a regular doe foot applicator to pick and apply the product. These eye shadows have names to them which are mentioned at the bottom of the tube. The packaging is quite similar to the other liquid eye shadow that are around in the market ( I can think of Giorgo Armani ones only)
My experience with Luxie Beauty Glam Eyes Color Primer Liquid Eye Shadows:
Luxie Beauty Glam Eyes Color Primer Liquid Eye Shadows comes in 5 shades all belonging to the warm gold and brown color family. The formula is thin and glides on smoothly on lids. There is slight cooling sensation when the eye shadow is applied on lids but within seconds the formula dries to a soft powdery finish. The eye shadows are infused with finely milled shimmers which gives a beautiful satin shimmery shine to the eye shadow.
The formula takes 30-40 seconds to set completely but once it is set it won't move so it does give enough time to blend the color but I have to be cautious because the color tends set in eye folds while drying out. Also, I have noticed that it gets patchy if I go too much over the applied area with the wand
Starburst: It is bright light lemon gold shade in slight shimmery finish. The color actually disappears when blended only leaving a golden sheen behind. It can be used as a brow bone highlight but it does have a shimmery fallout
Eclipse: It is a medium beige champagne shade with silver shimmers giving it a lovely shimmery look. The color again blends out to nothing but a shimmery shine.
Zodiac: It is a medium warm gold shade with orange undertones and a beautiful metallic finish. The color payoff is so much better than the previous two shades as it doesn't sheer out to nothing like them. Though on its own it still doesn't look as pigmented on lids so I prefer layering it with powder eye shadow for extra oomph or a neutralizing base to make the color pop.
Constellation: It is a warm bronzy brown shade in frosted metallic sheen. The color payoff is intense and in just one swipe I get a rich bronzy shade on lids. It can also be layered for ultra opaque color but it can give a prominent crinkly effect like some of the metallic liquid liners do.
Aurora: It is a cool toned taupe brown in frosted pearly finish. The formula is quite pigmented and gives a rich color in single swipe. The color goes absolutely opaque when patted across lids but it tends to crease that way, so I have to blend a little bit and then layer again as needed!
Trick to work with these liquid eye shadows:
Use them over a primer or a base and try to keep your eyes close to avoid creasing/ settingin eye folds on application.
Blend them slightly but not too much so as to keep color pigments closer making the color look pretty intense.
Don't go too much over the applied area and let it dry completely before going in for the 2nd layer.
Don't try to layer them heavily as the color starts to move around and looks patchy
The eye shadows last pretty much whole day on lids without creasing. They can be used as color base under similar colored powder eye shadow for a more intense look or alone on eyes to get a highlighted kinda look with hint of color on lids.
Recommendation: Luxie Beauty Glam Eyes Color Primer Liquid Eye Shadows is a beautiful bunch of golden brown shades in metallic, shimmery finishes. The color payoff of lighter shades, Starburst and Eclipse is quite sheer which makes them perfect to be used as highlighter shades. The darker shades Zodiac, Constellation, Aurora have a good color pay off and can be used on their own for a soft eye look or under powder eye shadows to add more color to the look. I wish they add more colors to the range especially some shimmery silver or bright golds which can be used as toppers to glam up any look. I would have loved them more if they were bit more pigmented and  had a quick dry formula. This is the first time I tried liquid eye shadows and still working on finding the perfect way to use them.

Use code "POONAM" for 20% off on everything –  www.luxiebeauty.com
Rating: 3/5
Have you tried Luxie Beauty Glam Eyes Color Primer Liquid Eye Shadows? Which is your favorite shade from the above eye shadows?
PS: Product sent by Brand for Consideration