Luxie Beauty Eye Shadows in Warm Neutrals – 111, 300, 164, 105
Hello Dolls,
I am going to introduce a lovely makeup brand from US today and that is "Luxie Beauty", which is a US based brand and makes beautiful brushes with great quality and pretty pink packaging. Kathleen Lights has even mentioned a few of Luxie Brushes in her favorite video but today we are going to talk about Powder eye shadows from Luxie Beauty. I am starting with some warn nude/neutral browns today, Luxie Beauty Eye Shadows in Warm Neutrals.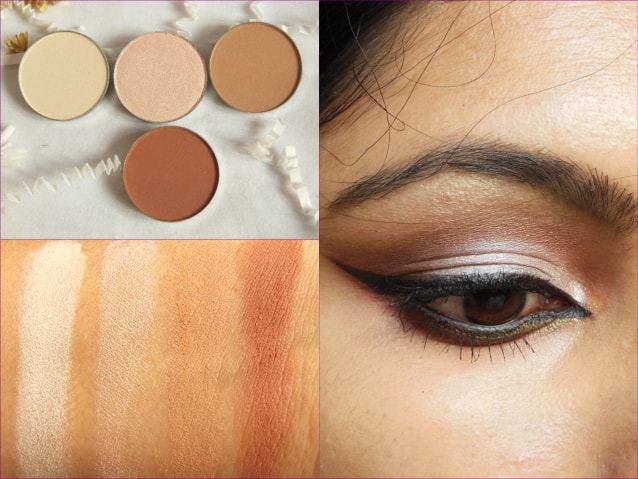 Product Claims: Luxie Eye Shadow Collection is formulated with the gentlest ingredients on the face of the planet so your skin can finally do the happy dance! Our hypoallergenic, mineral oil-free and paraben-free eye shadows are infused with vitamins C & E that will condition and protect the lids against environmental assailants. Our eyeshadows are also dermatologist tested and non-comedogenic. Luxie Eye Shadows are the perfect choice for anyone with sensitive skin. From dramatic and intense to soft and subtle, you are sure to find any color to fit your needs. Our eye shadows can be used wet or dry for the finest applications.
Benefits:
Mineral Oil-Free
Paraben Free
Triclosan Free
Sodium Lauryl Sulface Free
Gluten Free
Hypoallergenic
Vitamin C
Vitamin E
Dermatologist Tested
Non-comedogenic
Cruelty Free
Direction for Use: Start with a shadow base for optimal wear. Apply shadow onto lids with Luxie shadow brushes. May be applied wet for a more dramatic look or for use as a liner.
Price: $6 for 0.05 Oz/1.5gm
Packaging: Luxie Beauty Eye shadows are packaged in a thin black cardboard box with eye shadows house in a clear plastic case. The eye shadows comes in a round refill pans similar in size to Makeup Geek Eye Shadows
My experience with Luxie Beauty Eye Shadows in Warm Neutrals:
Luxie Beauty Powder eye shadows are small refill pans that are best stored in a Z palette and make your own customized eye shadow palette. Sadly, these eye shadow don't have any pretty names to them but just the numbers like the INGLOT Freedom System Eye Shadow Refills.
#111 – It is a warm muted beige shade with slight silver shimmers in the formula adding a bit of shine to the finish. It has a satin matte finish which makes it a great brow bone highlighter. The texture is creamy smooth and isn't powdery soft so there isn't much kick off in the pan when picked with brush. The color payoff is great and it can be packed on lids for a light cream color but I prefer to blend it out and use on brow bone to diffuse harsh colors in the when working on smokey eyes
#300 – It is a soft peachy nude shade with frosted pearly sheen. The texture is smidgen softer and smoother than #111. The pigmentation is great and just one swirl picks up good amount of product. It can be used as brow bone and inner corner highlighter for a more brightened up eye makeup look. I can also see myself using it as a cheek highlighter.
#164: It is a light almond brown shade with peachy undertones in soft matte finish. The texture is a little stiff compared to Makeup Geek Eye shadows because they are way too soft and smooth. The formula is beautifully pigmented and gives a rich color in single swipes. It makes such a lovely transition color to add definition to the crease area.. I don't miss crème brulee as first transition shade as this does the job for me.
#105: It is a warm brown shade with slight red undertones. It reminds of Makeup Geek Cocoa Bear but it is much lighter and isn't as red as Cocoa Bear. Actually, when packed it is much close to frappe than cocoa bear just a tad bit warmer than frappe. Texture wise it is slightly stiff and comes up a little sheer compared to what it looks in the pan but I don't see any issue with that as it pack on really well. I like to use this shade to deepen my crease an it does a fabulous job.
Recommendation: Luxie Beauty Powder eye shadows in 111, 300, 164 and 105 belongs to the warm brown neutral family and makes lovely blending shades and highlighters. Texture and formula of the eye shadows is pretty smooth and pigmented, which shows up well on lids and blends in quite nicely. The price is equivalent to the Makeup Geek Eye shadows but I feel they are smoother and softer than these Luxie eye shadows. Overall, these are lovely eye shadows at an affordable price. Recommended!

Use code "POONAM" for 20% off on everything –  www.luxiebeauty.com
Rating: 4/5
Have you tried Luxie Beauty Powder eye shadows? Which is your favorite shade from the above eye shadows?
PS: Product sent by Brand for Consideration