Luxie Beauty Eye Shadows in Dark Browns- 302, 104
Hello Dolls,
After those beautiful warm Neutrals and Bold Gold Eye shadows, it's time to indulge in some dark brown eye shadows from Luxie Beauty, Luxie Beauty Eye Shadows in Dark Browns – 302, 104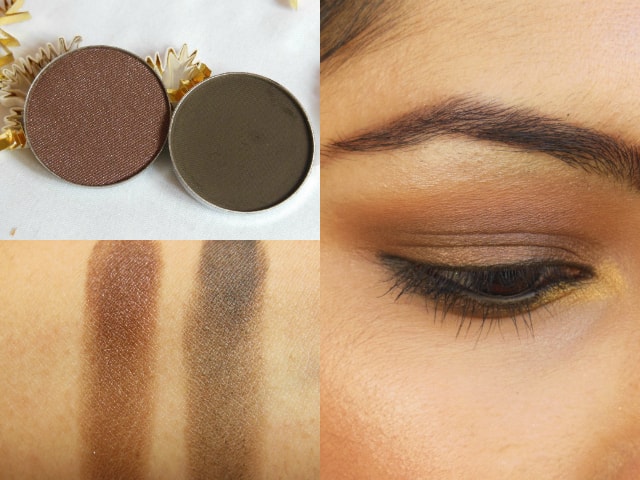 Product Claims: Luxie Eye Shadow Collection is formulated with the gentlest ingredients on the face of the planet so your skin can finally do the happy dance! Our hypoallergenic, mineral oil-free and paraben-free eye shadows are infused with vitamins C & E that will condition and protect the lids against environmental assailants. Our eyeshadows are also dermatologist tested and non-comedogenic. Luxie Eye Shadows are the perfect choice for anyone with sensitive skin. From dramatic and intense to soft and subtle, you are sure to find any color to fit your needs. Our eye shadows can be used wet or dry for the finest applications.
Benefits:
Mineral Oil-Free
Paraben Free
Triclosan Free
Sodium Lauryl Sulface Free
Gluten Free
Hypoallergenic
Vitamin C
Vitamin E
Dermatologist Tested
Non-comedogenic
Cruelty Free
Direction for Use: Start with a shadow base for optimal wear. Apply shadow onto lids with Luxie shadow brushes. May be applied wet for a more dramatic look or for use as a liner.
Price: $6 for 0.05 Oz/1.5gm
Packaging: Luxie Beauty Eye shadows are packaged in a thin black cardboard box with eye shadows house in a clear plastic case. The eye shadows comes in a round refill pans similar in size to Makeup Geek Eye Shadows
My experience with Luxie Beauty Eye Shadows in Dark Browns- 302, 104:
Luxie Beauty Powder eye shadows are small refill pans that are best stored in a Z palette and make your own customized eye shadow palette. Sadly, these eye shadow don't have any pretty names to them but just the numbers like the INGLOT Freedom System Eye Shadow Refills.
#302: It is a dark chocolaty brown shade with iridescent silver shimmers specks to add a bit of shimmery shine to the soft metallic sheen finish this eye shadow already have. I so wanted this color to work for me but sadly the texture of the eye shadow is pretty hard and it doesn't swipe as nice as some of other eye shadows. Also the color payoff isn't as intense on lids or arms as it does on fingers. It does perform slightly better with a base/primer underneath but it can be a be a pain to build up on lids as there is a generous fallout while packging this shade
#104: It is deep dark black brown eye shadow in a flat matte finish. This could have been that perfect alternative to black in the outer V for creating depth but just look at the swatches to know how sheer it goes. It has a rock hard texture, one of the worst among all the luxie beauty powder eye shadows. The formula of this eye shadow failed big time to deliver any results.

Recommendation: Luxie Beauty Eye Shadows in Dark Browns – 302, 104 are the two darkest brown eye shadows in the batch with 302 being a chocolaty brown with shimmery metallic sheen and 104 a blackish brown in flat matte finish. Both the eye shadows have hard texture which makes it quite difficult to work with these. The color payoff is pretty sheer and they definitely won't show up without a solid base underneath. The colors are pretty but formula failed it. Not Recommended!

Use code "POONAM" for 20% off on everything –  www.luxiebeauty.com
Rating: 2.5/5
Have you tried Luxie Beauty Powder eye shadows? Which is your favorite shade from the above eye shadows?
 PS: Product sent by Brand for Consideration