Luxie Beauty Eye Shadows in Bold Gold- 82, 239, 257
Hello Dolls,
I have shared some of the beautiful neutrals from Luxie beauty in my last post and today I have these Gorgeous Golds to share with you. Gold is definitely one of my favorite  color in eye shadows and I love having more and more of these. So, lets see how these work for me, Luxie Beauty Eye Shadows in Bold Gold – 82, 239, 257.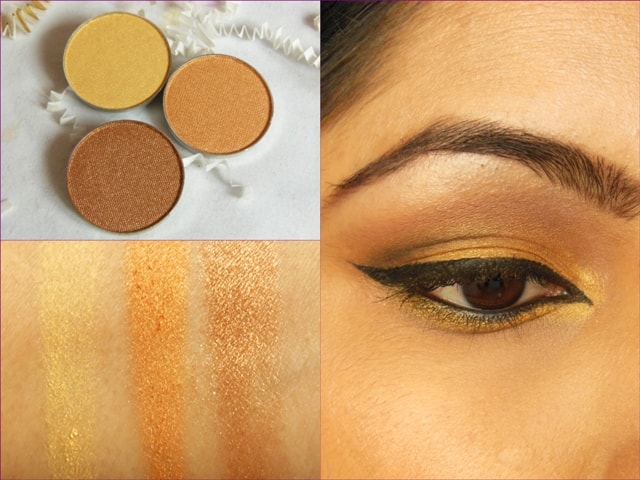 Product Claims: Luxie Eye Shadow Collection is formulated with the gentlest ingredients on the face of the planet so your skin can finally do the happy dance! Our hypoallergenic, mineral oil-free and paraben-free eye shadows are infused with vitamins C & E that will condition and protect the lids against environmental assailants. Our eyeshadows are also dermatologist tested and non-comedogenic. Luxie Eye Shadows are the perfect choice for anyone with sensitive skin. From dramatic and intense to soft and subtle, you are sure to find any color to fit your needs. Our eye shadows can be used wet or dry for the finest applications.
Benefits:
Mineral Oil-Free
Paraben Free
Triclosan Free
Sodium Lauryl Sulface Free
Gluten Free
Hypoallergenic
Vitamin C
Vitamin E
Dermatologist Tested
Non-comedogenic
Cruelty Free
Direction for Use: Start with a shadow base for optimal wear. Apply shadow onto lids with Luxie shadow brushes. May be applied wet for a more dramatic look or for use as a liner.
Price: $6 for 0.05 Oz/1.5gm
Packaging: Luxie Beauty Eye shadows are packaged in a thin black cardboard box with eye shadows house in a clear plastic case. The eye shadows comes in a round refill pans similar in size to Makeup Geek Eye Shadows
My experience with Luxie Beauty Eye Shadows in Bold Gold- 82, 239, 257:
Luxie Beauty Powder eye shadows are small refill pans that are best stored in a Z palette and make your own customized eye shadow palette. Sadly, these eye shadow don't have any pretty names to them but just the numbers like the INGLOT Freedom System Eye Shadow Refills.
#82: It is a light mustard yellow shade with soft pearly sheen but I expected it to have a metallic finish which I love in golds. The shade is a slight disappointment because it doesn't feel as smooth and soft as other eye shadows in this color family. The color pay off isn't great too and it swatches pretty sheer in single swipe. I had a hard time building up this color on lids. It does perform slightly better with a base/primer underneath
#239: It is a gorgeous mustard gold shade with orange undertones and pearly metallic sheen. The formula is buttery smooth and intensely pigmented to give rich color in a single swipe. It is a beautiful gold shade for warm Indian skin tones and perfect for festive makeup looks.
#257: It is a medium bright coppery gold shade with golden shimmer flecks giving a nice metallic shine to it. It has satin smooth texture and the formula is decently pigmented. The shade can be built up in few swipes to an intense coppery gold look on lids but there is a lot of fallout during application so I will suggest using a damp brush for application. Indeed a great shade for warm neutral festive eye makeup looks.
Recommendation: Luxie Beauty Eye Shadows in Bold Gold- 82, 239, 257 belongs to the yellow gold family and make gorgeous shades for Indian party makeup look. Except #82 both 239 and 257 had a buttery smooth texture and beautifully pigmented formula. The pigmentation could have been more but they build up nicely in The staying power of 239 and 257 is good too as they didn't move for 6-7 hours on me and lasted even longer with a primer underneath. I faced no fallout situations when used cautiously (by dusting off  excess from brush). Overall, beautiful golds with which I can do many of the wearable party eye makeup looks. Recommended!

Use code "POONAM" for 20% off on everything –  www.luxiebeauty.com
Rating: 4.5/5
Have you tried Luxie Beauty Powder eye shadows? Which is your favorite shade from the above eye shadows?
PS: Product sent by Brand for Consideration