Lux Scarlet Blossom Body Wash Review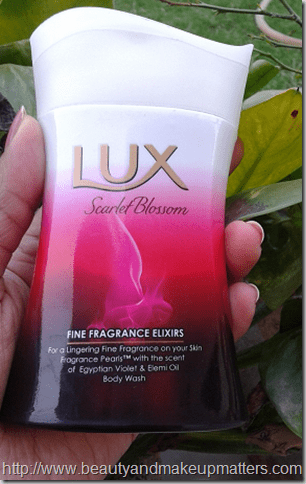 Product Claims: A finely fragrant body wash infused with the scent of Egyptian Violet and Elemi oil. This scent is inspired by exotic blossoms at the peak of their bloom and embraced into exquisite fragrant pearls giving you a mesmerized scent that lingers long after you step out of the shower.
Direction for Use:- Pour a petal sized amount of Lux Bodywash on to a wet loofah or your palm and apply on skin. Indulge in the rich creamy lather. Rinse off
Ingredients:- Water, Myristic Acid, Lauric Acid, Potassium Hydroxide, Sodium Laureth Sulphate, Palmitic Acid, Potassium Chloride, Perfume, Glycol Distearate, Cocomidopropyl Betaine, Glycerin, Hydroxypropyl Methylcellulose, Methylisothiazolinone, Etidronic Acid, BHT, Tetrasodium EDTA, CI 17200, CI 42090, CI 19140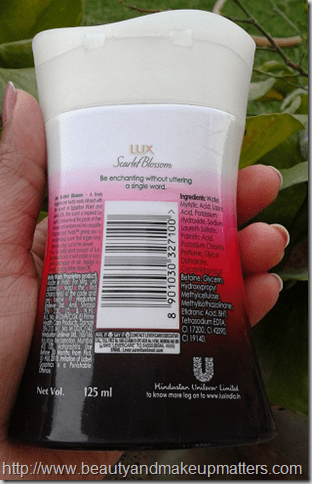 Price:- Rs.55 for 125 ml
Shelf Life:- 30 months from the Mfg date.
Packaging:- The body wash comes in a wide plastic bottle with a flip cap. The bottle is wrapped with a nice plastic paper which carried beautiful colors and the frosty white cap makes the look complete. The curvy lid adds a feminine touch to the packaging. The lid is tight and doesn't open up easily. (I have to use both of my hands to open it) but it prevent the body wash from leaking.

 My experience with Lux Scarlet Blossom Body Wash:-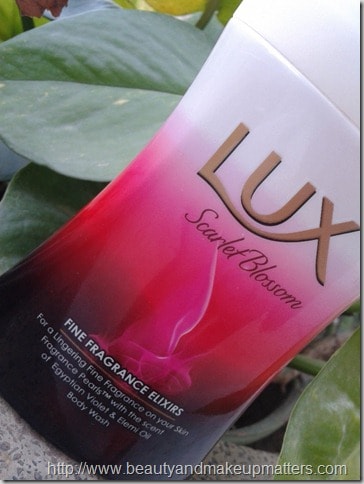 Consistency:- The body wash is creamy and has a runny consistency. It rushes out of the bottle when you tilt it to get the body wash on loofah. The body wash is light purple-pink in color and you with lots of pink micro shimmer in it. The shimmers are well blended into the wash and doesn't make their presence felt but gives a luxury look to the body wash. I really liked the color of the body wash.
Fragrance:- I didn't find it exotic or mesmerizing as claimed but it is an average smell. The smell is faint and flowery kinds. I didn't find anything wrong about it but it was not an out of the world or amazing smell. Also the fragrance doesn't stay for long and lingers on for few minutes or I can say seconds after it is rinsed off.
Final Verdict:- The body wash lathers well with a loofah but not much. It gives a soft creamy lather which dies off soon. The body wash rinse off easily without leaving any residue behind. It doesn't make my skin feel stretchy or dry but I didn't find it moisturizing either so a body lotion is must to be followed with. As, I use a moisturizer religiously after the wash so that was not an issue but I was still missing the soft and smooth feeling .
Don't Miss to Checkout:
 Pros of Lux Scarlet Blossom Body Wash:-
Doesn't dry out my skin.
Mild fragrance
Lathers decently but I like body washes that gives rich lather.
Sturdy packaging and the small bottle is travel friendly too.
Rinses off easily
Easily available
Quite inexpensive
Cons of Lux Scarlet Blossom Body Wash:-
Missed the soft and smooth feeling.
Fragrance doesn't linger on for long.
Contains SLES.
Recommendation:- Lux Scarlet Blossom Body Wash is a decent body wash for the price it comes. I didn't find its fragrance exotic but pleasant and mild. It lathers well with a loofah and doesn't made my skin dry. I don't have anything against this body wash but still it is not a must have and doesn't do anything great for your skin.

I would love to try better smelling body wash where the fragrance lingers on for atleast an hour on me.

For summers, I love the citrusy and fruity smells that give a refreshing feeling and in winters I love the moisturizing ones which leave the body soft and smooth. This one doesn't satisfy any of the above criteria and can be easily skipped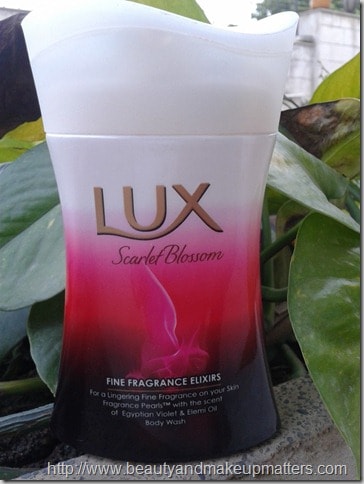 Rating:- 3/5
Have you tried Lux Scarlet Blossom Body Wash? Which is your favorite Lux Body wash?