Lust Love and More: The BODY SHOP
Hello Beautyholics,
Today, I am going to make all of you drool and swoon over my extensive wish list from one our favorite Skin care brand in India "The Body Shop". The moment I spell the name I can see myself enjoying a spa and distressing myself in a pool of amazingly fragrant bathing products. The Body Shop make products with natural and organic materials with the delicious scents, an ultimate treat for my dry, thirsty skin!
They might be a little pricey for some (including me) but with sale of upto 50% off on most the products (twice a year), once can grab them all they were lusting after at rock bottom prices.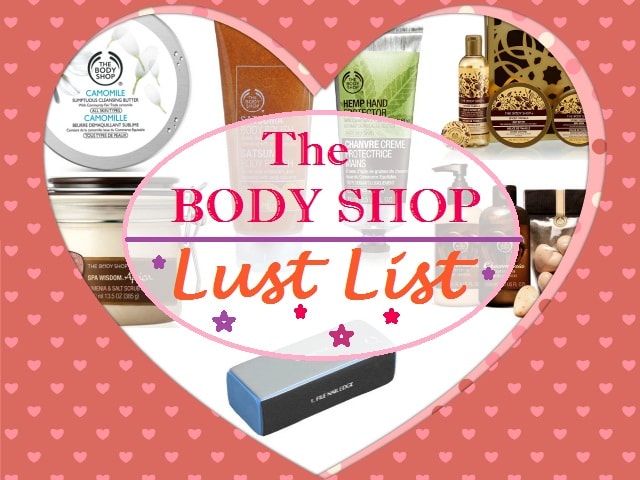 I was eagerly waiting for this sale season but damn I am already broke with my Blog Sale Shopping and now have to postpone my much aspired "The BODY SHOP Haul" till next time. 🙁 🙁 .. Seriously I need someone here to sponsor my endless shopping.. my wish list is getting bigger and bigger and that too at a rapid speed. I am hoarding like there is no tomorrow. 😛
I had prepared my cart on The Body Shop Online Portal and was on the verge of placing the order but than Sanity prevailed and I left it there. 😛
So, here I am my listing down the products that goes into my Lust List.
Must Haves: Bath and Body, Skin Care Products: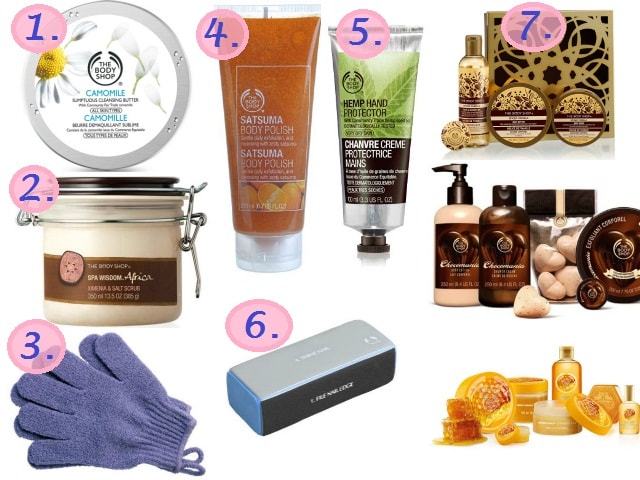 The Body Shop Camomile Cleansing Butter (Rs. 895) – This is a recent launch and is already in the good books of many beauty bloggers. It melts quickly and gently cleanses away the Makeup, leaving skin clean but nourished
The Body Shop Spa Wisdom Africa Ximenia and Salt Scrub (Rs. 1650) : It is a luxurious scrub to give yourself a pampering session at the comfort of home. This creamy salt scrub is made skin softening butters which will moisturize the skin while buffing away the dead skin cells.
The Body Shop Exfoliating Bath Gloves (Rs. 395) – An absolute must have for girls like me who have a scrubbing phobia and feels bathing is incomplete if haven't exfoliated the skin during shower. They are made of natural fibres which gently remove dead skin cells and also give lather with body wash, leaving skin feeling soft . Available in 5 colours to choose from I like the light blue, pink and Lilac one the most!
The Body Shop Sastuma Body Polish (Rs. 650)– This Body polish has gel-based moisturizing formula loaded with exfoliating particles which can transform the regular shower time to a delicious fruity treat for body..
The Body Shop Hemp Hand Protector (Rs. 795) -I am obsessed with hand creams just like lip balms and keep one everywhere be it car, side of bed, handbag and dressing room. This is rich moistursing cream which helps soften and protect hands without becoming greasy. I must have it!!
The Body Shop Nail Block (Rs. 265): With the ever deteriorating health of my nails I need this nail block for rescue to buff away the top layer and get that polishes nails with glossy shine. One of the most affordable item in my wishlist :P.
The Body Shop Body Butters/Scrubs: TBS shopping will remain incomplete if Butters/scrubs are not included. The scrubs helps to condition and moisturise your skin while gently buffing away dead skin cells and then drench skin with another layer of complementing body butter for deep nourishment and enhance the longevity of the fragrance. There is a large number of fragrance of choose from but the ones that make me go bonkers anytime are

Newly Launched Honey-Mania – Sounds so soothing.. imagining real honey extracts 😉
Spiced Vanilla – Vanillaa… do I need to tell more. 😛
Chocomania – Yummylicious Chocolaty fragrance, good calories for my skin!
The list isn't over yet and next comes the must haves for me from the amazing range of cosmetics from "The BODY SHOP".
Must Haves: Makeup
The Body Shop Extra Virgin Minerals™ Powder Foundation Brush (Kabuki Brush) (Rs 1495) –One of the best kabuki brush around which works excellently to blend foundation, powders and even mineral makeup. I have tried to grab these ever since I stumbled into this beauty world but was out of stock at the counters. Now, when It was available I had to miss because of budget issues. :'( :'( .. Saddest Moment!!
The Body Shop Extra Virgin Minerals Cream Foundation (Rs. 1895) – I haven't tried any cream foundation and this one looks like a great option to start with. It provides dewy finish with medium coverage.. something that dry skin will always adore.
The Body Shop Honey Bronzing Powder (Rs. 1295) – Matte Formula Bronzer without any shimmers to give that naturally sculpted look to cheeks. I am totally into bronzer phase this year.. 😉
The Body Shop Vitamin E BB cream (Rs. 995) – Provides sheer coverage but the beautiful and brightened complexion makes up for the loss. I dont want to miss any of the BB cream formula.:P
The Body Shop Vitamin E Face Mist (Rs. 795)-Quick fix for dry flaky skin and get that moisturized skin look instantly. It works excellently for setting make-up too!
The Body Shop Organic Cotton Rounds (Rs 300) – Soft cotton pads , must have for removing eye makeup.
The Body Shop Shimmer Waves(Rs. 1595): If you looking for some affordable dupe of Bobbi Brown Shimmer Brick.. J. Available in 3 shades – Coral, Blush and Bronze (Forgot to include it in the collage pic.. 🙁 )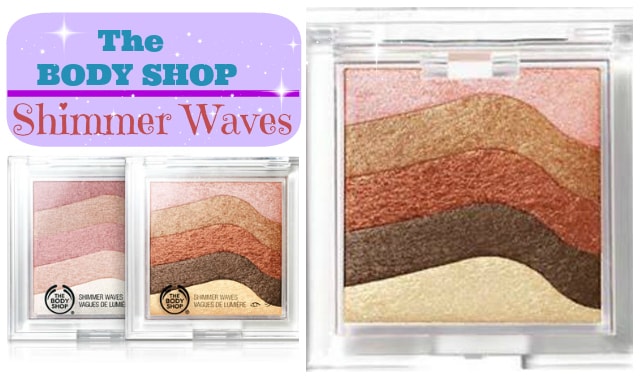 Oily skin would love their Tea tree range and Seaweed which provide good control over excess oil and acnes but for dry skin like mine. I would like to go for a roll on above mentioned products.
Products I love from The BODY SHOP
Now, will share the products that I have used from The body shop and loved them., my Top favorites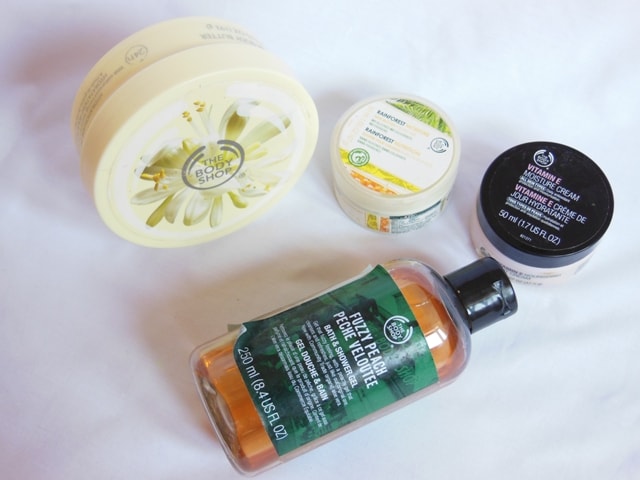 Few more that I have used and liked to a level but didn't love… 😛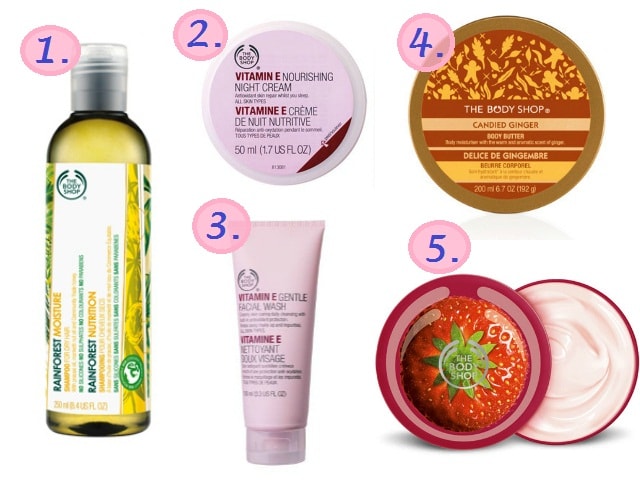 The Body Shop Rainforest Moisture Shampoo –

The shampoo makes my hair feel feathery light and makes them soft and smooth but didn't control hair fall.

The Body Shop Nourishing Vitamin -E Nourishing Night cream – It is a heavy moisturizing cream that feels a little greasy on my dry skin. It performed nicely but didn't do anything great to my skin.
The Body Shop Vitamin E Gentle Face Wash : It was nice creamy non drying creamy face wash. Good for my dry skin but wish It was little more moisturizing.
The Body Shop Candid Ginger Body Butter: I am not a fan of Ginger thing.. so the fragrance, didn't made it for me.. but overall it was a good body butter.
The Body Shop Strawberry Body Butter – It has a sweet strawberry fragrance quite nice but I prefer more of fresh citrus or warmer cocoa scents.
These are some of the awesome products that I am loving from The BODY SHOP now and the one's that have carved their space in my wish list. Its bath and body range is a perfect substitute when you can't afford a trip to the spa. They will melt into your skin, leaving it soft and silky smooth and leave you feeling just as pampered with their magical aromatic scent. .
You Might Also Enjoy Reading:
Feel free to point out if I missed any of the wonderful stuff from the Brand. Sitting with Notebook and Pen to jot down your Recommendation.:P
What is on your Wish list from The Body Shop? What are your must-haves from The Body Shop?
PS: After lost of thinking and brain Storming I finally managed to place my TBS order from their online portal.. 🙂 🙂 . Yippeee… 😀 :D. Any Guesses what all I must have picked.. !! 😉