Lust Love and More : Revlon
While most of the Indian Drugstore brands are trying their best to be on the top of the luxury brands and with their ever hiking prices they will outrun MAC or Chanel soon. But that is not the end of the world, the good guys are here too who will help you to grab your favorite product without tagging it with sky rocketing prices and one such brand is "Revlon".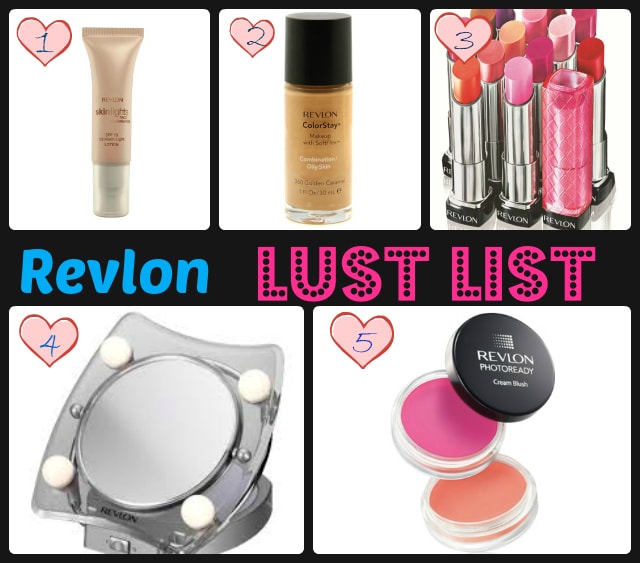 Revlon is a drugstore brand which delivers quality product and gives tough competition to high-end brands like MAC but not in terms of price tags. Revlon has expensive products in its list too but If I compare Colorbar or  Lakme Absolut Range collection, I think its justifiable.
So, here is a list of products from Revlon that are in my wish list along with some that I love to use.
REVLON LUST LIST
Revlon Skin Lights Face Illuminating Lotion:(Rs. 850)- I am totally into that glowing dewy finish look these days and this one seems to be a perfect solution. Thinking of mixing it with a foundation for a natural shine.
Revlon Color stay Foundation (Rs. 790) – This is one of the most raved about drugstore foundation. I think it has been discontinued in India (correct me if I am wrong). Damn I missed this wonder product but it has been relaunched with a new formula, so thinking of grabbing it on my next visit.
Revlon Colorburst Lip Butters (Rs. 650): These are super-creamy and extremely moisturizing lipsticks that will impart a  hint of color to the lips, ultimate treasure for dry lips. They were launched almost a year but I am still waiting to lay my hands on these. The shade I would love to try are Juicy Papaya, candy Apple
Revlon Hollywood Lights Mirror ( £19.99 / Rs.1680 ): I saw this mirror years back may be on Cynthia's blog IndianVanityCase . The mirror itself look so glamorous with those fabulous lights which feel you like a diva while you are getting ready for the party. I want it!!! 😉
Revlon Photo Ready Cream Blush($12.99 / Rs. 724): I am obsessed with cream blushes but not many of the Indian brands come up with cream blushes only NYX comes to my mind when I think of cream blushers. I got a Revlon Blush in Berry Flirtatious but These Revlon Photo Ready Cream Blush looks pretty awesome. Available in 3 shades, I am eyeing the shade  Flushed and Coral Reef.
Don't miss to checkout:

Revlon is a bit expensive in India compared to US and during my first visit there, this was the brand I shopped a lot. So , sharing my favorites from Revlon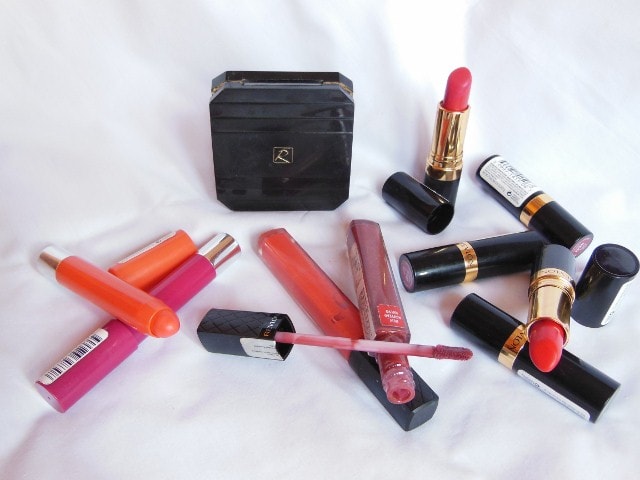 REVLON Makeup Favorites
Revlon Super Lustrous Lipsticks (Rs. 550 )- Revlon Super Lustrous tops the chart of my favorites from the brand. They have super-smooth texture, pigmented and long lasting formula and the best part is they doesn't melt at all. Available in Matte and Creamy finish with a huge array of beautiful colors to choose from. I own 6 of these and still there are many shades that I would love to add like Cherries in the Snow, Kiss Me Coral, Black Cherry. Hands down the best drugstore lipsticks!! I will pick these over Maybelline, Lakme 🙂
Revlon Just Bitten Kissable Lip Stain (Rs. 600): The market is now full of crayon shaped lip colors with every brand jumping into launching it but the one who started this craze is Revlon. I have tried L'Oreal and Bourjois too but Revlon is a winner with its excellent color payoff and super-duper long lasting formula. They are simply amazing. :). I have 2 of these but so want to 2-3 more into my stash!
Revlon Color Burst Lip glosses: (Rs. 475 ) : These are my favorite glosses after Maybelline Color Sensational ones. They have almost non-sticky formula, well pigmented and have a decent staying power. I have it in Papaya and Sienna Sparkle.
Revlon Touch & Glow Compact (Rs 425): This is one of my favorite drugstore compact far better than Maybelline, Colorbar and Lakme one. Never looks powdery and gives a smooth  brightened look instantaneously also much effective in controlling oil and providing a shine free face for long.
Don't miss to checkout: 
I have few more products from Revlon which are pretty good and worthy a mention here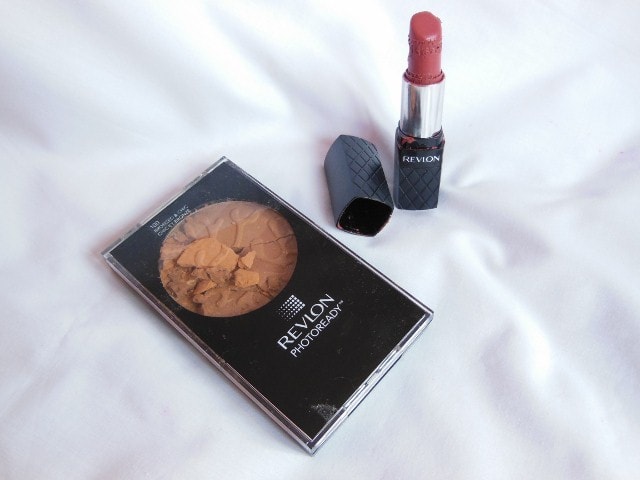 Revlon Cosmetics: Worth Checking Out
Revlon Colorburst Lipsticks (Rs 600): My first lipstick from Revlon 🙂 . The silky smooth buttery texture glides like a dream and is thoroughly moisturizing to the lips. It has an interesting packaging but the only drawback is that they melt in hot temperatures and gets depotted from the base.
Revlon Photo Ready Bronzer in Bronze and Chic ($12.99) – It is a palette of 4 matte shades which can serve a wide range of skin tones and give that perfect bronzed look. It is shimmer free bronzer so great for contouring as  well and give a natural sculpted look. Before even getting a chance to click or swatch it, it suffered a drop and see how distorted it is now. 🙁 . Havent used it even once.. thinking of buying a new one for the pictures… shall I??
Revlon is on my good books and have always delivered excellent results but there are products that failed to impress me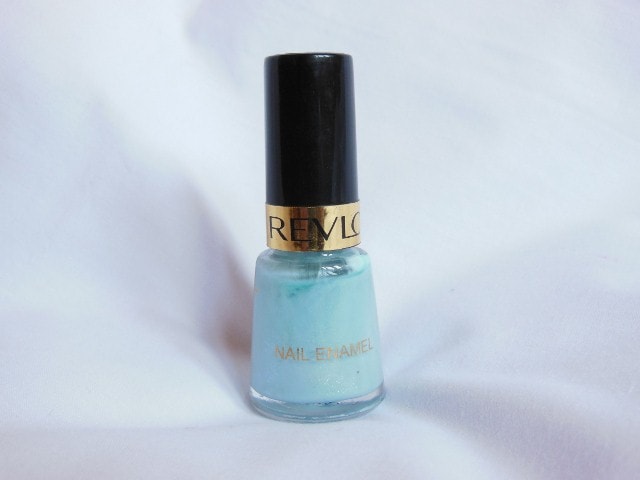 Revlon Makeup: Skippable
Revlon Nail Paints/Revlon Scented Nail Paints (Rs. 150): They have a slightly thick gel like texture, which doesn't goes smooth but gives a streaky application. Takes a life time to dry completely, basically a mess if you are in hurry 😛
They have launched quite a few of interesting products which will make a space in my lust list soon.. 😉
REVLON New Launch: Lust List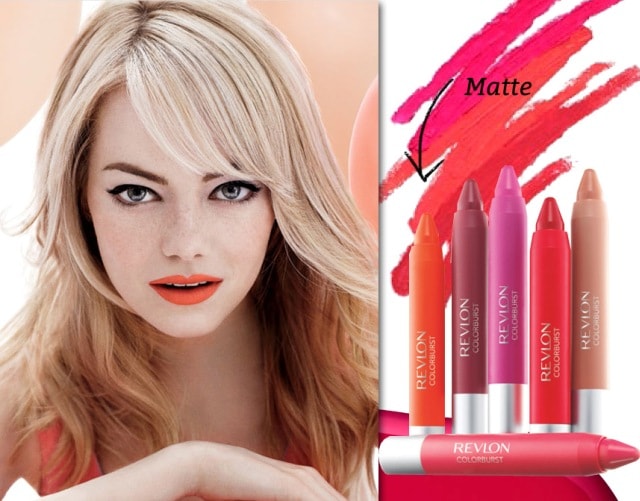 1. Revlon Colorburst Matte Balms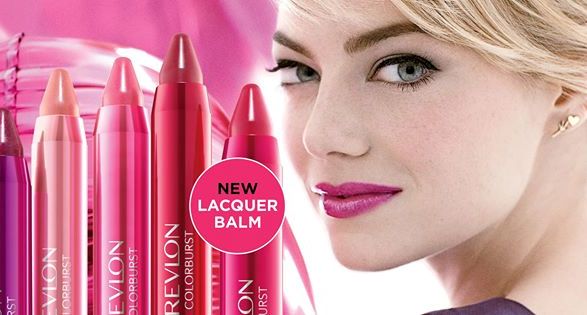 2, Revlon  Colorburst Lacquer Balms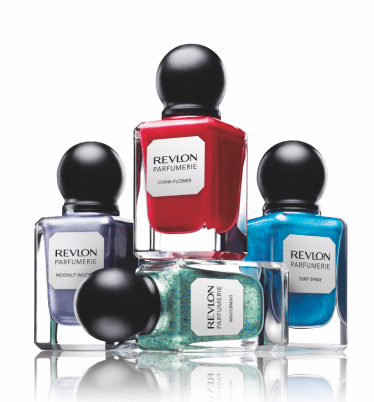 3. Revlon Parfumerie Scented Nail Enamel
This is it from me from Revlon for now.. Would you like me to add anything to my Revlon Must have list .
Which is favorite Revlon product? What goes on your Revlon wishlist?