Lust, Love and More: L'Oreal Paris
Good morning Dearies, Today I am starting with a new series where I will share the products that I wish to add in my vanity, along with the stuff  that I already have. I was thinking of doing a "Lust List" post only but then I thought it would be highly unfair if I didn't include the stuff that I adore and love to the core. So, the post will showcase prodcuts from L'Oreal that I love, like and the rest which didnt met my expectation. Starting with the Lust from "L'Oreal Paris" 🙂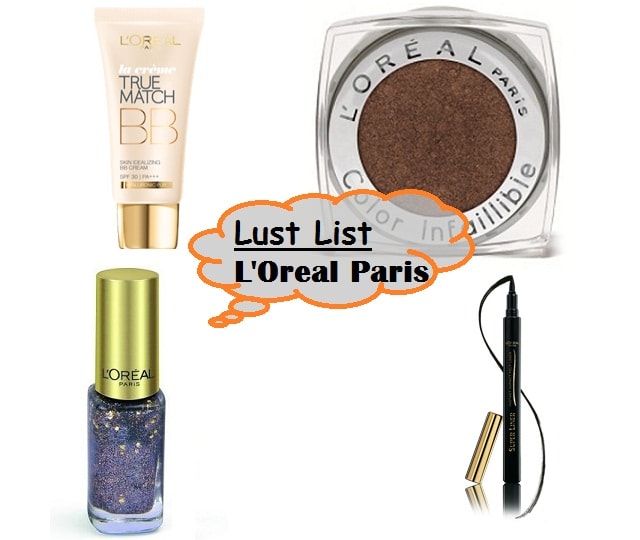 L'Oreal Paris Infallible Monos Eyeshadow – Endless Chocolate (Rs.450) – More than the shade I want it for the name "Endless Chocloatteee".. 😛 . Others that I like from this range are Hour Glass Beige, Pemanent Khaki and All night Blue
L'Oreal Paris Color Riche Le Vernis Gitter (Cannes 2013 Special) (Rs 235) – I love glittery nail paints and L'Oreal launched some pretty ones in cannes Collection. I love  823 (Riviere Amethyst) but also like  821 (Copper Cuff), 822 (Bronze Parure)
L'Oreal Paris's Instant Impact Felt liner – Black (Rs 695) – Also, part of the Cannes 2012 Special L'Oreal Electric Collection, marked as favorite liner by Ankita from Corralista! 🙂
L'Oreal Paris True Match BB Cream (Rs 550) – Last but not the least, newly launched BB cream :). Can never get enough of them!
Moving onto the products that I Love: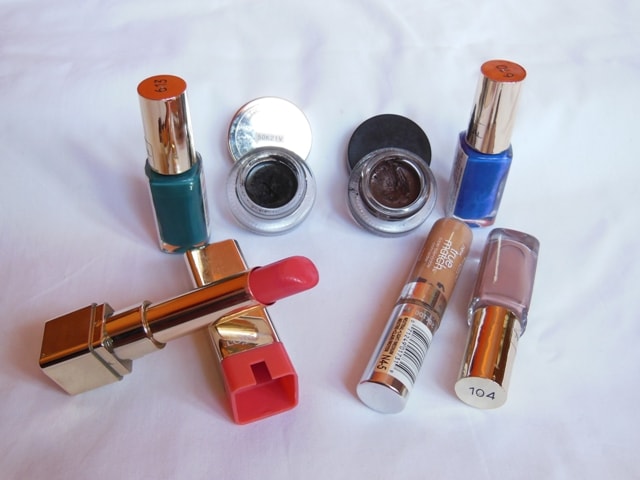 1. L'Oreal Color Riche Le Vernis Nail Polish –The super-smooth formula combined with that high-class brush does a superb job at giving a non-streaky and flawless application. The wonderful glossy crème finish is cherry on the cake.
Blue Reef (Review Here) – dark teal green shade
Beige Countless  (Review Here) – nude peachy shade, one of the most adorable yet sexy nude
Rebel Blue  (Review Here) is a bold dark blue shade in a pearl finish. I love this color a lot and already lusting to get heels, a tee and jean in the same shade. .
2. L'Oreal Paris Super Liner 24 hr Waterproof Gel Eye Liner – Brown 02  (Review Here) : It is a rich chocolaty brown shade with fine specks of copper shimmers which gives it a gorgeous sheen. It has an incredibly creamy formula which glides smoothly only on lids and stays intact for long. One of the best Gel Liner Formula!
3. L'Oreal Color Riche Caresse Lipstick – Sunset Angora  (Review Here) – A gorgeous coral pink color with barely there shimmers, doesn't work for me as is but I love it as a top coat. All my bright and bold lippies looks stunningly werable with just one coast of this <3
4. L'Oreal Paris True Match Super-blendable Concealer – Light/Medium (Review Here) –The shade is a pretty good match for me and It blends really well into my skin covering up the dark under eye skin (not completely though and also works acne marks, redness around nose, open pores
5. L'Oreal Paris Infallible Gel Liner- Blackest Black (Review Here) –  A jet black gel liner with buttery creamy texture which goes like a dream. Once set, it is set for the day and even on oily lids it won't show any signs of smudging, fading, flaking or transferring. It is really long wearing liner which you just put in the morning and forget about it whole day.
The last section of this post, the most unused products from the brand. It is not like the case that I hate them completely but there is one thing or the other that doesn't work for in each case. Let's take a look: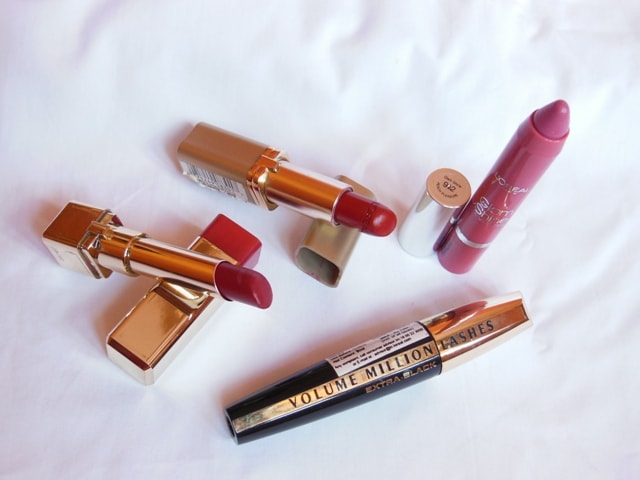 1. L'Oreal Color Riche Lipstick – Red Rhapsody  (Review Here) – It is rich tomato red lipsticks, intensely creamy and extremely pigmented. Can be worn in full swing or as a stain for red tinted lips. I am loving the Revlon Super Lustrous more, so it has taken a backseat.
2. L'Oreal Color Riche Caresse Lipstick Cherry Tulle  (Review Here) is a lovely soft cherry red lip color with silky smooth texture which glides effortlessly on lips. It imparts a yummylicious, juicy shine to the lips and is highly moisturizing to lips but somehow I didn't reach for this shade often!
3. L'oreal Paris Volume Million Lashes Mascara Extra–Black (Review Here) : It is a pitch-black mascara which thickens lashes, provides volume and lengthens them to a certain extent but it is prone to clumping (I end up spider lashes most of the time 🙁 )and takes a bit more to dry completely.
4. L'Oreal Paris Glam Shine Balmy Gloss Peach Pleasure (Review Here) :  It is like a tinted lipbalm with a super-glossy, cute girly packaging and pocket-friendly price-tag but the unwanted shimmers and the sheer formula reduce its usage for me.
These posts will basically keep a track of products that I own and my next purchases (unless there are new launches in between :P)
What is on your Lust List from L'oreal Paris? Any favorites from the products you own?