Lust, Love and More: Eye Shadow Palettes
I am a little crazy about eye makeup and always on a hunt to grab beautiful eye shadows. I prefer Eye Shadow palettes over single eye shadows as it gives you tonnes of options to create looks and also complete in themselves with the variety of shades which can be used as highlighter, all over lid cover, darker shades for outer corner.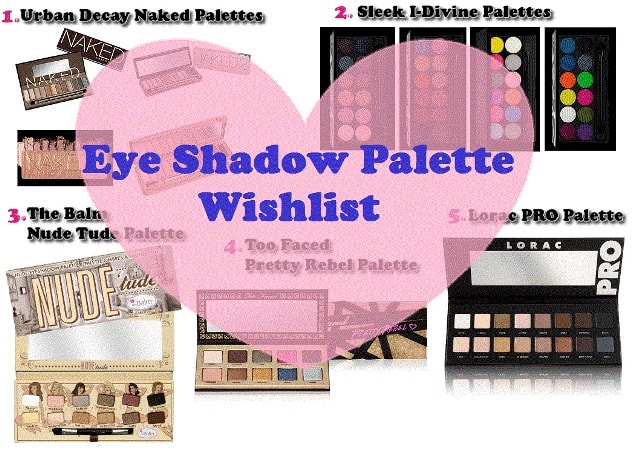 Eye shadow Palettes are the sure shot your best friend over a trip, but one of the most under rated product in Indian makeup industry. Though I love singles like Maybelline Color Tattoos, L'Oreal Infallible eye shadows, and Colorbar but talking palettes even the top brands including Maybelline, L'Oreal, Revlon doesn't have much options to choose from. The one's they offer aren't amazing considering the shade selection but I am mainly disappointed with the quality of eye shadows.
It's INGLOT cosmetics that have come to my rescue with its Freedom System Eye shadows at pocket friendly prices giving me the freedom to create my own palette. :). There is no dearth of options available from International brands like Urban Decay, Sleek, The Balm, Too Faced, Lorac and so on..So, Today I am sharing my Eye shadow palette wishlist.. 🙂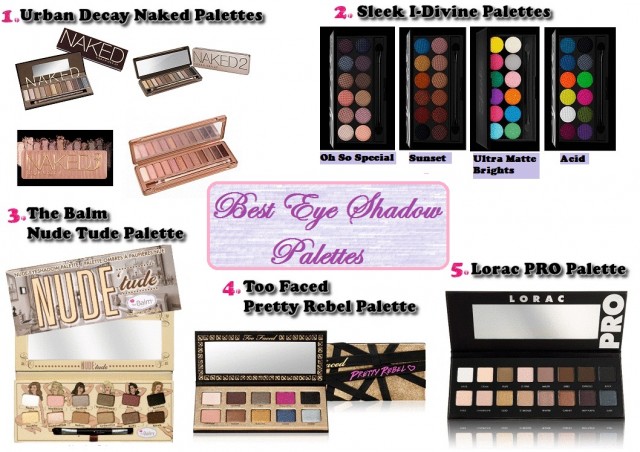 Urban Decay Naked Palettes ($52): Starting with one of the most coveted palettes  The Urban Decay Naked Palettes.. the list is getting longer and longer and with the newest launch in the series Naked 3.  If you are into makeup, it is almost impossible that you untouched by the Naked fever.. ;).
Sleek I-Divine Palettes ($10, £7.99 ): While Urban Decay Palettes are going to burn a whole in your pocket, the best affordable option without compromising on the quality is sleek but the best part is the number of finishes, combinations to choose from ranging from neutrals to brightest color. Few of my favorited form the range are Oh So Special, Sunset (mix of netrals and dark shades),  Ultra Matte brights, Acid (All bright and beautiful 😉 )
The Balm Nude Tude Palette (36$): I love The Balm for its amazing, drool-worthy packaging.  They have a retro feel which brings back the drama and glamour of vintage Hollywood era. There are variety of shades in terms of color and finish. Great for all sorts of smokey eye looks.
Too Faced Pretty Rebel Palette ($46): It is again a mix of bold and neutral eye shadows which give you the possibility to transform from soft daytime chic looks to bold-dramatic evening fun.
Lorac Pro Palette ($42): Lorac Pro is mix of  matte and shimmery finish eye shadows with mainly neutral shades and a few darker/bolder shades.
The quality and pigmentation of the eye shadows is indisputable in the above palette but everything comes with a price, except Sleek all of them are enough to make me go bankrupt. So, here are a few affordable options in eye shadow palettes.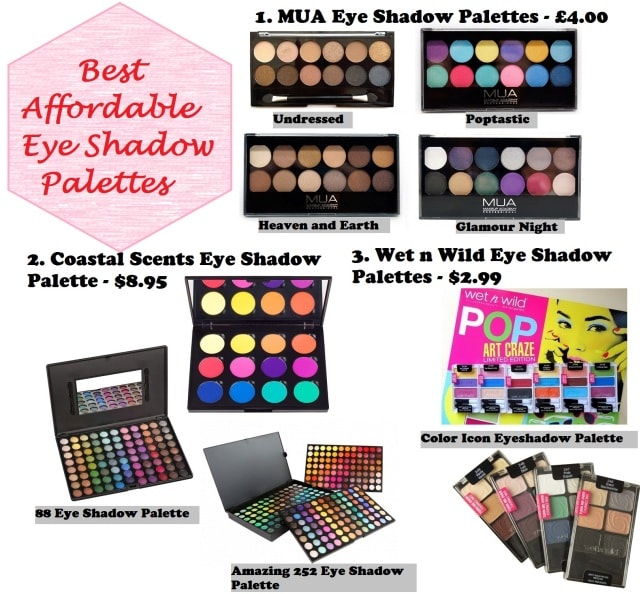 MUA Eye Shadow Palettes (£4.00): If you like the color combination in sleek palettes but doesn't want to shell out much for them , then MUA palettes is a good budget options. Most of its palettes are raved as Sleek dupes. The ones I would love to try are Undresses, Poptastic, Heaven and Earth, Glamour night
Coastal Scents Eye Shadow Palette (starting $8.95): This is one of the best budget brands providing you with a plethora of shades and finishes. Most of its eye shadows,  the Hot Pots priced at $1.95 are close of dupes of MAC ones and with offers/discounts running all through the year, it makes the best affordable substitute. You can choose to make your own palette using singles/hot Pots  or buy one from the available collection of 12, 88, 120 and as well as 252.. Go get creative with Coastal Scents :).PS:

Quality of singles/hot pots is much better than the eyeshadows comes in palettes, so choose depending on your requirements
BHCosmetics is another similarly priced brand with similar palettes and offers
Wet n Wild Eye Shadow Palettes (Starting $2.99): Another budget brand which delivers quality palettes in array of stunning color combinations. To add to the pleasure it can be grabbed under offers. Few of my favorite from Wet n Wild collections, Color Icon Eyeshadow Trio – I am Greenie and Color Icon 8-Shade Eyeshadow Palettes –Comfort Zone and Pop art Palette
There is few more left to make you drool even more.. :P. Lets talk about a few Limited edition launches that sold me completely. Wish I had a Jeannie or may be my "Personal Santa" who will fulfil all my wishes and wishlists.. 😉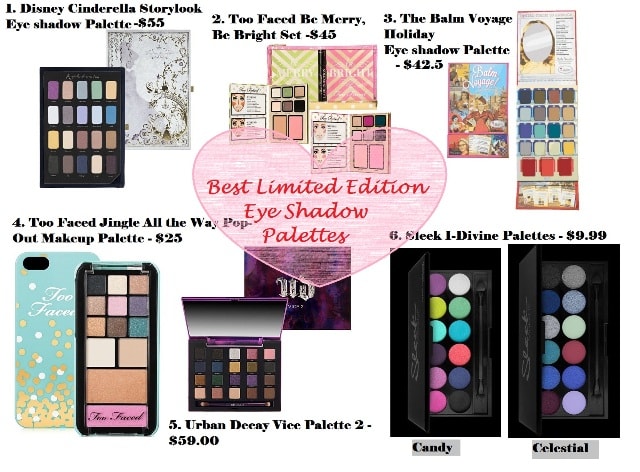 Disney Cinderella Storylook Eye shadow Palette – $55 : Did I read Cindrella storyy.. the favorite of every girll!!
Too Faced Be Merry, Be Bright Set – $45.00 : The two in one combo with a mix of bright & dark shades and complimentary blushe and bronzers.
The Balm Voyage Holiday Eye shadow Palette – $42.5 : It sounds like I am on a cruise standing in signature Titanic Pose, again the stunning retro packaging steal the show for me! The gorgeous lip colors makes the palette complete in itself!
Too Faced Jingle All the Way Pop-Out Makeup Palette – $25: The palette lured me for its cute IPhone shape.
URBAN DECAY Vice Palette 2 – $59.00: It is a UD palette with a mix of shade and not essentially neutrals.
Sleek I-Divine Palettes $9.99: Other than  Sleek permanent range it comes up some tempting palettes from time to time. The latest in the list are Candy and celestial
Don't Miss to Checkout:
Pheewww… It just started as wishlist but I ended up covering almost all the brands and the best options available out there both luxurious and affordable ones… :). Hope you like the post!
Have your tried any of these palettes? Would you like to be my Santa this year.. you know what I mean.. 😉
PS: Hey Girls,  I got featured on Anamika's Blog Wiseshe.com in the Meet the blogger series. It's a great initiative taken by Ana to support new/upcoming bloggres.. :). Read to know more about me or any other blogger you would love to know about .. 😉 , Check the post Here.. Hope u like it !!