Lust List: SigmaTech Essential Brush Set
Hello Everyone,
Lets talk about the most important tool in the whole makeup process "Brushes". It took me long to understand the importance of quality makeup brushes in flawless makeup application because I believed that it depends on the product more than the brush but through my journey of being a makeup blogger I learnt that if you want your superb quality makeup to deliver the best, you ought to use a good quality brush. Anything or everything can go wrong if you use poor quality brushes which can be scratchy and doesn't have that perfect shape for the defined purpose.. Hope you get me!! 😉
As you all know that I am big Eye Makeup freak and I am happy to share that all of this wouldn't have been possible without SIGMA Makeup Brushes. I still couldn't believe that SIGMA brushes were actually the first ones that made it into my Kit. I have read so much about SIGMA Brushes and all of the hype is in fact true. One just can't go wrong with top quality Sigma Brushes. The best thing about SIGMA is they keep inventing and reinventing the brushes. Last year they launched SIGMA 3DHD brushes which are equally amazing.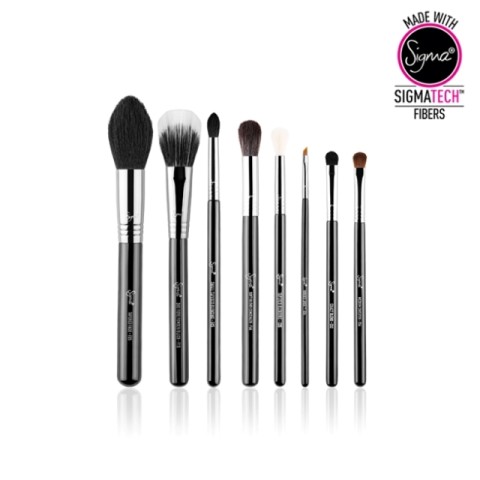 SigmaTech™ Essential Brush Set
SIGMA Brushes are so much loved by everyone because of the exclusive quality of Synthetic fibers they use in brushes and when I got to know that SIGMA has stepped up their Brush Game by introducing a new Synthetic Fibre, I got super excited.
SIGMA has come up with a whole new kit of makeup brushes called the SigmaTech™ Essential Set which contains an exclusive selection of Makeup Brushes made with high performance synthetic fibers engineered to outperform traditional animal hair.
Brushes Include:
F25 – Tapered Face
F64 – Soft Blend Concealer™
F15 – Duo Fibre Powder/Blush
E54 – Medium Sweeper™
E35 – Tapered Blending
E32 – Exact Blend™
E45 – Small Tapered Blending
E06 – E06 Winged Liner™

What's so Special about SigmaTech Fiber Special:
SigmaTech™ fibers high performance synthetic fibers engineered to outperform traditional animal hair
SigmaTech™ fibers are antibacterial, hypoallergenic, and will maintain their original shape and color even after multiple washes.
SigmaTech™ fibers are built to last.
SigmaTech™ fibers features high technology filaments with specialized tips developed to hold and deliver cream and powder products without any absorption into the bristles.
And like all other Amazing SIGMA Brushes:
Ferrules – The patented 3-ring brush ferrule is made with high performance SigmaAlloy™ for durability and strength.
Handles – Each brush handle is made from a lightweight, sustainable source of wood which receives 8 coats of paint, making them scratch resistant and guaranteed to last.
SigmaTech™ Brushes seems to be best brushes out there and I can't wait to add these brushes in my makeup vanity.
SigmaTech™ Essential Brush Set is priced around $153.00 but if you order then now you can grab the whole set of awesomeness for just $122.00, so you can save $31 instantly. 
Buy: sigmabeauty.com (Get 10% off with SIGMAPINK)
Have you tried SIGMA Brushes? Are your excited about these new SigmaTech Brushes?