Lust List: 5 Awesome Orange Blushes
Hellooo hottiess,
Summers are around the corner, which means that it's time to start sorting out my makeup stash and pick some awesomely bright poppy summer shades. One shade that I am most interested this year is tangerine-orange which makes a fabulous summer shade. I love the color "Orange" and off late I am tempted to sport orangey cheeks for that beautiful sun kissed look but alas.. I don't even have a single blush "Orange" but there are so many Orange blushes floating around, it will be hard to choose Best Orange blush from them.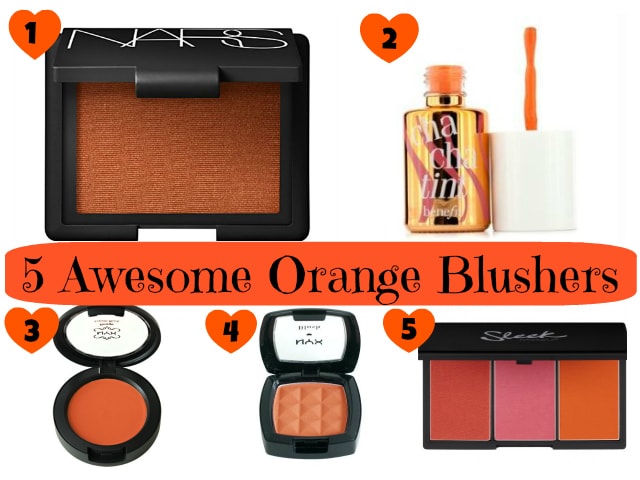 I quickly launched Google Chrome and started looking for the orange blushers available here but was quite disappointed to find out that we don't even have a single Orange blush to the credits. I wonder why do Indian Makeup Brands doesn't explore the "Blushing Stream" and come up with some really bright, fun shades and dump those peachy pinks!! 😛
Anyways.. here is the list of the Orange Blushes that I would like to add to my vanity:
Best Orange Blushes 
 NARS Taj Mahal ($29.00 for 0.16 oz. / Rs. 2,098)  — Whenever I think of orange blushes and the first thing that comes to my mind is the "TAJ MAHAL". Not the one in Agra but the poppy orange blush by NARS. I tried finsing its dupes but nothing coems closer. NARS Taj Mahal is a vivid burnt orange with golden shimmery sheen. Everything is just perfect in this blushh.. but the priceee… uhhuu uhhuu uhhuu
Benefit Cha Cha Tint ($29.00 for 0.42 fl. oz )— It is bright orange liquid blush that sheers out on application adds a subtle warm orangey peachy glow to the cheeks. The liquid texture blends quickly,and the long lasting formula will cling to the cheeks till you take it off with a remover. It adds a subdued natural orange flush to cheeks.

NYX Rouge Cream Blush Orange ($6)

– It is a soft orange blush, amazingly creamy, highly pigmented and without shimmer/glitter in it. It will blend beautifully on cheeks imparting a dewy radiant finish.

NYX Powder Blush Cinnamon ($6) : It is bright tangerine orange blush in matte finish. It might look similar to the creamy partner orange but it is not as it is much brighter and more orangey. It is easier to apply, blend and build up the color.
Sleek Powder Blush in P Pie( $12.49 ) : The Shade is a part of Sleek Blush by 3 in Pumpkin palette. P Pie is a matte golden orange shade, super bright and like all other Sleek blushes it has glorious payoff and long-lasting formula.
Apart from these One limited Edition Blush that deserves a mention here is
Sleek Pan-Tao blush (£4.29) – It was a limited edition launch in Sleek Avoir la peach collection (Remember the Peaches).. It is an muted warm orangey peachy blush with makes it extremely wearable.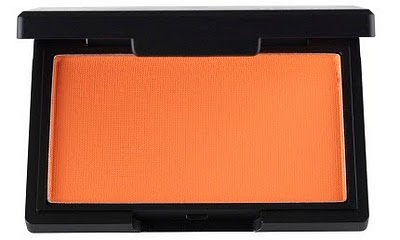 So, this was my list of top 5 Orange blushes. I am yet to start with orange blushes but I am ready with my list already! On a mission to hoard Orange blushes as I think it is imperative to must have Orange Blushes in your vanity
PS: Please feel free to add to the list and suggest an Orange Blush that you think deserves a mention here. 🙂
Have you tried Orange Blushes? Which color you would like to try this Summers?