Love and Makeup: February Fab Bag 2016
Hello Dolls,
This month's Fab Bag is a little late than the usual but still it made it to me before 10th of the month so its okk. No points guessing that this month's Fab Bag is themed around "Love" because with Valentine's Day round the corner everything seems to be dripping with love :D. I had no idea what I will be receiving in this month's Bag as they didn't asked us to opt for certain products but out of anxiety I checked their Instagram profile yesterday and got a little sneak peek.
The video is now live..:D
This month Fab Bag is a gorgeous bright coral red bag with crocodile skin like textured finish. The bag is of great quality and it feels really nice to hold. I can easily see myself pulling off this bag.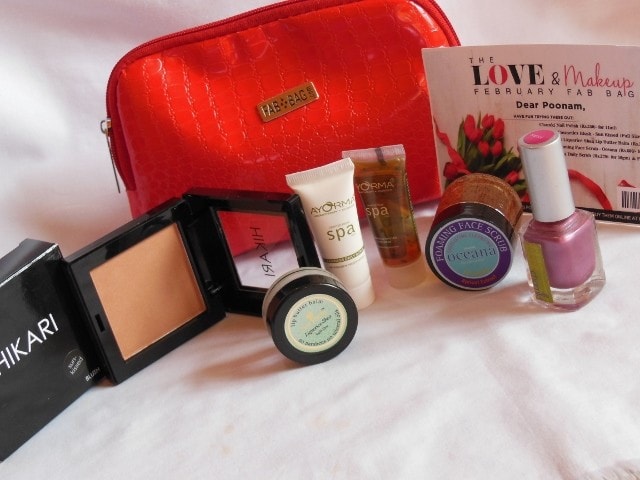 Products in February Fab Bag 2016:
Chamki Nail Polish -Kamal: Rs 250 for 11 ml (Full Size)
Just Herbs liquorice Shea Lip Butter Balm: Rs.345/8gms (Full size)
Hikari Cosmetics Blush- Sunkissed: Rs 1000/6gm (Full Size)
Nyassa Foaming Face Scrub -Oceana: Rs. 600 for 200 gms  ( 30gm Sample)
Ayorma Fairness Face wash Rs 349 or 100ml ( 8ml Sample)/ Ayorma Spa Fairness Daily Scrub: Rs 279 or 50gms ( 8ml Sample)
I have already tried and tested these Ayorma Fairness Face wash / Ayorma Spa Fairness Daily Scrub which  I received in previous Fab Bag. I really love this Face wash as it lather well and doesn't dry out the skin but the scrub kinda break me. I have reviewed the Ayorma SkinCare Range, so you can check it out.
I love Just Herbs Skincare Products, I got to try some of their face moisturizers and face wash and I fell in love with them. They feel pretty good on skin, are free from harmful chemicals and still come with affordable price tags. I am excited to try this Just Herbs Lip Balm as well because my lips need someone to rescue them from drying winter winds with just the natural oils and butters
I have received Nyassa Coffee body scrub few month back in my fab bag which I really liked so I am really excited to try this foaming face scrub. It is gel based scrub with fine granules for the exfoliating action. But it smells like a men's aftershave or cologne which is quite weird for natural stuff but will see how it works.
Next, is the funny looking, Chamki Nail Polish in the shade Kamal which is a pearly dusty pink shade :D.  I am quite disappointed with this product in the bag because not only it has a funny name which sounds a little (cheapo) mehh.. but the product is expiring in Nov this year. '
This is undoubtedly my favorite from this month's Fab Bag and it is the Hikari Cosmetics Blush in the shade Sunkissed. I really like the sleek packaging of the blush. It is a light peachy beige shade with subtle sheen. More than a blush it will work as a subtle highlighter for me as the shade is quite close to my skin tone and won't show when applied as a blush.
So, I got 5 products in February Fab Bag with 3 full sized products from both skincare and makeup and some more samples to pamper me this month. The fab bag is worth around Rs.1700 which is good but we have seen better bags from Fab Bag in the past months!!
Have you tried any of these products? Which one is your favorite here?
PS: Bag sent by brand for consideration