Lotus Herbals WhiteGlow Skin Whitening & Brightening Hand and Body Lotion Review
I have an extremely dry skin and can't survive without moisturizer even in summers. Like we get thirsty for water my skin thirsts for moisturizer. I feed my skin with moisturizers like anything. The moisturizers/Body lotions are the most used product in my shelf. I finish up with Body lotions so soon that I am always on a lookout for a new one.
In summers, when thick moisturizers make skin sweats and light moisturizer don't suffice I prefer to use moisturizers that gets absorbed fast and provides nourishment to my super dry skin with some SPF protection too as my skin gets tan easily.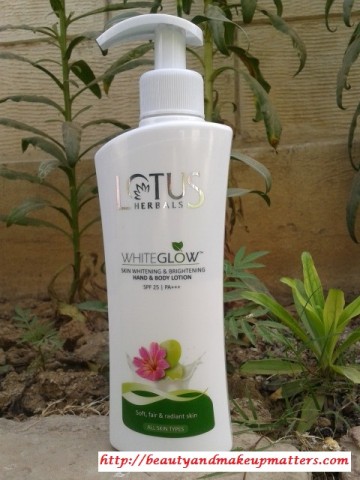 Directions for Use:- Apply liberally all over the body, ideally after a shower or bath on damp skin for best skin softening, sealing in the moisture. Focus on dry or stressed areas such as elbows, heels and knees. Can be used any time your skin is feeling particularly parched and dry
Result:- Soft, Fair and Radiant skin
Active ingredients:- Liquorice, Green Tea and Grape Extracts.
Ingredients:- Water, Light liquid paraffin, Glycerin, Stearic Acid, Cetyl Alcohol, Hydroxypropyl Starch Phospahate, Triehanolamine, Glyceryl Monostearate, Propylene Glycol, Glyceryl Staearate & PEG 100 Stearate, Isopropyl Myristate, Sodium PCA, Polysorbate 80, Octyl Methoxy Cinnamate, Butyl Methoxydibenzoylmethane, Titanium Dioxide, Glycyrrhiza glabra(Liquorice) Extract, Camellia sinensis (Green Tea) Extract, Vitis Vinfera(Grape) Extract, Tocopheryl Acetate, 2-Phenoxyethanol, Methyl Paraben, Propyl Paraben, Fragrance
Product Claims:-  'Visible Results withing 7 days of regular usage.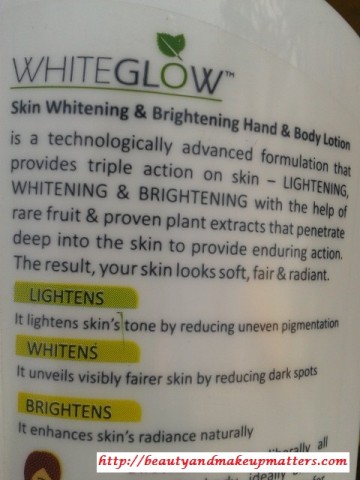 Price:- Rs.295 for 300ml
Shelf Life:- 3 years from the Mfg date.
Skin Benefits and significance of Ingredients:-
Liquorice :- Licorice (also spelled liquorice) is an extract from the root of the licorice plant. It has anti-inflammatory and antimicrobial properties which help in treating eczema and fighting acne.  Licorice also contains anti-oxidants, which help protect your skin from sun damage It is an effective moisturizer for the skin which is good for dry hands and soothes skin. It also helps skin lightening and whitening
Green Tea :- Green tea protects against sun damage, combat signs of aging, treat inflammatory skin conditions and soothe cuts and sunburns.
Grape:- Grapes are rich in vitamins, fruit acids, minerals and antioxidants that inhibit skin aging. It protects skin cells against free radicals, which are responsible for the irregularities in our skin and helps in maintaining the natural elasticity and skin moisture which results is soft and smooth skin.\
Packaging :- It comes in a plastic bottle with a pump dispenser The bottle is complete white in color. The bottle is opaque but if hold against light I can see the amount of the product left in the bottle. This The packaging is sturdy and convenient to use. The best thing about the packaging is it comes with a lock feature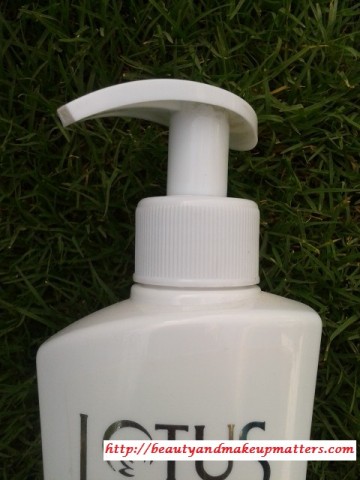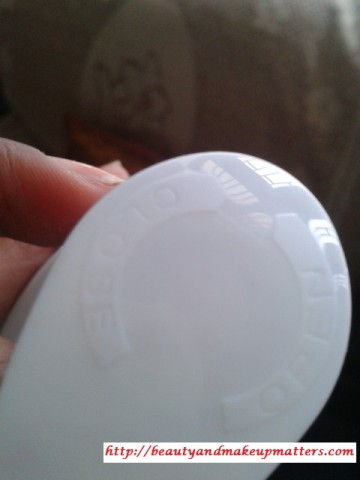 My experience with Lotus Herbals WhiteGlow Skin Whitening & Brightening Hand & Body Lotion :-
Lotus Herbals WhiteGlow Body lotion is milky white in color, thick in texture but spreads easily on the skin. It has a strong sweet smell of some ripen fruit that I couldn't recognize but it smells delicious. It feels like I am nourishing my skin with some fresh fruit pulp. The smell stays for good 2-3 hours after which it faints away slowly. Earlier I was using Vaseline healthy white body lotion which was also doing a good job but doesn't smell anywhere near this.
The lotion has a slightly thick consistency but it spreads easily all over the body. The lotion is moisturizing enough and leaves my skin soft and smooth. Can't say for sure about its whitening effect but it has definitely brightened up my skin tone and also worked on my uneven skin tone. It made my skin glow by reducing the tanning and providing SPF protection so as to save it from further damage. My skin looks smooth and radiant.
The only problem that I have with this is it takes a lot of time to get absorbed. I have to keep rubbing it for 1-2 minutes to let it seep completely into the skin. It took so much time to get absorbed that I assumed it is going to leave a whitish cast on my skin but to my surprise it doesn't.
Don't Miss to Checkout:
Swatches:-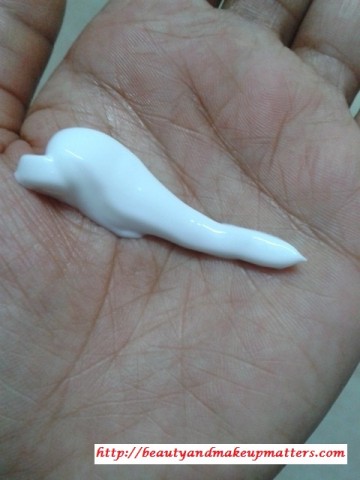 Pros of Lotus Herbals WhiteGlow Skin Whitening & Brightening Body Lotion:-
Spreads easily all over the body
Moisturises skin pretty well and leave it soft and smooth
Has super delicious (read mouth watering) fruity smell
Lightens the skin tone by reducing uneven pigmentation and tanning
Skin looks more radiant.
Enriched with natural ingredients like Glycerin, Green Tea, Grapes and Licorice
Provides SPF 25 and PA+++ protection
Hygienic and convenient packaging. The bottle also stands out, dressed in white from top to bottom.
Lotus Herbals doesn't test on animals
Complete ingredients list is mentioned on the packaging
Cons Lotus Herbals WhiteGlow Skin Whitening & Brightening Body Lotion:-
Takes hell lot of time to get absorbed.
May feel a little greasy if applied in excess but the greasy feeling go in few minutes.
Bit expensive compared to other Lotus Body Lotions or Vaseline Healthy White Body Lotion.
Contain Parabens
Recommendation:- I have love- hate relationship with this Lotus Herbals WhiteGlow Skin Whitening & Brightening Body Lotion. I am totally in love with its smell and have to restrain myself from tasting it (It smells so yummm :P). I like how it moisturizes my skin, reduces tanning and uneven skin-tone. I hate it for the time it takes to get absorbed.

It is not the best lotion but still worth a try considering the nourishment it provides to skin with natural ingredients and its yummy plumy smell. I will recommend this to all.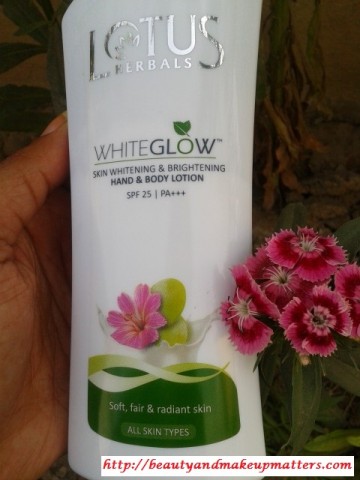 Rating:- 3.5/5
Have you tried Lotus Herbals WhiteGlow Skin Whitening & Brightening Hand & Body Lotion? Which is your favorite Lotion for summers?