Lotus Herbals WhiteGlow Skin Whitening & Brightening Micro-Emulsion Review
Today I am going to review yet another product from the Lotus Herbals "White Glow" range. You can find my reviews on Lotus WhiteGlow Scrub and Lotus WhiteGlow Body Lotion.
Today's Product under review is Lotus Herbals WhiteGlow Micro Emulsion.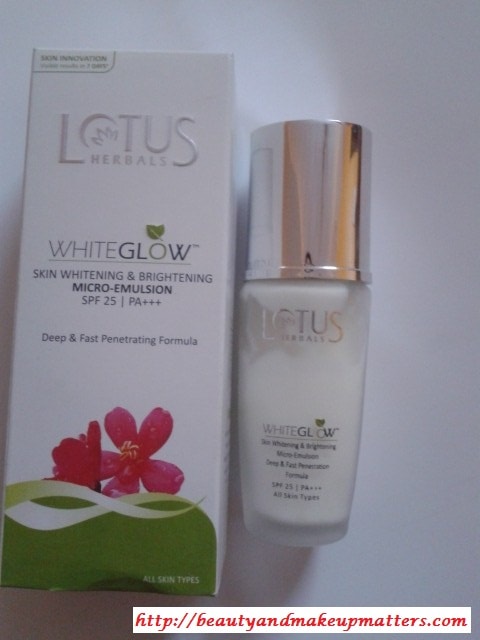 We are well- versed with the terms like "Serum" and "Moisturisers" but what is with that "Micro emulsion"? Lets check it out and brush up some of our chemistry:- "Micro emulsions are clear, stable, isotropic liquid mixtures of oil, water and surfactant, frequently in combination with a cosurfactant. Microemulsions form upon simple mixing of the components and do not require the high shear conditions generally used in the formation of ordinary emulsions"
Product Claims:- WHITEGLOW skin whitening & brightening micro-emulsion is a breakthrough from Lotus Herbals that lightens, whitens an brightens your skin.
Lightens:- It lightens skin-tone by reducing uneven pigmentation
Whitens:- It unveils visibly fair skin by reducing dark spots
Brightens:- It enhances skin radiance naturally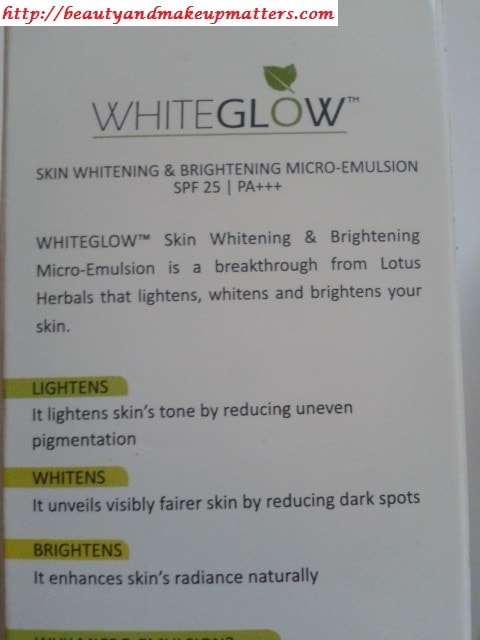 Why Micro-Emulsion? Micro-emulsion is an revolutionary formulation that blends the hydrating properties of water and nourishing goodness of oil in a manner that resultant formulation has very fine particle size.
This has several advantages:-
2-6 times deeper penetration
Quicker delivery of ingredients
Nourishes and hydrates
Leaves no residue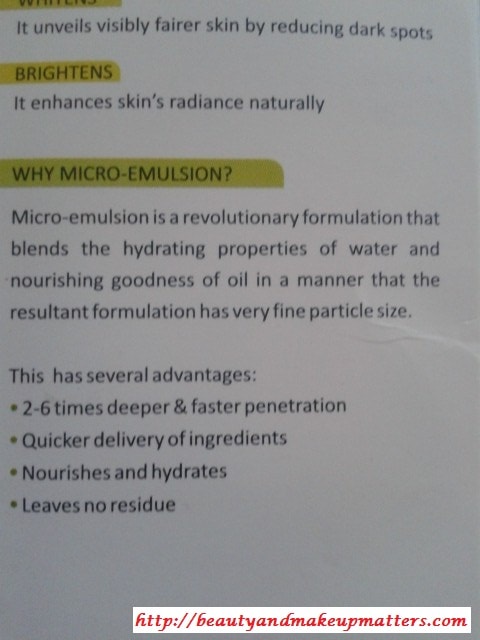 Direction for Use:- Use morning and evening all over the face and neck after cleansing it thoroughly. For synthetic effect, use in conjunction with WHITEGLOW Intensive Skin Whitening & Brightening Serum
Why WhiteGlow?:- WHITEGLOW skin whitening & brightening range is technologically advanced formulation that provides triple action on skin- LIGHTENING, WHITENING & BRIGHTENING with the help of rare fruit & proven plant extracts that penetrate deep into the skin to provide enduring action. The result your skin looks fairer, flawless and radiant.
It is free from harsh chemicals which generally have side effects.
How it Works:- Clinical trials show that the following plant extracts lighten, whiten and brighten the skin within 7 days of regular use:-
Grape extracts (VITIS VINIFERA): Exfoliator- helps active ingredients penetrate into the skin.
Mulberry Extract (TRITER PENOIDS, PHENYL FLAVONES): Tyrosinase inhibitor
Milk Enzyme: Blocks Melanin Pathways
Saxifraga Extract (EPIGALLOCATECHIN): Free radical scavenger & tyrosinase inhibition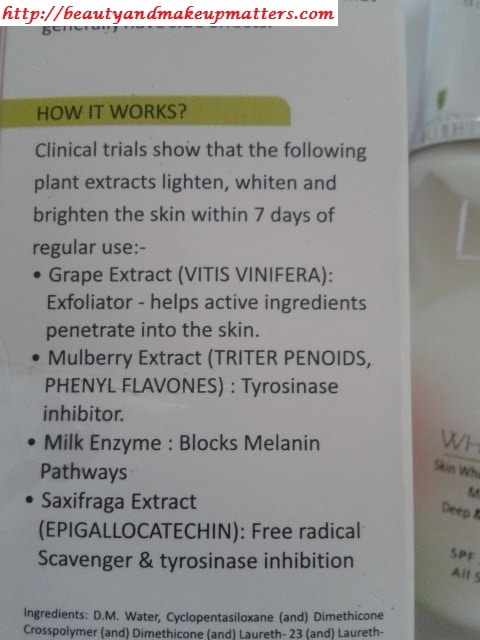 Ingredients:-  D.M Water, cyclopentasiloxane & dimethicone crosspolymer & dimethicone & laureth-23 & laureth 4, caprylyl methicone, rctostaphylos Uva-Ursi (Bearberry) extract, camellia sinensis (green tea) extract), PEG/PGG/18 Dimethicone, cyclopentasiloxane & T rid eceth-6 &, sodium polyacrylate & dimethicone &, methyl paraben * propyl paraben, propylene glycol & diazolidinyl Urea &, Milk Enzymes, triter penoids, phenyl falvones (mulberry) extract, epigallocathechin (saxifrage) extract, vitis vinifera (grape) extract, biosaccharide gum-1, Alpha Arbutin, fragrance
Price:- 225 INR for 40ml
Shelf Life:-  2 years from the Mfg date.
Packaging:- The Micro emulsion comes in semi-transparent frosty glass bottle with a white plastic pump dispenser and a shiny silver cap. The cap is filmsy and may come out while travelling but the bottle is handy and looks stylish. The translucent packaging allows seeing how much of the product is left in the bottle.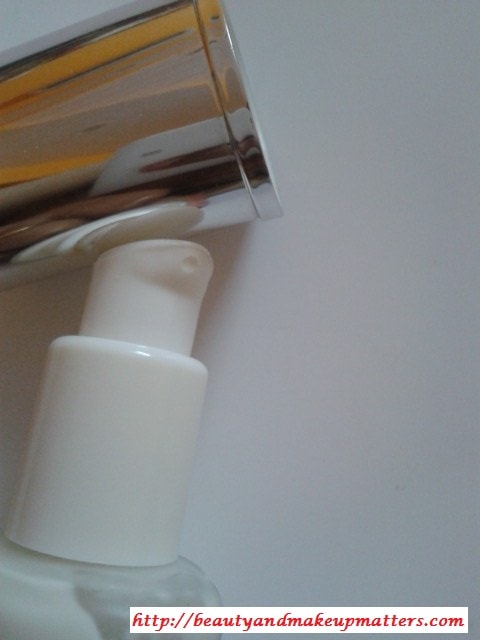 My experience with Lotus Herbals WhiteGlow Micro Emulsion:-
Texture:-The emulsion aka moisturizer is a white colored cream. The texture is neither thick nor runny and has a creamy consistency slightly thicker than a regular body lotion. The emulsion spreads easily and seeps deep into the skin with in seconds of application and doesn't leave behind any traces. I don't need to rub it again and again to get it absorbed completely just 2-3 strokes all over the face and you are done with it.
Moisturisation:- It feels like a light moisturizer but it is enough moisturizing for my dry skin . It gives nice matte (hydrated) finish to my skin and never felt heavy or greasy. Though, it feels light. 2 pumps of Lotus White Glow Micro-Emulsion are enough to cover my face. It instantly makes my skin soft and smooth to touch. Regularly using it for few weeks I can see improvement in my overall skin texture. My skin has become smooth and even due to the moisturizing and hydrating properties of this Micro-emulsion. It has added a subtle glow to my skin which makes it look healthy. As far as lightening and whitening claims are concerned I don't think it is an effective solution and one has to look for more specific product to counter them.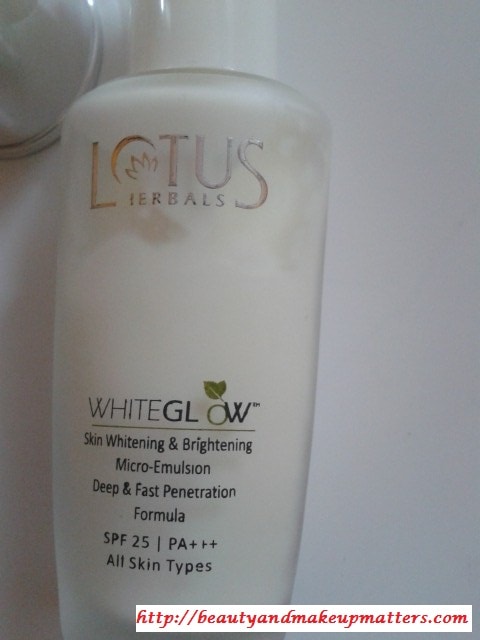 Fragrance:-The micro-emulsion smells similar to the other products from the White Glow range. The rich fruity smell makes the application process a delicious experience. The smell doesn't stay for long so sensitive noses don't have to worry too much.
The micro- emulsion is enriched with rare plant extracts like Grape, Mulberry, Saxifraga and milk enzymes that penetrate deep into the skin and has skin –lightening properties which help the skin look more healthy and radiant. It also contains sunscreen(SPF 25) and PA+++to protect the skin from harmful UVA & UVB rays.
Don't Miss to Checkout:
Swatches:-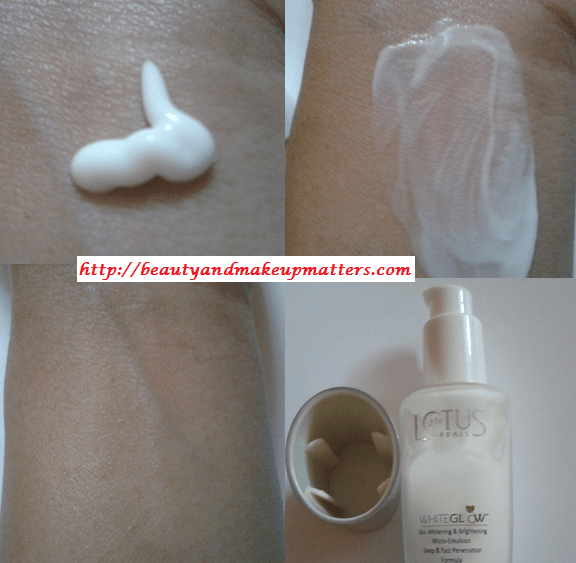 Pros of Lotus Herbals WhiteGlow Micro Emulsion:-
Non-greasy moisturizer which soaks into the skin quickly
Works on uneven skin tone and makes the skin look healthy and well-hydrated
Comes in an hygienic and easy to use pump dispenser packaging
2 pumps of this micro-emulsion are enough to provide enough moisturizer to my dry skin.
Suitable for Combi and slightly oily skin too as it doesn't leave any greasy or oily residue behind
Can be safely used under foundation for dry skin and keeps the skin well moisturized without making it oily or shiny.
Has SPF-25 protection which protects skin from harmful sun-rays.
Never broke me out or caused any irritation
Affordable
Cons of Lotus Herbals WhiteGlow Micro Emulsion:-
Contains Parabens
Makes tall claims of lightening and whitening the skin tone however, it does make my skin radiant and healthy.
Recommendation:-  I am absolutely in love with this Lotus Herbals WhiteGlow Micro Emulsion. I love its light non-greasy texture. It moisturizes my dry skin well and gives a healthy matte finish to it. It has made my skin softer and smoother with continuous use. It has never irritated or broken me out. It is a kind of moisturizer which can be used to replenish skin moisture and nourishment without making it oily or shiny. It also has Sun-protection and its light texture makes it a good summer moisturizer which suits all skin-types (except extremely oily skin).  Highly Recommended!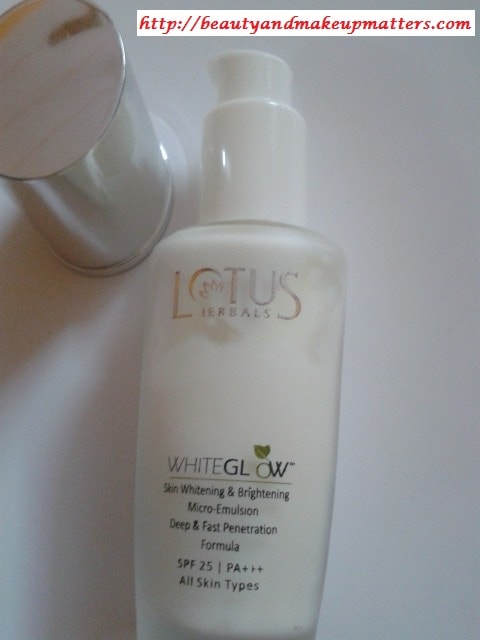 Rating:- 4/5
Have you tried Lotus Herbals WhiteGlow Micro Emulsion? Do you like its effect on your skin? Do share your thoughts and experience through comments.