Lotus Herbals WhiteGlow Oatmeal & Yogurt Skin Whitening Scrub Review
Today I am going to review another awesome product from Lotus Herbals. Lotus products have never failed on me and I am totally loving its "WhiteGlow range". Although I don't favor its whitening claims and couldn't understand why most of the brands go for whitening claims for their marketing and sales. I prefer to stay away from such products as I think they will leave a whitish cast on my skin or might be using some bleaching agents or harmful chemicals to support their claims.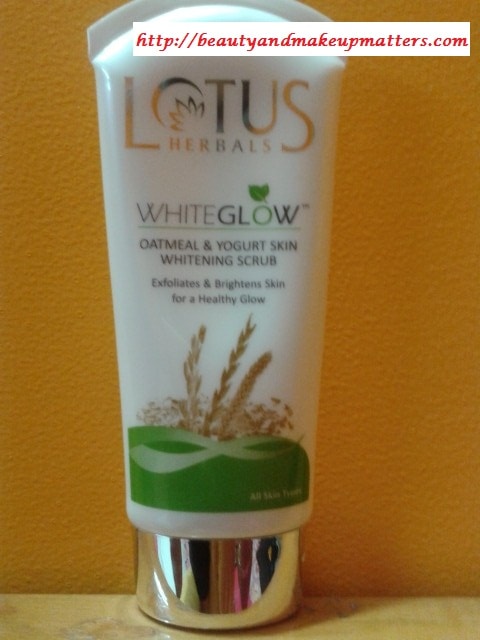 But this time it was Lotus herbals which use natural ingredients in their products and after having a wonderful experience with WhiteGlow Body Lotion, I wanted to explore the range more so I bought the scrub.
The scrub claims to contain Oatmeal and yoghurt quite different from the regular apricot/walnut scrubs from which I really needed a break..
Product Claims:- Lotus WhiteGlow Oatmeal Yogurt Skin Whitening Scrub exfoliates the skin gently, removes dirt, impurities, blackheads and whiteheads leaving your skin brighter and healthier with a shining glow. The gentle exfoliating action works on skin discoloration, dull and uneven skin tones and softens the skin giving you a firmer texture.
Oatmeal exfoliates gently, restores the natural moisture balance of the skin and yogurt moisturizes and lightens the skin reducing imperfections giving you silky, smooth and brighter skin.
Directions for Use:- Gently apply the scrub on moistened skin with brisk circular movements on the face and neck. Rinse thoroughly and pat dry. Use twice a week for brighter and luminous skin. Follow with WHITEGLOW Yogurt Radiance Mask for best result.
** I generally don't follow it with the suggested mask but the Frujenuvate Face pack from Lotus only and I am extermely satisfied with the results.
Active Ingredients:- Oatmeal & Milk Yoghurt
Ingredients:- DM, Water, Glyceryl Monostearate, Glycerine, Isopropyl Myristate, Ployethylene granules, Avena Sativa Meal (Oatmeal) powder, Cetyl Alcohol, Stearic Acid, Light Liquid Paraffin, Yogurt powder, Sodium Lauryl Sulphate, 2-Phenoxyethanol, Methyl Paraben, Propyl Paraben, Alpha-Arbutin, Fragrance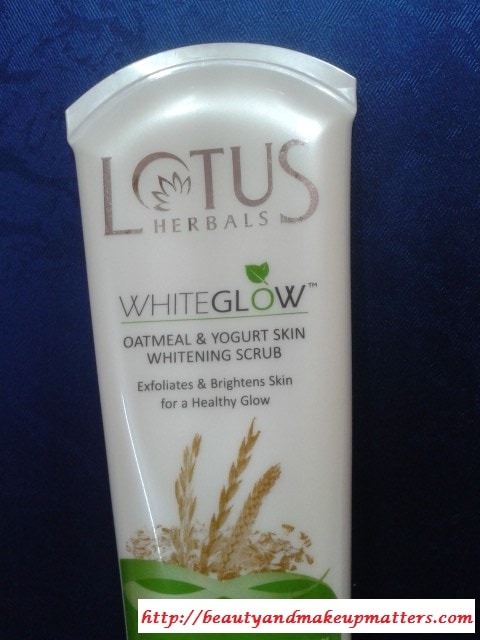 Price:- Rs.145 for 100g
Shelf Life:- 3 years from the Mfg date.
Packaging:- The scrub comes in an opaque white tube with a silver twist cap. The mouth of the tube is nozzle shaped which allows better control on the amount of the product to be dispensed but still I prefer flip-cap packaging. The packaging looks dazzling with white-silver combo
My experience with Lotus WhiteGlow Oatmeal & Yogurt Skin Whitening Scrub:-
Lotus WhiteGlow scrub is white in color and has creamy texture which spreads smoothly all over the face. The scrub granules are not abrasive or gritty but scratchy enough to remove blackheads and dead cells from the skin. The scrub has effectively removed the stubborn blackheads (from my nose) too. The scrub is mild on skin and it feels like I am exfoliating my skin with grinded rice mixed with yoghurt and milk cream.
The scrub particles are small in size compared to Everyuth Walnut Scrub.
It has a mild sweet fruity fragrance which is another plus. It leaves behind clean and fresh skin which feels silky soft to touch. Its difficult to take hands off your face after this scrub. It has added subtle glow to my skin though the effect is temporary.
The scrub rinses off pretty quickly without leaving any stains unlike Biotique Papaya Scrub which stained my nails badlly. It delivers excellent results and stand true to what it claims. 🙂
Don't Miss to Checkout: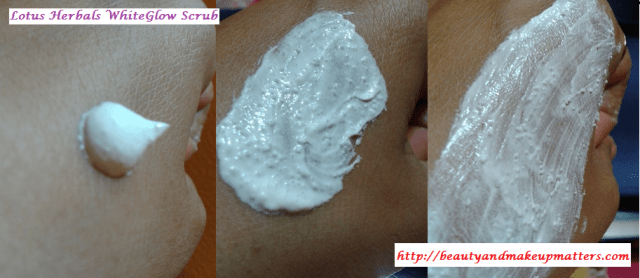 Pros of Lotus Herbals WhiteGlow Oatmeal and Yogurt Skin Whitening Scrub:-
Doesn't dry out my skin unlike normal apricot scrubs.
Removes impurities, dead cells and blackheads even the hard ones effectively.
Skin feels clean and fresh.
Leaves skin super soft and smooth. Love the skin I am in… kinds
No unwanted eruptions
Gives a subtle glow to the skin though its short lived.
Mild fruity fragrance
Different from the regular apricot scrubs with yoghurt and Oatmeal.
Hygienic packaging but a flip top would have been better.
 Quite Inexpensive and going to last long.
Complete ingredients list mentioned on the tube.
 Easily available in stores but can be bought online on discounts
Cons of Lotus Herbals WhiteGlow Oatmeal and Yogurt Skin Whitening Scrub:-
Contains Parabens
Scrub may feel a little harsh if scrubbed hard so you need to work this up with soft hands.
Recommendation:- I am totally loving this Lotus Herbals WhiteGlow Oatmeal and Yogurt Skin Whitening Scrub. It removes all the impurities/blackheads leaving behind soft and supple skin. I am super happy with the results and for me it is a good alternative to home made scrubs with the goodness of oatmeal and yogurt in a no fuss tube form. I dont think I am ever going to part from this scrub. Highly Recommended!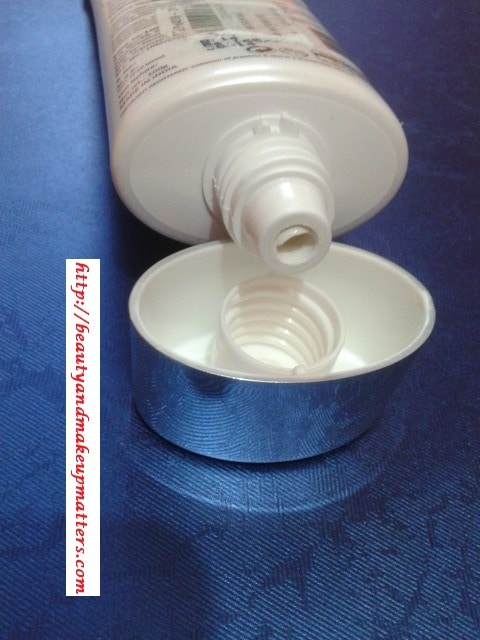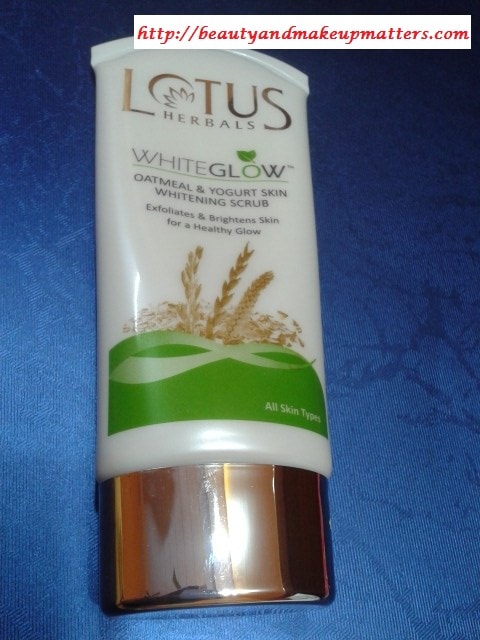 Rating :- 4.5/5
Have you tried Lotus Herbals Whiteglow scrub? Did you like it?