Lotus Herbals Vanilla Velvet Daily Body Lotion Review
Product Claims: Vanilla Velvet Body Lotion is a combination of the moisturizing properties of Avocado, Soy and Vanilla to give your body intensive hydration along with that silky feel. Leaves skin soft, smooth and healthy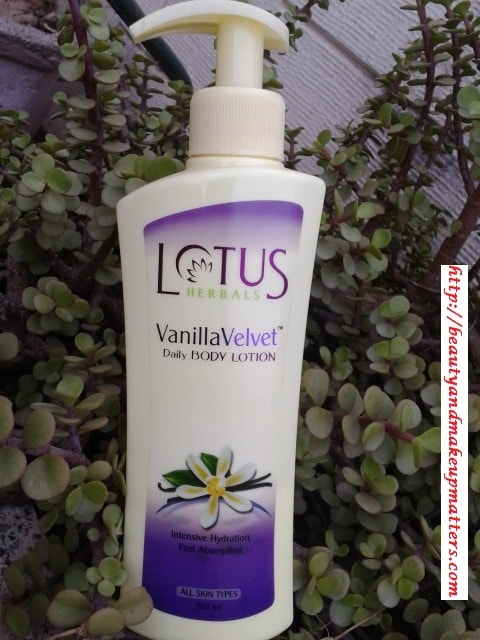 Direction for Use:-Apply liberally all over the body, ideally after a shower or bath on damp/skin for best skin softening, sealing in the moisture. Focus on dry or stressed areas such as elbpws, heels and knees. Can be used any time your skin is feeling particularly parched and dry
Result:- Comforts dry skin leaving it smooth and soft & refreshed.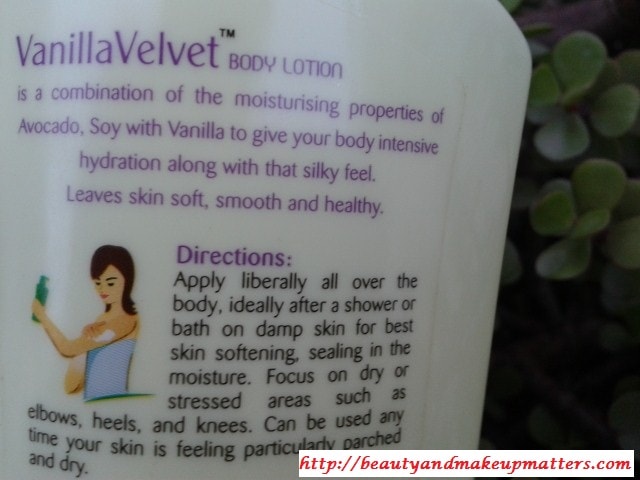 Key Ingredients:- Vanilla Extract, Soy Extract & Avocado Extract.
Vanilla Extract:- Vanilla is a spice that comes from a fruit-bearing orchid. Vanilla contains antioxidants, which helps to soothe irritated skin. It can also prevent skin from the damage of environmental pollutants and toxins.
Soy Extract:- Moisturizers that contain soy may have softening and smoothing effects while evening out skin tone. Soy improve skin firmess and diminish wrinkles and also help in reversing common signs of sun damage such as fine lines, blotchiness, discoloration and skin roughness
Avocado Extract:- Avocado helps to keep the skin soft while providing deep moisturization. It also helps to form a natural barrier against wrinkles and many other signs of aging skin.
Ingredients:- Water, Light Liquid Paraffin, Glycerin, Stearic Acid, Cetyl Alcohol, Hydroxypropyl Starch Phosphate, Triethanolamine, Glyceryl MonoStearate, Propylene Glycol, Glyceryl Stearate & PEG 100 Stearate, Isopropyl Myristate, Sodium PCA, Polysorbate 80, Vanilla Planifolia (Vanilla) Extract, Glycin Soja (Soy) Extract, Persea Americana (Avocado) Extract, Tocopheryl Acetate, 2-Phenoxyethanol, Methyl Paraben, Propyl Paraben, Fragrance.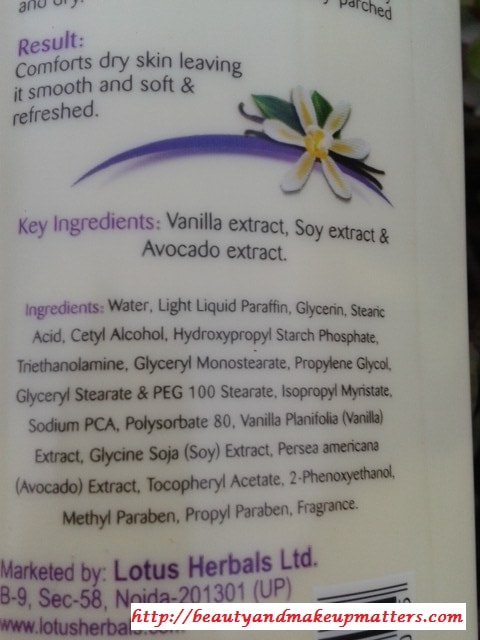 Price:- Rs.255 for 300ml
Shelf Life:-  3 years from the Mfg date.
Packaging:- The lotion comes in yellow colored plastic bottle with an easy to use pump dispenser type packaging. The bottle is translucent and will show the amount left in the bottle when you hold it against light. The bottle has a purple shaded paper that carries the name and other details of the lotion.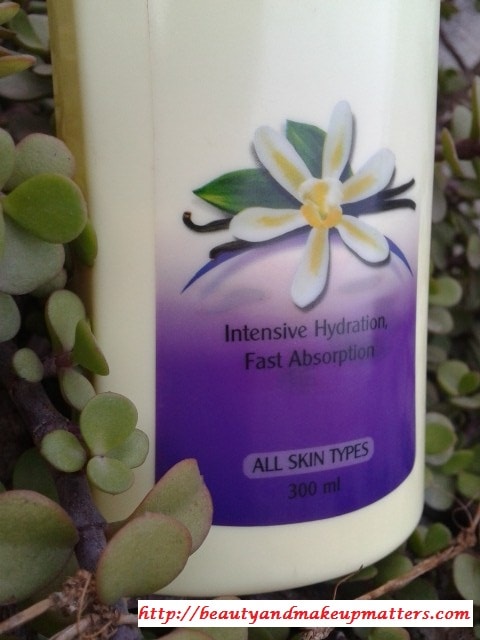 What I liked in Lotus Herbals Vanilla Velvet Daily Body Lotion:-
Lotus Herbals Vanilla Velvet Daily Body Lotion is enriched with naturals extracts of Vanilla, Soy & Avocado which are known for their moisturisation properties
Has a mild warm vanilla kind's fragrance. I like the way it smells, quite natural and not overtly sweet or artificial. The fragrance however doesn't stay for long and goes off within minutes of application. Each time I apply this lotion it reminds me of Vanilla Ice-cream but thanks to its short staying power that helps me in controlling my urge to have one. 😉
I normally use this lotion the way it recommends. Just after a shower, on damp body which helps in sealing in the moisture. It gets absorbed easily that ways and with a little rubbing it disappears completely leaving behind nourished and healthy looking skin
The lotion has nice consistency which is slightly thick and keeps the skin moisturized. It doesn't leave any greasy film on the skin.
Claims to suit all skin type but in harsh winters the dry skinned beauties needs to re-apply it after 5-6 hours of application. I don't mind drenching my body in its warm smell and apply it lavishly and rarely feel the need of re-application.
Hygienic and convenient to use packaging
Reasonably Priced
Don't Miss to Checkout:
Swatches with one full pump of Body Lotion:-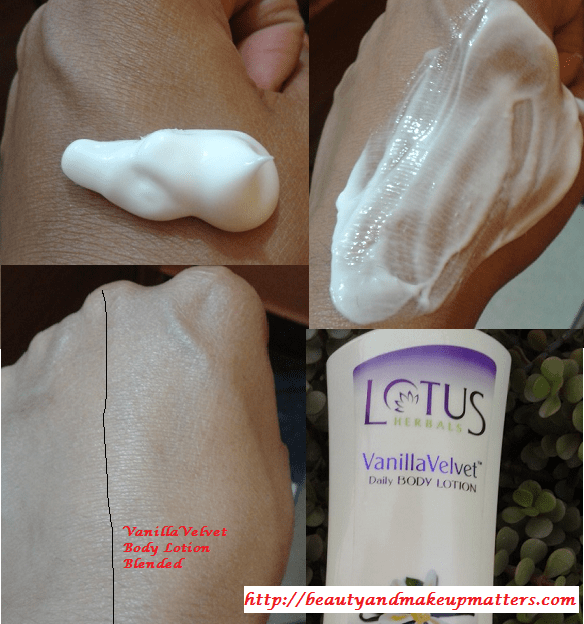 What I disliked in Lotus Herbals Vanilla Velvet Daily Body Lotion:-
No SPF or sun protection. So, not the best option to be used as a summer body lotion.
When applied in excess it takes time to get absorbed completely and due its delicious vanilla smell I end up dispensing more than the required amount. I am going to finish this bottle soon as quick as in a month or two if used regularly.
Contains Parabens
Recommendation:- Lotus Herbals Vanilla Velvet Daily Body Lotion provides natural nourishment to the skin with the help of Vanilla, Soy and Avocado Extracts resulting in velvety soft and smooth skin. For all those vanilla lovers, this is must try body lotion.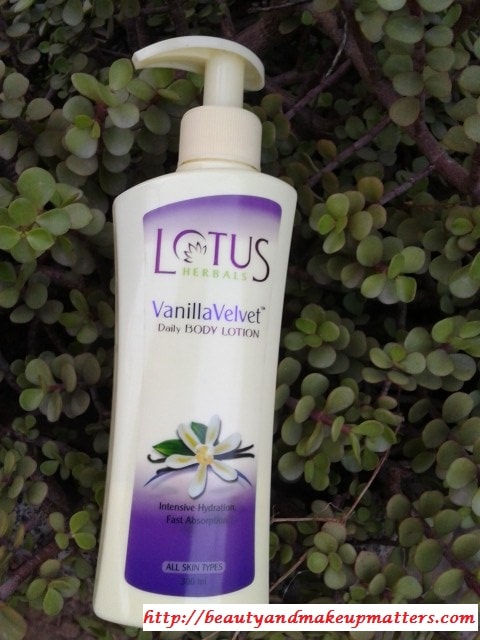 Rating:- 3.8/5
Have you tried Lotus Herbals Vanilla Velvet Daily Body Lotion? Which is your favorite body lotion from the Lotus Herbals range?