Lotus Herbals Safe Sun Intensive Sunblock Spray SPF50 Review
Product Claims:- Safe Sun Intensive SunBlock Spray provides Broad Spectrum UVA &UVB protection. The convenient fine mist spray offers easy and quick protection. It is a non-greasy formula that absorbs quickly providing a fresh & clean feel.
Anti UVA| Anti UVB
Sweat Proof & Water Proof
SPF50
UVA Index- 16
All skin types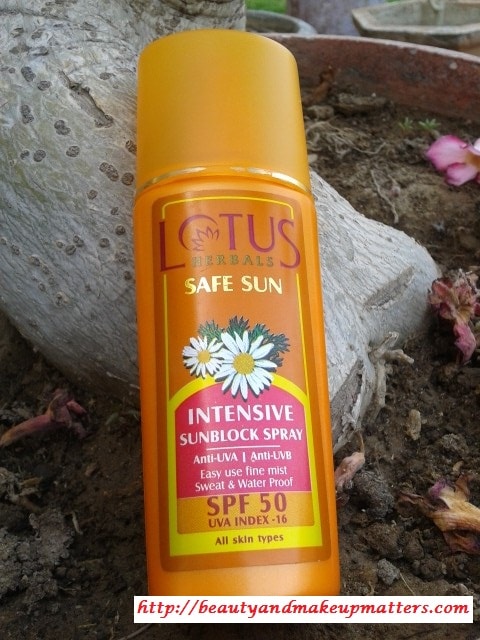 Direction for Use:-Spray directly on all exposed parts of the body (neck, arms, legs, etc.) before exposure to sun). For face, spray into hands and apply to face. Reapply frequently.
Contains Active herbal Extracts of:-
Sage:-  Natural Sunscreen
Chamomile:- Moisturising
Thyme:- Protects from environmental damage.
Ingredients:- Water, Octyl Methoxy Cinnmate, Oxybenzone, Glycerine, Methylene Bis Benzotriazolyl,TetraMethylButylPhenol, Octyl Hydroxy Stereate, Propylene Glycol, CycloPentaSiloxane, Sorbitan MonoOleate, CetoStearyl Alcohol, Acrylates/C10-30 Alkyl Acrylate Crosspolymer, TriEthanolAmine, Salvia Officinalis(Sage) Extract,  Anthemis Nobilis(Chamomoile) Extract, Thymus Vulgaris(Thyme) Extract, 2-PhenoxyEthanol, Methyl Paraben, Propyl Paraben, DiSodium EDTA, Fragrance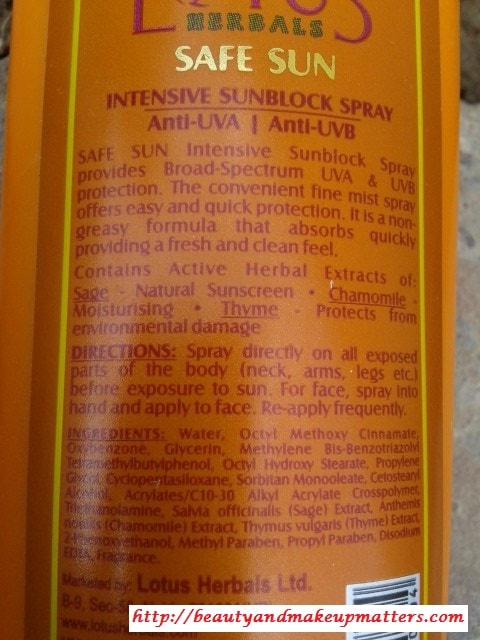 Price:- Rs.195 for 80ml
Shelf Life:- 3 years from the Mfg date.
Packaging:- The sunblock comes in an opaque orange colored plastic bottle. The bottle has a spray dispenser. The packaging is similar to its Lotus Alphamoist moisturizer.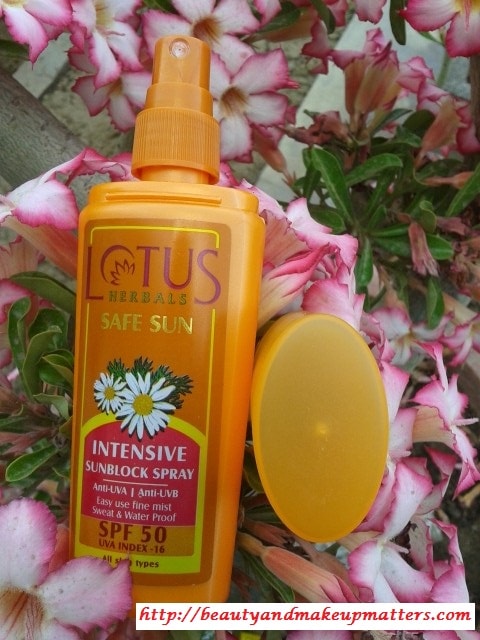 My experience with Lotus Herbals Safe Sun Intensive Sunblock Spray SPF50:-
The Lotus Herbals Safe Sun Intensive Sunblock Spray SPF50 is a white colored liquid with water like consistency. However, it can't be used as a facial mist unlike facial sprays. You will need to spray 2-3 pumps on palms, spread it and then apply it on face for an even application. It feels greasy and heavy on skin and need to be massaged well to get absorbed completely into the skin.
You can't afford to apply it in excess as it will make you look like a shining star.(1000W bulb). It provides slight moisturization to my skin but I wont recommend this to oily or combi skin as it might make look like an oil factory.
It works well on my dry skin till it is applied in right amount else it is not going to spare me from that sticky feel and a shiny ball. I like it better as body sunscreen due to its liquidy texture and moisturizing properties.
Don't Miss to Checkout:
Swatches:-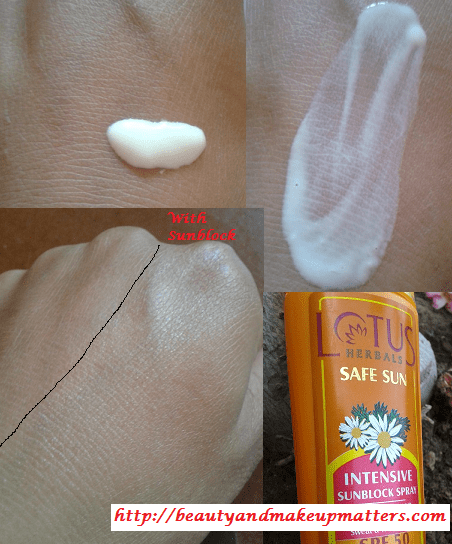 Pros of Lotus Herbals Safe Sun Intensive Sunblock Spray SPF50:-
Has mild herbal smell. Something "leaves" kind but nothing that bother me. However, sensitive noses may not like the smell.
It has a runny water like consistency and hence easy to apply
Provides effective sun protection with High SPF(SPF-50) and UV rays protection.
Has slight moisturization property which makes it a good body sunscreen. You can skip the moisturizing your hands and legs before applying this. Hence, makes a good body sunscreeen
Hygeinic and convenient to use Spray bottle packaging
The bottle will last really long.
Decently priced like other Lotus products
Lotus products are easily available everywhere and not tested on Animals
Cons of Lotus Herbals Safe Sun Intensive Sunblock Spray SPF50:-
In spite of its watery consistency it feels heavy on facial skin and leaves a greasy film on application. My dry facial skin starts getting oily as the day proceeds.
It makes me look dull and dark, when applied in excess.
Won't be a good choice for oily-skinned people as it may make them look like a shining ball.
It claims to be sweat and water proof but it does sweat me out.
Contains Parabens
Recommendation:- The market is flooded with sunscreen/sunblocks and with the launch of new sunscreens from Lotus Herbals with higher SPF I think Lotus Herbals Safe Sun Intensive Sunblock Spray SPF50 is quite skippable and not a must have due its greasy and heavy texture. I won't recommend this as a facial sunscreen but can protect hands and legs from the harmful sunrays without pinching our pockets. It makes a good body sunscreen. As facial sunblock I like its 3-in-1 matte SPF-40 sunblock.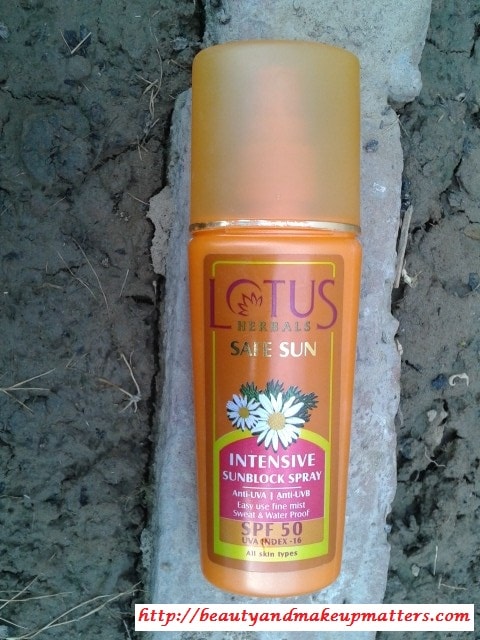 Rating:- 2.8/5
Have you tried Lotus Herbals Safe Sun Intensive Sunblock Spray SPF50? Which sunblock/sunscreen you use in summers to protect your skin?