Lotus Herbals ROSETONE-Rose Petals Facial Skin Toner Review
I am a die-hard fan of Lotus Herbals' easy to use packaging's and products which have rarely failed on me. As Lotus Herbals is also an herbal brand and manufactures toner in spray packaging's, which made it a good contestant for my next purchase but I got carried away by the "Neem" tag of "Himalaya Gentle Refreshing Toner" but it made my skin oily and greasy. The Aroma Magic Aromatic Toner was working well but its flip-top packaging makes it difficult to use and leads to wastage of the toner liquid.
So, this time I made no mistake and bought the "Lotus Herbals ROSETONE" toner.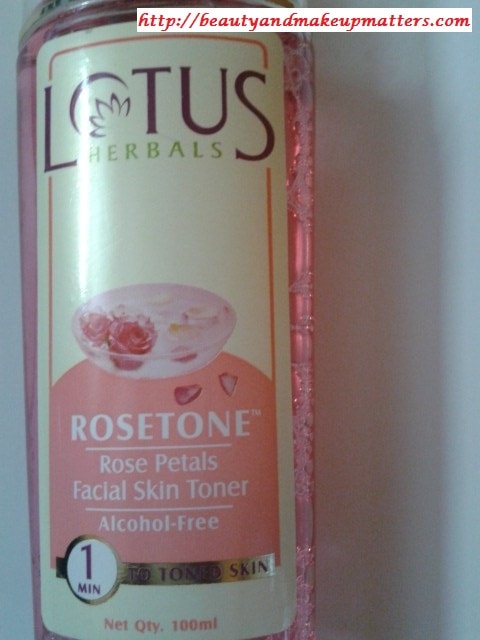 Product Claims: Completes the perfect cleansing routine. Rose water and Tulsi tones up the skin while Aloe Vera nourishes revitalizes, hydrates and maintains the natural pH balance of the skin leaving it fresh & clean.
Direction for Use:-After cleansing wipe face and neck with cotton moistened with ROSETONE. Can be used as a cleanser to remove superficial impurities. Follow with Lotus Herbals ALPHAMOIST Alpha Hydroxyl Skin Renewal Oil free moisturizer for best results.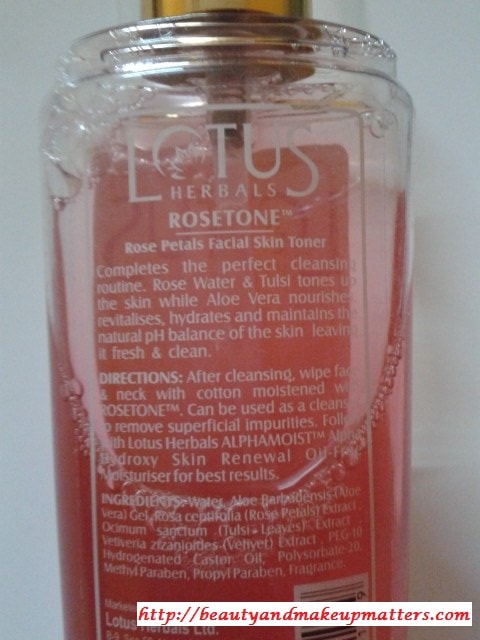 Ingredients:- Water, Aloe Barbadensis(Aloe Vera) Gel, Rosa Centifolia(Rose Petals) Extract, Ocimum Sanctum (Tulsi Leaves) Extract, Vetiveria Zizanioides(Vetiver)  Extract, PEG-10, Hydrogenated Castor Oil, PolySorbate-20, MethylParaben, PropylParaben, Fragrance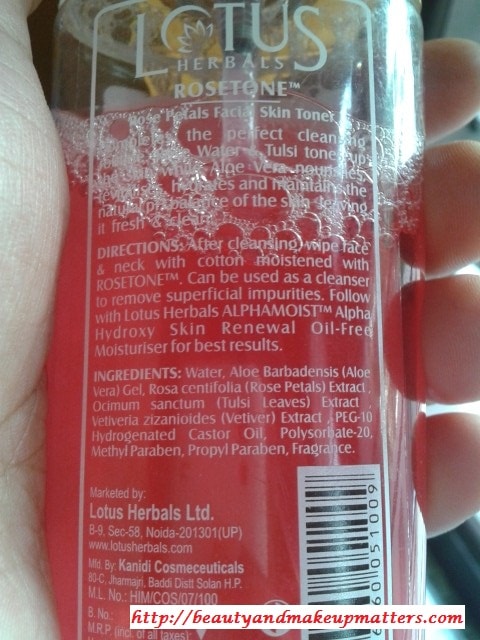 .
Price:- Rs. 195 for 100ml
Shelf Life:- 3 years from the Mfg date
What is VETIVER (Know as Khus Khus) – It is a scented grass which is majorly used in perfumes and aromatic candles. It has a pleasing aroma which has calming effect on our nerves. It is known for its cooling properties. It also has antiseptic properties which can be used to treat acnes
How do I use it:- I find wiping method quite boring and time consuming. I just fuss –fuss (spray) this toner on my face after cleansing and let it dry. Using a cotton swab for toning amounts to wastage as most of the toner will be absorbed by cotton. If you still want to use it with cotton than a better way is to spray this toner on your face rather than spraying it on cotton and then swipe the cotton over your face to remove any impurities.
Packaging:- Lotus toner comes in a long see-through plastic bottle with a spray dispenser. The spray has a cap to protect the nozzle from external environment. The spray packaging makes the toner easy to use and avoid spilling or wasting of the toning liquid. Just 3-4 sprays all over your face and you are done with the toning.
My experience with Lotus Herbals ROSETONE-Rose Petals Facial Skin Toner:-
Lotus Herbals ROSETONE toner has a lively and natural rosy scent. The smell is light and lingers on for few seconds post application. It has water like consistency and the color resembles the petals of fresh Roses. Its red color and heavenly rose scent doesn't justice to its name "ROSETONE"- Rose petals facial toner. Apart from Rose petals it also contains the Extracts of Aloe Vera, Tulsi, Castor Oil and Khus-Khus which have multiple benefits for skin.
I use 4-5 fuss-fuss( Ooohh my God I so love the  word fuss- fuus) each time and let my skin soak in the toner. It gives a mild cooling sensation on application which is quite refreshing. The toner has slight moisturizing properties so you can skip on moisturizer. But it leaves my face little shiny and gives sticky feel which I didn't enjoy. However, it never broke me out.
One thing that I didn't like in this toner is that it stings my eyes badly. It gives a burning sensation if it gets into the eyes. So, do not try to open eyes immediate after application but if you can't control just wipe off the liquid from the eyes corners before opening them. I have been using this toner twice daily for almost a month and can see that it has worked on my open pores (specially on my nose) . My skin looks healthy and well nourished.
Don't Miss to Checkout:
Pros of Lotus Herbals ROSETONE-Rose Petals Facial Skin Toner:-
Alcohol-free toner.
Natural Rose scent and color marks the presence of Rose–petals which I love.
Comes in easy to use spray bottle which I prefer anytime over the flip-cap packaging,
Gives a refreshing cool feel on application.
See–through packaging which enables you to see the amount left in the bottle.
Exotic ingredients list which contains natural products like Rose Petals, tulsi leaf extract, Aloe Vera gel
No Breakouts
Decently priced.
Also available in BasilTone version for Oily/Combi skin.
Provides mild moisturisation to my dry skin
With regular use reduces the appearance and open pores.
Cons of Lotus Herbals ROSETONE-Rose Petals Facial Skin Toner:-
Mild on skin but Sting eyes badly.
Leaves my skin slightly sticky and greasy so may not work for Oily\Combi skin.
Has Parabens
Recommendation:- Again, Lotus Herbals ROSETONE-Rose Petals Facial Skin Toner is an Alcohol-free toner with natural ingredients which makes it a good choice for  normal to dry-skinned beauties. Except the sticky feel and stinging effect on eyes, I am satisfied with the results of this toner on my skin.

Toners are a must have in my skin-care regime. I like this toner but before re-buying it I will try Fab India Rose Water which is next on my list.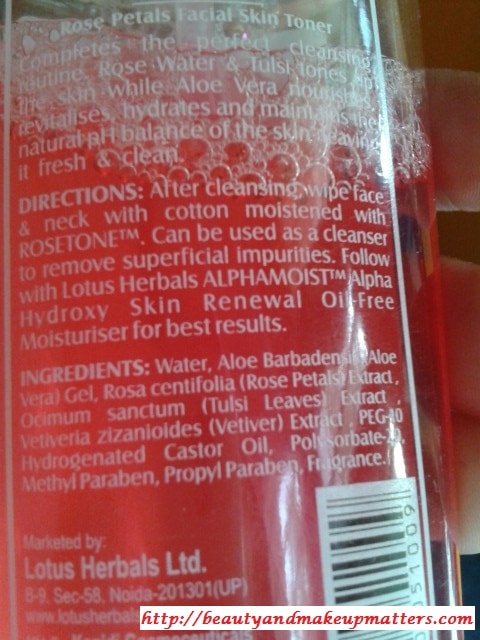 Rating:- 3.8/5
Have you tried Lotus Herbals ROSETONE toner? Did you liked it?