Lotus Herbals Floral Stay Long Lasting Lipstick Red Rover Review
Hello everyone, today I will be sharing another Red lipstick with you from one of my favorite skin care brand Lotus Herbals the Lotus Herbals Floral Stay Long Lasting Lip Color in Red Rover.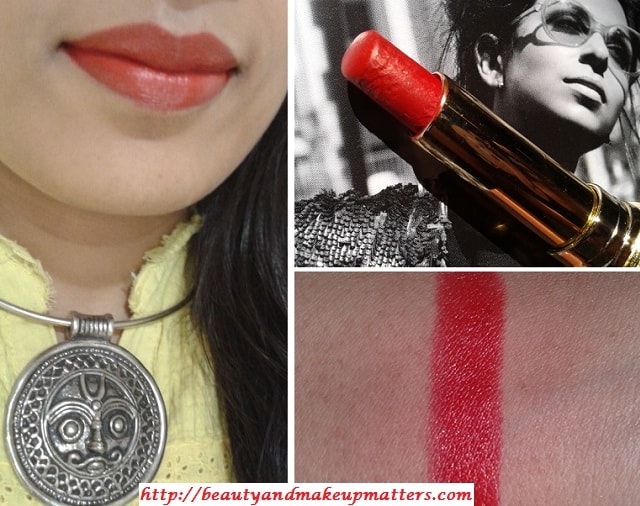 Product Claims: A luxurious lipstick that takes care of health of your lips, while enhancing looks & imparting intensive colour. Stays day long and protects lips from UV rays thus preventing darkening of lips.  Long lasting lip color enriched with botanical extracts of Aloe Vera and Avocado. It lasts for hours with zero touch-ups. The SFP-10 formula provides complete protection from UV rays, preventing darkening of lips.
Price:- Rs. 345 for 3.4 gm
Shelf Life:- 3 years from the Mfg date.
Packaging:- The lipstick case is housed in a baby pink card box carrying all the details. The lipstick case is similar pink in color with floral design and a golden band in centre.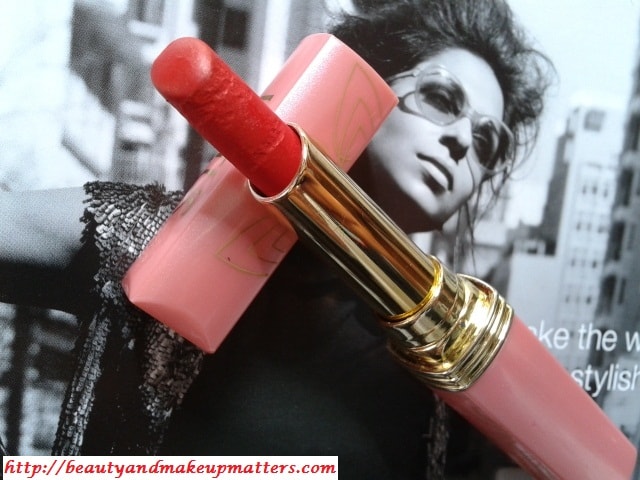 The lipstick bullet shape is slimmer compared to regular ones. The cap fits nicely but it comes off automatically during travel. Also there is no shade indicator on the outer casing which makes it difficult to know about the shade by just looking at the packaging

My experience with Lotus Herbals FloralStay Long Lasting Lip Color in Red Rover:-
Red Rover is a medium-dark bright Red lip color with an orange hue and fine specks of golden shimmers which adds a dash of warmth to the shade. The shimmers are finely milled with the base and are barely noticed in the bullet. These gold particles don't make the lipstick look frosty or shimmery but gives a lovely glistening shine to the lips by reflecting light. L'Oreal Red Rhapsody is darker,redder & minus the Orange hues, Maybelline Moisture Extreme Cranberry is more muted Red with browner tones,  Maybelline Jewels Rubylicious is pinker and a lot cool-toned with blue undertones.
It has a creamy texture which applies evenly and easily without tugging or pulling at the lip. It is creamy enough to give a smooth application and distributing the color evenly across lips but doesn't glide around like Maybelline Moisture Extreme ones.
The lipstick has rich color pigmented but has a build-able intensity. It goes a bit sheer in first swipe but picks up lot of color by 2nd giving an almost opaque finish covering all the pigmentation and giving a smooth opaque coverage. It can be worn as a tint or Red colored glossy lips when topped with a clear gloss
It is creamy but it isn't moisturising to the lips and they start feel slightly uncomfortable (dry and stretched) within an hour of application. Though it is not extremely drying but it requires a lip balm under over the lipstick for more relaxed wearablity. It's not so creamy formula gives a good wear time and it stays for 4-5 hours easily on me with light snacks and fades to a Orangish-Red hint on lips after 8 hours of wear.
Don't Miss to Checkout:
LOTD-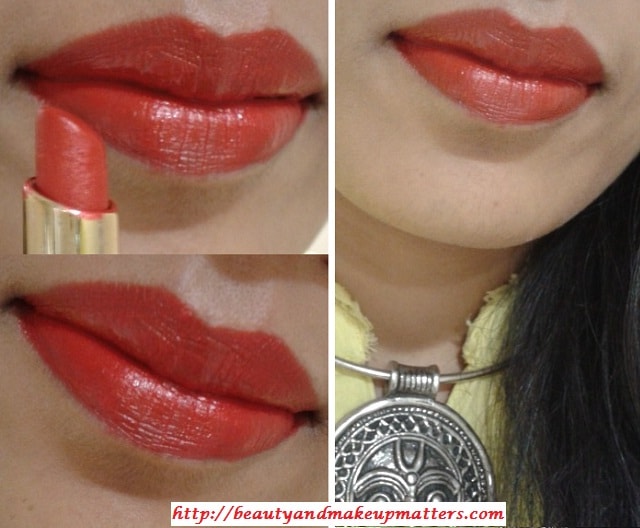 It gives best finish on exfoliated and well moisturized lips. It doesn't flake but tends to settle in fine lines due to its slightly drying formula. It bleeds a little after so wear this with a lip liner or use a lip brush for application
This is how it looked on me!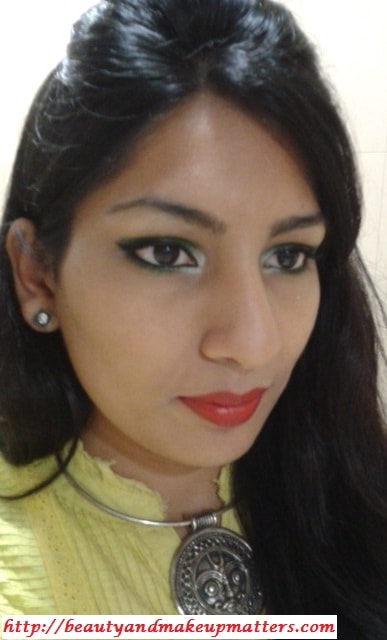 Pros of Lotus Herbals FloralStay Long Lasting Lipstick – Red Rover:-
Shimmers gives a soft brightening effect but not metallic or frosty
Creamy texture which glides smoothly
Buildable intensity which gives complete coverage in 2-3 swipes
Dries down a kiss-proof non-transferable finish once patted with a tissue
Lasts whole day on me
Leaves behind a noticeable stain
The slim bullet size will be easy to apply on thin lips
Contains SPF10
Not heavy on the pocket
Cons of Lotus Herbals FloralStay Long Lasting Lipstick – Red Rover:-
Lipstick case doesn't indicate the shade which makes it difficult to locate
Loose cap makes the bullet prone to damage
Bit drying on lips so they must be moisturized well before.
Bleeds slightly post meals
Only active ingredients are mentioned
Recommendation:- Lotus Herbals FloralStay Long Lasting Lipstick – Red Rover is a bright Orange based Red with subtle gold shimmers that you wouldn't even notice until you look really close or photograph with a flash for a soft shiny look.  The lipstick is creamy but has a long lasting formula which tends to make my lips a bit dry after an hour of wear, so I require a lip balm underneath or on the top of it for a more comfortable wear. The lipstick has good colour pay off and gives opaque coverage in 2-3 swipes.

Dab lips with a tissue to get rid of excess colour and the lipstick with set to a non-transferable finish which lasts long on me and leaves behind a hint of colour on lips. Recommended if you are fond of Red lipsticks like me!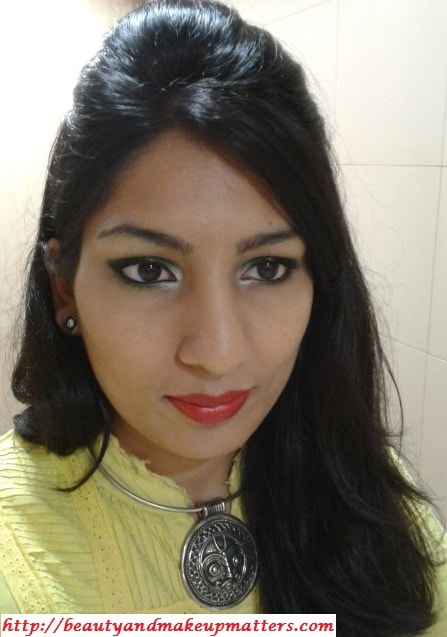 Rating:- 3.8/5
Have you tried Lotus Herbals FloralStay Long Lasting Lipstick – Red Rover?