Lotus Herbals Color Dew Nail Enamel-Rose Petal(920) Review, NOTD
I did a small nail- paint haul few months back. Actually I had gone out to get the Biotique cucumber refreshing toner but it was not in stock with the New-U store. However, the SA there was over-helpful and convinced me to check out other brands too.
First she took me to the Maybelline counter and I did quite a handful shopping from there including Nail paints, lipsticks and eye-liners after that we moved to Lotus Herbals counter, I bought few skin-care items from there like Lotus Berry Scrub and was looking for what else can be bought when these long bottles of Nail-enamels caught my attention and I asked the SA to show me few of the shades.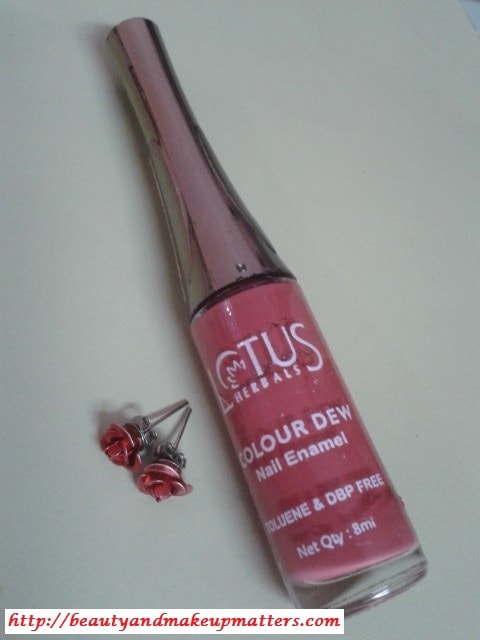 She started painting my nails with all the available shades out of which I selected five that can be taken home. No wonder, my hubby was giving me tough looks but I happily ignored him and moved to the cash counter. :Grin:
I am reviewing Lotus Color Dew Nail Enamel-Rose Petal shade today. Rests of the shades are on their way and will try to get them reviewed in coming weeks.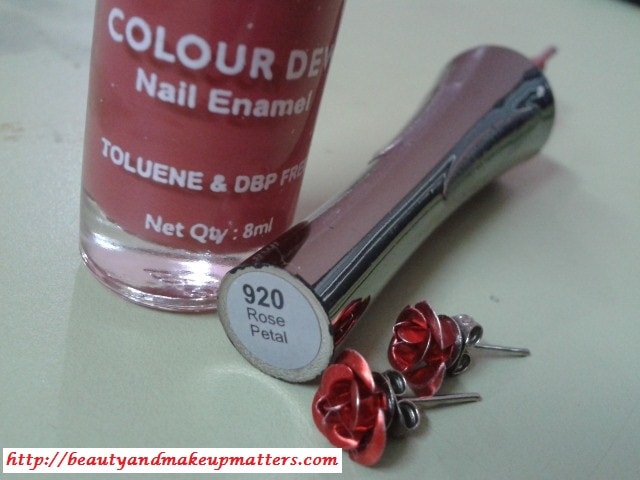 Product Claims: Lotus Color Dew Nail Enamel ColourDEW™ is a range of 10 exciting Nail enamels all together in a new packaging.
Natural and safe,
Acetone, DBP and toluene free,
Fast drying,
Flat and sturdy brush.
Smooth application
Ingredients:- Acetone, DBP and Toluene free.
Price:- Rs.99 for 8ml
Shelf Life:- 3 years from the Mfg date.
Packaging:- The nail comes in an attractive cylindrical glass bottle with a long applicator handle. The metallic grey colored plastic handle has a slight curve which makes it easy to grip and apply the nail-paint with ease.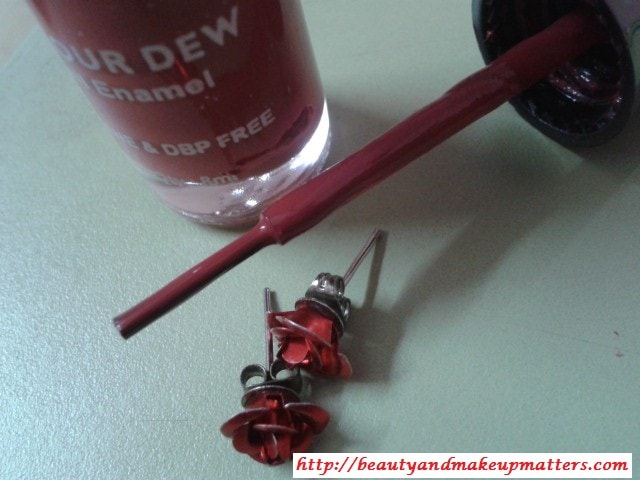 My experience with Lotus Herbals Color Dew Nail Enamel-Rose Petal:-
There was a time when I hated to color my nails and now It is so difficult for me to leave my nail nak*d even for a day. I have become a nail-paint freak and have started building up my collection with beautiful shades.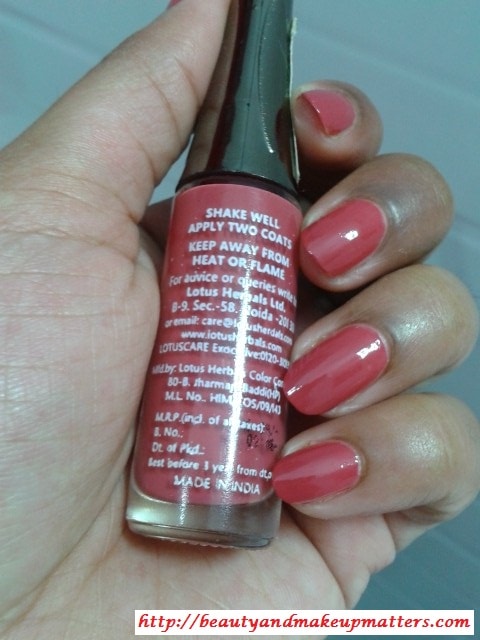 Coming back to the review:-
Consistency/Application:-The Nail paint has slightly runny consistency but comes over the applicator easily. The applicator is a bit longer than the regular ones which aid the nail polish application. The high quality applicator brush applies just the right amount of the polish on the nails. As most of the length of the brush is dipped inside the bottle, it gets covered with a lot of nail polish. So before staring with application make sure to remove the excess amount with the bottle.
The brush does a fantastic job and applies the nail polish evenly on the nails. The application is smooth and non-streaky.
Coverage:-The nail paints is superbly pigmented and needs only 2 coats to give an opaque finish (if applied lightly). But if you prefer a thick coat then a single coat is enough to get complete coverage. Leave the nail-paint untouched for 30 seconds and it dries completely. So, the quick dry feature is another plus which saves the nail paint from getting patchy.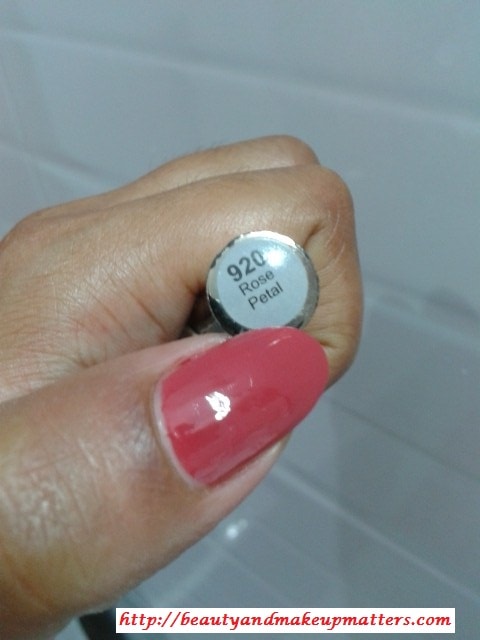 Color/Finish:- The Rose petal shade does justice to its name. It is true rose shade which looks pretty on the nails. The color is neither a Striking Red nor an Orangish Red but it is a red shade with hint of pink tones which gives it the true Rosy shade. It is a plain shade without any frosts or shimmers which looks beautiful on the nails.The nail paint gives super-glossy finish which can be sealed off with a top-coat. Without a top-coat, the gloss dulls down a bit by 2-3 day of application.
Staying Power:- The nail paint has a commendable staying power. It stays without chipping for 3 days straight with a top-coat after which it starts chipping slightly from the top of the nails. But if you do a lot of household chores and need to wash hands very frequently the nail paint may chip on the very first day of application if not sealed off with a top-coat else it stays good for 2 days.
NOTD:-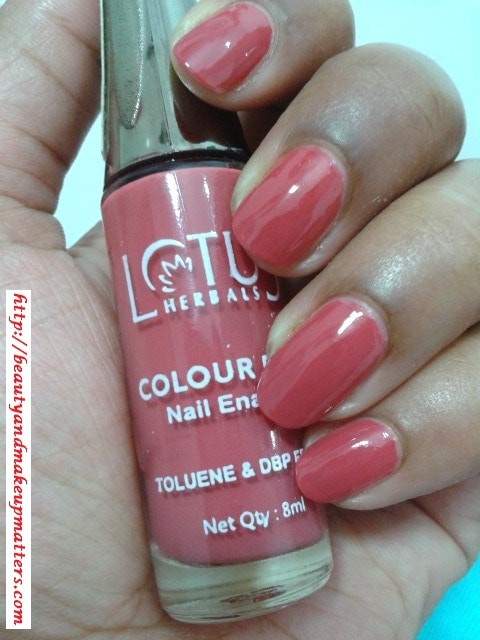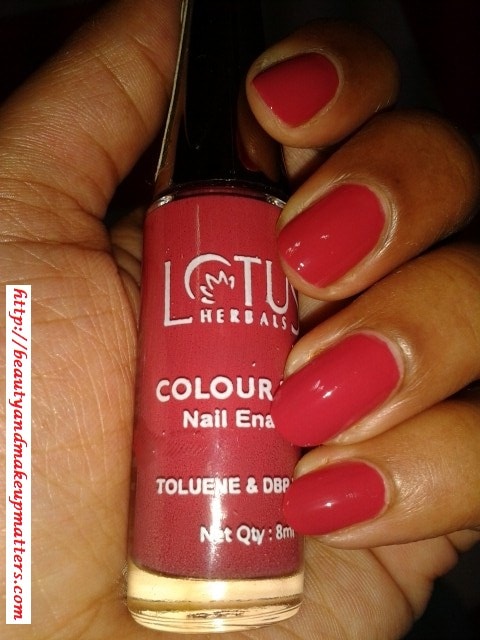 Pros of Lotus Herbals Color Dew Nail Enamel-Rose Petal(920):-
Reasonably priced
Long applicator and good quality brush
Non-streaky application
Opaque coverage in 2 coats.
Minimum chipping and lasts long with a top-coat.
Dries quickly
Glossy finish
Claims to be Acetone, Toulene and DBP free which saves the nails from harmful chemicals.
Cons of Lotus Herbals Color Dew Nail Enamel-Rose Petal(920):-
Lotus nail enamels are not easily available everywhere. There are few stores which stock up the complete collection of the shades and most of the counters only have limited shades available with them.
Lotus nail enamel collection consists majorly of the basic colors and doesn't have any greens, orange or neon shades in the collection.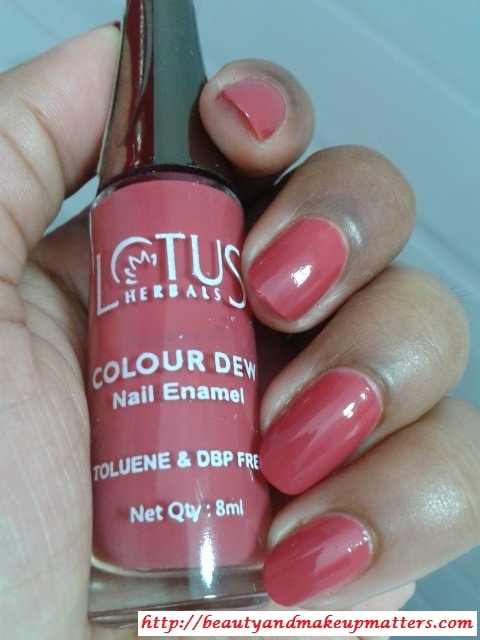 Recommendation:- A big yes! I love the coverage and finish of these nails paints. The long bottle looks pretty on the shelf. I have already starting hoarding these and ordered few more shades form online shopping stores. The latest addition to the list are few neutral shades. So, stay tuned for the reviews. I am planning to buy all the shades from the collection. (:drooling: ).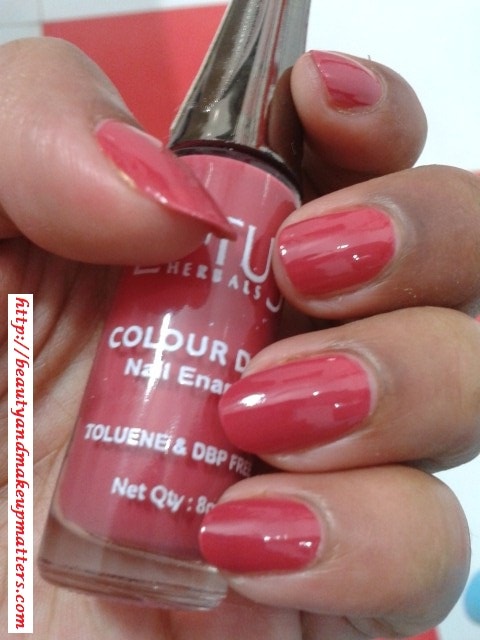 Rating:- 4/5
Have you tried Lotus Herbals Color Dew nail enamel? Which is your favorite Rose colored nail paint?