Lotus Herbals Color Dew Nail Enamel – Pure White Review, NOTD
I was looking for decent white colored nail enamel for doing French manicures but didn't know it was going to be so difficult to find such a basic shade. I tried many whites but most of them turned sheer, some were pearly or off-white but not the pure white matte shade with creamy finish that I was hunting for.
Once, when I was checking out the nail enamels at the Lotus counter and was about to leave when I saw a beautiful white bottle sitting silently in a corner, it was Lotus Herbals Nail Enamel – Pure White. I straight away asked the SA to swatch it and was really impressed to see highly pigmented white nail enamel. Without much ado I added this to my shopping bag and left the counter cheerfully.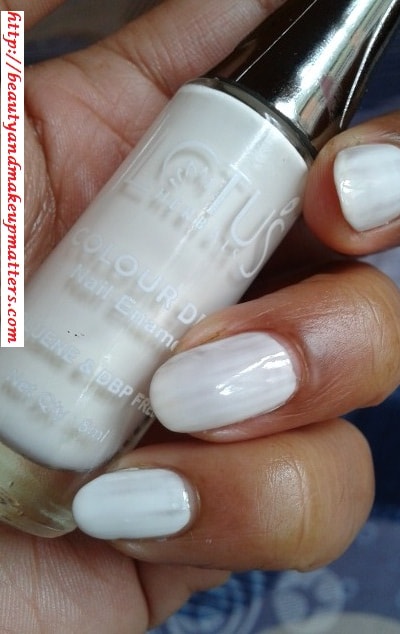 Product Claims: Lotus Herbals Colour Dew Nail Enamel is
Acetone, DBP and Toluene free.
It's fast drying so that you don't have to worry about recoloring your nails again and again.
Flat and sturdy brush.
Smooth application.
Price:- Rs.99 for 8ml
Shelf Life:- 2 years from the Mfg date.
My experience with Lotus Herbals Color Dew Nail Enamel – Pure White:-
Pure White is absolute plain white color  with no shimmers or pearly appearance, great for French manicures.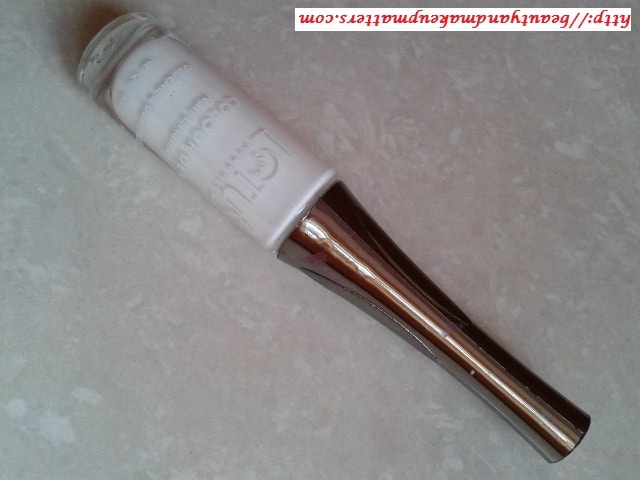 The color goes sheer and streaky in a single coat and builds up to an opaque coverage with a second coat but the elasticity in formula doesn't me enjoy its application. With thin coats the color tends to get streaky and doesn't give a smoother application. When I went for slightly thick coat the coverage improves but it wasn't as smooth as expected.
The nail enamel is creamy and extremely pigmented. The long flat bristles of the brush applies the nail enamel nicely over the nails but due to thick coats, it takes longer (10-15 min) to dry completely compared to other Lotus nail enamels.
The nail enamel gives a long lasting creme finish and it stays good for 3-4 days with minimum chipping. Other issue that I face with white nail enamel is when it is used all over nails, my hands look super dark. So, I would restrict myself to use this only for French manicures or nail arts.
Recommendation:- Lotus Herbals Nail Enamel – Pure White is a no nonsense white nail enamel which goes opaque in 2-3 coats but with slightly streaky finish.  The nail enamel had nice pigmented formula and dries to a creamy glossy finish. I prefer it for doing French manicures and Nail art stuff. It is an affordable nail paint that can be given a try.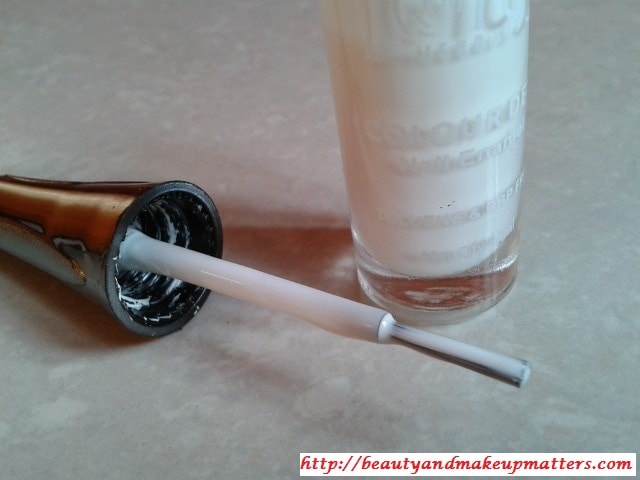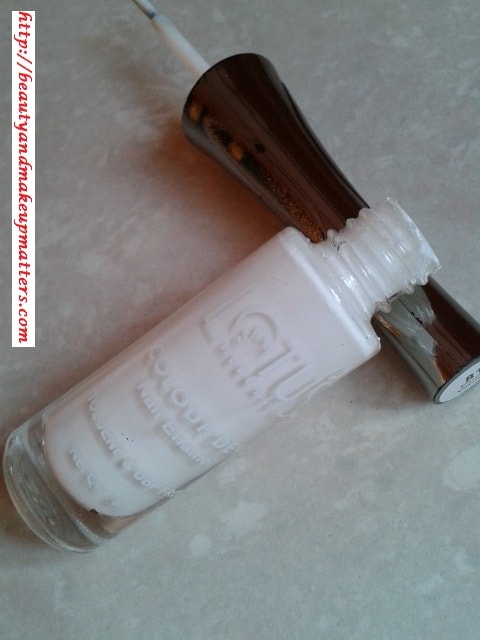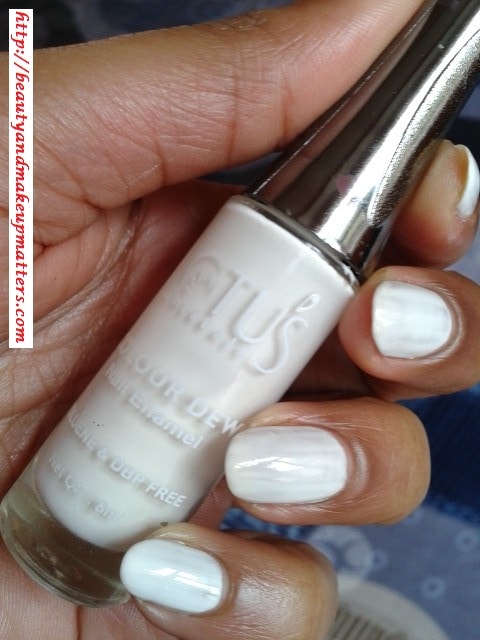 Rating:- 3.1/5
Have you tried Lotus Herbals Nail Enamel – Pure White? Which is your favorite White nail enamel?