Lotus Herbals Color Dew Nail Enamel- Peach Perfect Review, NOTD
I am sucker for colored nail-paints. I love spotting my nails in colors like striking yellow, bright pink, tangy orange, fiery red or flashing blue. But there are times when we want to give our nails a break and look for subtle neutral shades.
So, here I am reviewing one such shade from Lotus Herbals Color Dew Collection the "Peach Perfect" nail paint. It is one of my most favorite shades from the Lotus Herbals Color Dew Collection.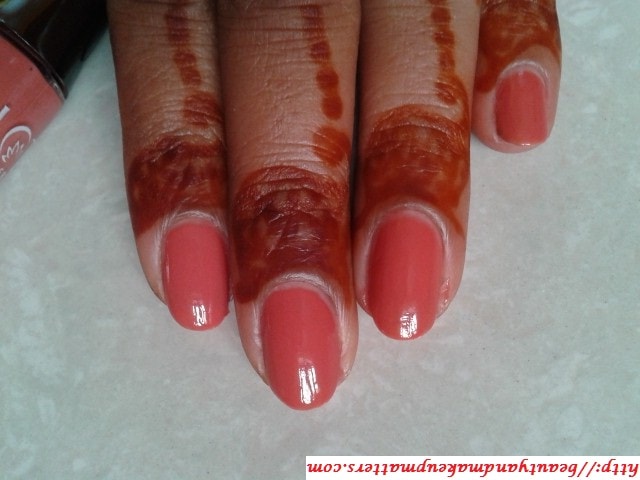 Others from Lotus Herbals Color Dew Collection.
Product Claims: ColourDEW™ is a range of 10 exciting Nail enamels all together in a new packaging.
Natural and safe,
Acetone, DBP and toluene free,
Fast drying, Flat and sturdy brush.
Smooth application
Side-effects of Acetone on nail cuticles are :
it dehydrats them
makes them fragile
makes them dull and dry
it can irritate skin
Toluene, found in common lacquers and nail polish is a skin irritant may cause spontaneous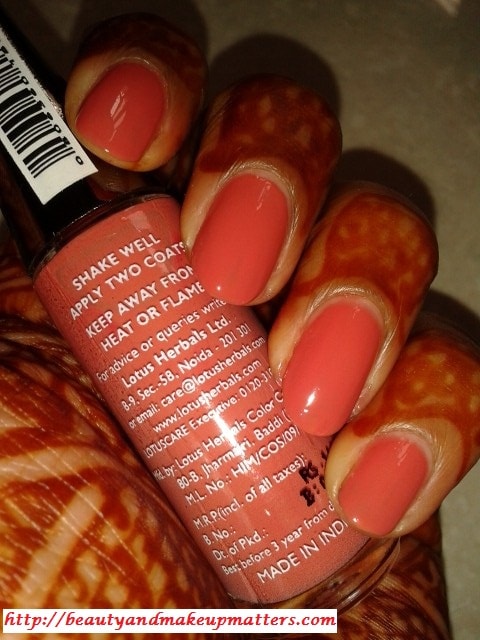 Ingredients:- Acetone, DBP and Toluene free 
Price:- Rs.99 for 8ml
Shelf Life:- 3 years from the Mfg date.
Packaging:-  The nail paint comes in sleek round bottle with an extra long handle. The packaging is quite different from the normal square shaped bottles with a medium length handles. The long handle gives a good grip and helps in easy application. The bottle carries the name of shade on the top of the handle.
My experience with Lotus Herbals Color Dew Nail Paint- Peach Perfect:-
The Peach Perfect is a lovely peachy brown shade that looks classy and elegant on the nails. The color adds a little charm to the hands with a touch of sophistication. Imagine the ladies dressed sophistically, simple yet elegant.. This is one such shade.
It is kind of a neutral shade but doesn't make my hands look dull or boring. It is perfect office wear color where you wouldn't feel comfortable wearing daring and bold shades. The formula is a bit runny but manageable. The nail paint doesn't goes streaky or messy on the nails. The good quality brush with a long handle makes nail lacquer application an easy task and apply it smoothly on the nails.
The best thing about this nail paint is its pigmentation. The nail paint is highly pigmented (like all other lotus nail paints) and gives an opaque finish in two coats. The nail paint dries in a creamy, glossy finish. It is a matte color with absolutely no shimmers. The nail paint dries with in seconds of application and doesn't need any extra time to settle down completely.
I always reach out to Lotus Nail color whenever I am in a hurry and don't have time to wait for the nail Paint to settle down properly.
Don't Miss to Checkout:
NOTD:-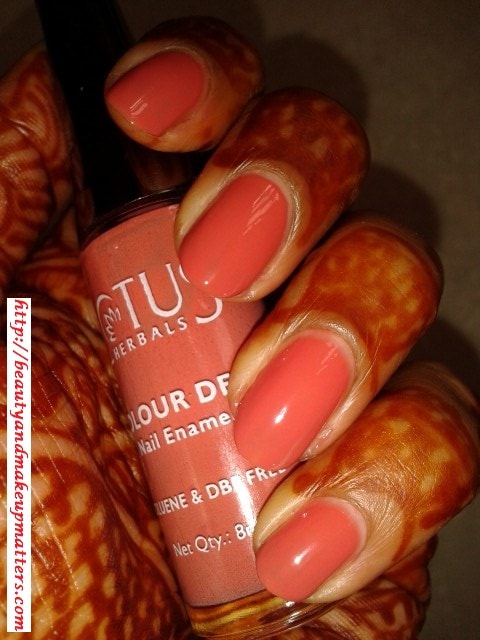 Pros of Lotus Herbals Color Dew Nail Paint- Peach Perfect:-
Non-streaky application
Opaque finish in 2 coats.
Settles down in a creamy glossy finish
Gorgeous Peachy brown shade. I feel it has some pink tones to it. (Do you agree?)
Complete matte color with no shimmers.
Long applicator and good quality brush which applies the enamel evenly on the nails.
Stays on nails for long 3-4 days without chipping.
Highly affordable.
Available at all the Lotus counters but all of the shades may not be available at some of the counters.
Lotus Nail enamels are available in number of beautiful shades. However, complete range information is not updated on the website and it still contains only 10 shades.
Acetone and Toulene free.
Cons of Lotus Herbals Color Dew Nail Paint- Peach Perfect:-
I couldn't find any cons for this. I love this nail paint. But I would like to see some more green and blues in the range
Recommendation:- I am loving everything about this Lotus Herbals Color Dew Nail Paint- Peach Perfect, its color, pigmentation, glossy finish and quick drying property, long staying power, reasonable price and sleek packaging. Those who love wearing nude/neutral shade are going to love this. It is a must have shade in everybody's nail collection.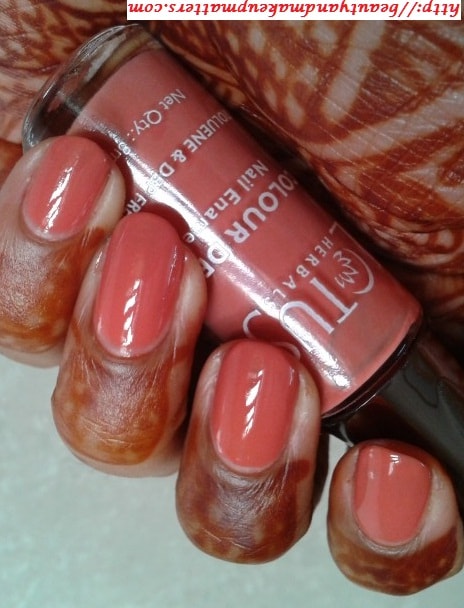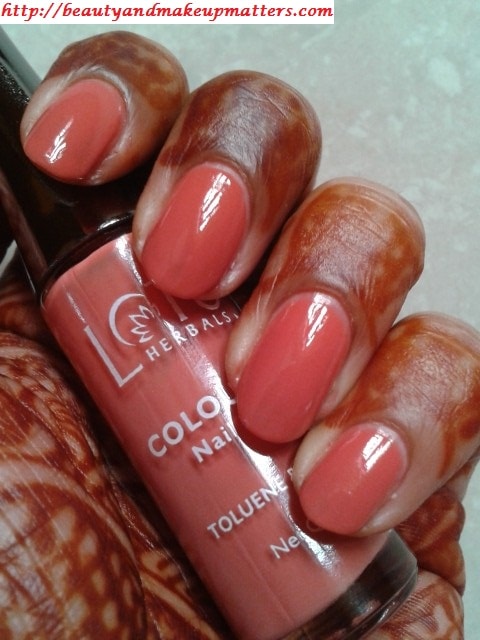 Rating:- 4.5/5
Have you tried Lotus Herbals Peach Perfect Nail enamel? Which is your favorite nude shade?