Lotus Herbals Color Dew Nail Enamel – Mahagony 943 Review, NOTD
Product Claims: ColourDEW™ is a range of 10 exciting Nail enamels all together in a new packaging
Natural and safe,
Acetone, DBP and toluene free,
Fast drying,
Flat and sturdy brush.
Smooth application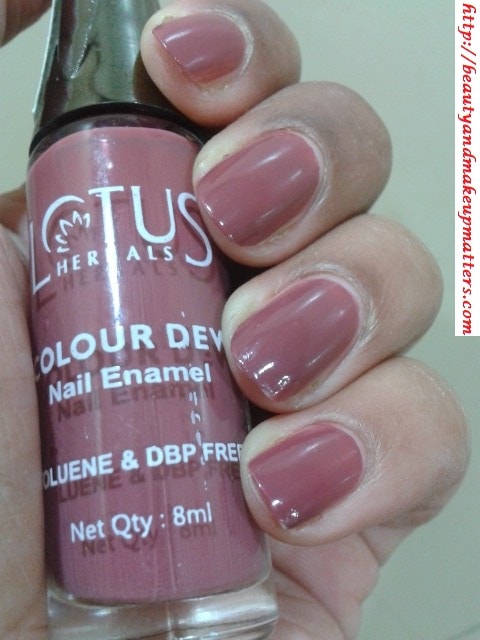 Price:- Rs.99 for 8ml
Shelf Life:- 3 years from the Mfg date.
The colors that I own from Lotus Herbals Color Dew Nail Enamel Collection:-
My experience with Lotus Herbals Color Dew Nail Enamel- Mahogany 943:-
Shade:- Mahogany is shade of brown with a tinge of red. Mahogany is a very tricky shade which reflects different shades based on intensity of the light. In bright lights it looks more like deep wine shade with red tones but in dim lights it appears more like a coffee shade.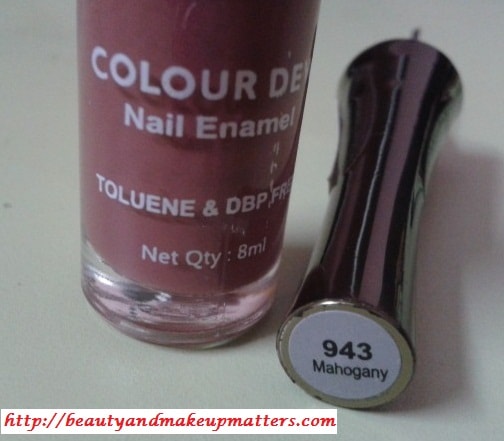 I have a love hate relation ship with this nail color. I liked this at the counter but when I looked at it again at home I scratched my head thinking how I could buy such dark shade. The nail enamel looks beautiful on well-manicured hands and will make fair hands look more glamorous but if you haven't maintained your hands for quite a long time than I would suggest staying away from this nail enamel.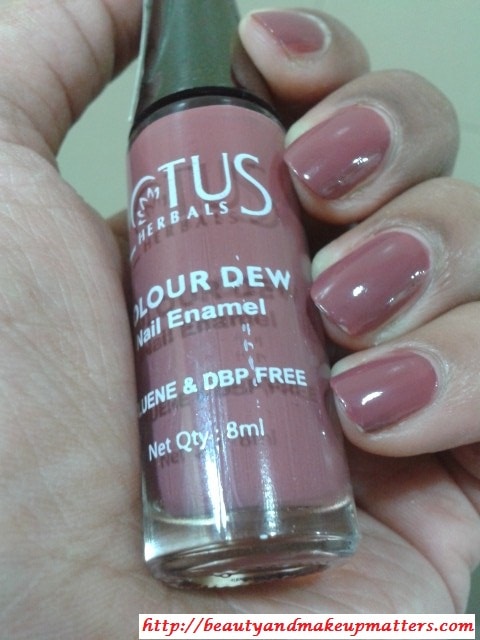 Coverage/Finish:- The nail enamel has fabulous color payoff which goes sheer in a single coat but picks up the intensity by the second coat. Going for a 3rd coat can also be considered but it is not at all necessary as the nail enamel goes completely opaque by 2nd coat.
Though, it is a super-dark shade it gave me an even color all over the nails and doesn't go patchy. I really like the consistency of Lotus Herbals Nail enamels which spreads nicely and gives a smooth application with flat and sturdy brush provided with the nail enamel. Like all other Lotus herbals nail enamels, the finish is absolutely glossy and creamy.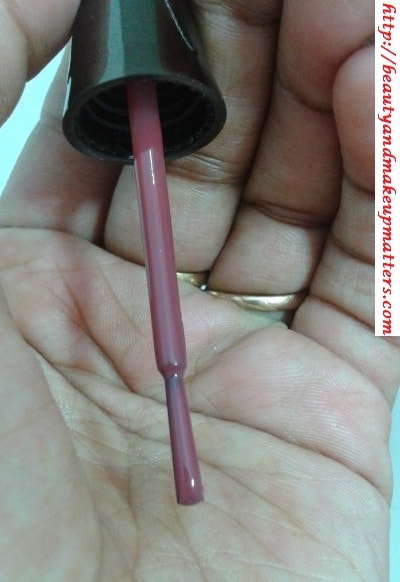 Wearability:- It doesn't chip significantly from 3 days but fades off lightly form the tips with house work. The only thing that I didn't like about this enamel is that it makes the nails turn yellow when removed. So, it's better to apply it over a base coat to prevent yellowing of nails.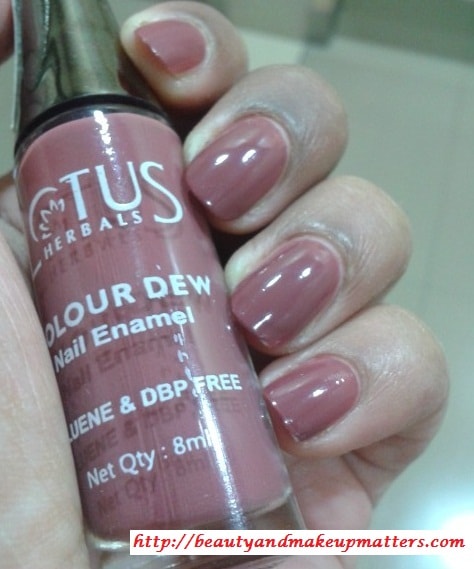 Recommendation:- Mahogany is yet another gorgeous shade form the Lotus Herbals Color Dew nail enamel range. The deep red shade with profound brown undertones that looks brilliant on fair skin tones. It is shimmer-free nail enamel which gives silky smooth finish with an even coverage. Its awesomely pigmented formula goes completely opaque in 2 coats and stays good on my nails even with household work.
Rating:- 3.2/5
Have you tried Lotus Herbals Color Dew Nail Enamel- Mahagony 943? Do you like such dark brown shades?