Lotus Herbals Color Dew Nail Enamel–Gold Mist Review, Nails

I am down with LHNEA Syndrome (Lotus Herbals Nail Enamel Addiction) and can't be better till I own the full range of Lotus Herbals Color Dew Nail Enamels. 😉
So, today I am going to review another shade from my favorite Nail enamel range which I hoarded during my online shopping fit, the "Lotus Herbals Color Dew Nail Enamel–Gold Mist".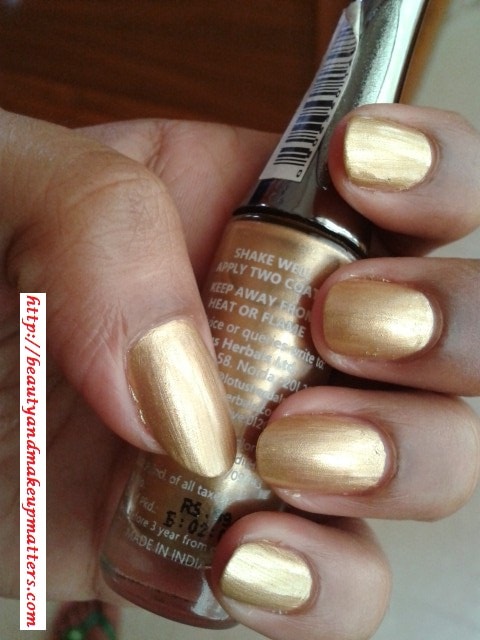 You can read my review on other shades here:-
Product Claims: ColourDEW™ is a range of 10 exciting Nail enamels all together in a new packaging
Natural and safe,
Acetone, DBP and toluene free,
Fast drying,
Flat and sturdy brush.
Smooth application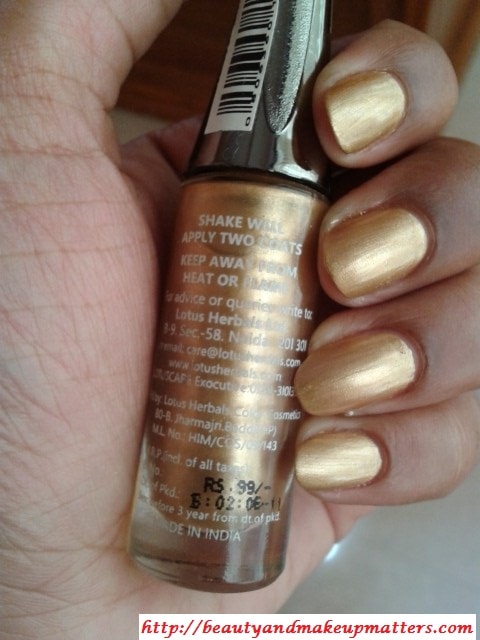 Price:- Rs.99 for 8ml
My experience with Lotus Herbals Color Dew Nail Enamel–Gold Mist:-
Gold mist is pale yellowish golden shade which very much resembles the true Golden shade similar to our Gold jewelry. The nail enamel also has very fine shimmers which are intricately mixed with the enamel. The shimmers are smooth and not glittery. The consistency is as smooth as any other nail enamel from this range and similarly the color-payoff. The nail enamel gets applied smoothly with the long brush and gives a non-streaky application.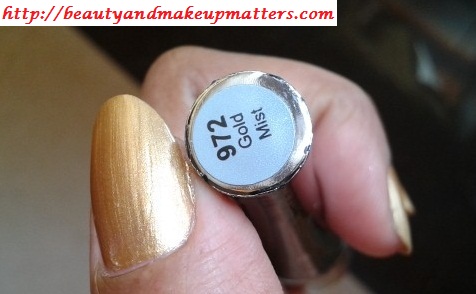 The nail enamel dries quickly but it dries to a dull matte finish on nails opposed to the glossy finish which is a key property of Lotus Nail Enamels. It looks much brighter in the bottle them on the nail and made my hands look darker than they actually are. It made me appear sick like I am suffering from a disease. It flushed out all the life and color from my hands which made them look pale.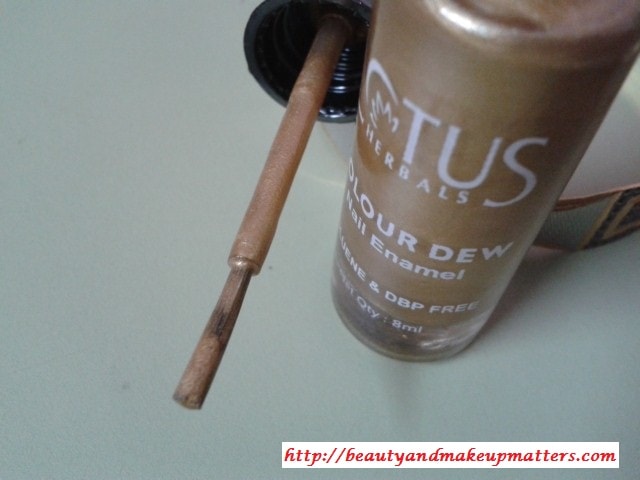 No doubt that Lotus Herbals Nail enamel has one of the best formulas around and has amazingly beautiful shades in its collection but Gold Mist is definitely not a must have shade and easily skippable. If you have the fairer hands and has an inclination for yellow or golden shade than you can give this a try. But girls with dark or even not so fair hands shall stay away from this shade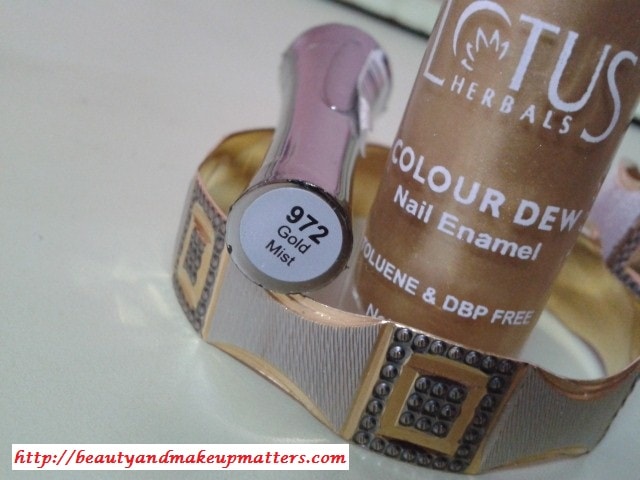 Gold Mist is not my cup of Tea and I am only going to use it for my experimental nail art.
Rating:- 2.8/5 (Because the color didn't worked out for me)
Have you tried Lotus Herbals Color Dew Nail Enamel–Gold Mist? Do you dare to wear all Golden nail enamel on your nails?
Enjoy the Nail Swatches:-