Lotus Herbals Color Dew Nail Enamel-Crimson Red Review, NOTD
Hello Beautiful ladies,
Earlier, I used to be scared of wearing and carrying the color Red but after seeing it on so many hands looking so elegant and pretty. I was desperate to get a Red nail paint for myself.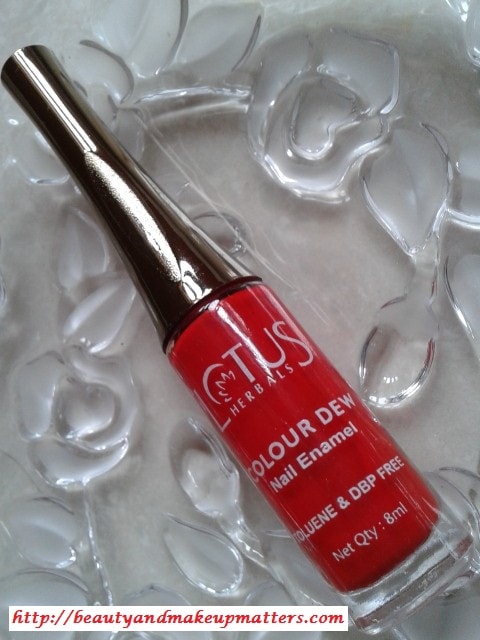 My stint started with a Lakme Nail Paint in Crimson Red. This is the 2nd Red in my collection. I bought it along with Lotus Herbals Nail Enamel Rose Petal. I was half way through my Lakme bottle and I seriously wanted to have a back up ready with me. So, when the SA showed "Lotus Herbals Color Dew Nail Enamel-Crimson Red" to me, I literally snatched it from her hands. So, today I am going to review one of my favorite nail color –Bright Red Nail Paint.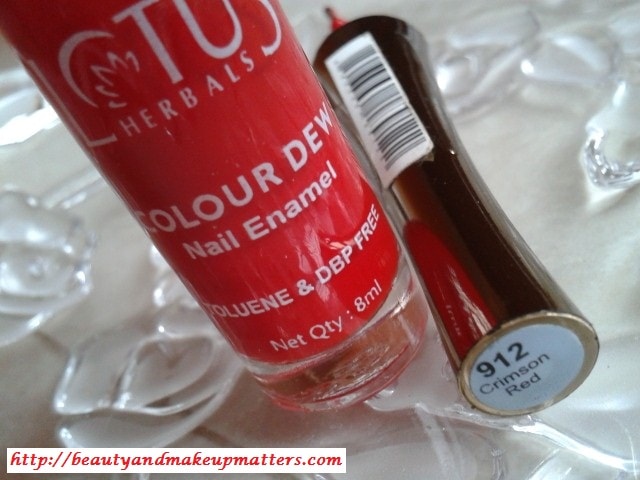 Product Claims: ColourDEW™ is a range of 10 exciting Nail enamels all together in a new packaging
Natural and safe
Acetone, DBP and toluene free
Fast drying
Flat and sturdy brush.
Smooth application
Price:- Rs.99 for 8ml
Shelf Life:- 3 years from the Mfg date.
Packaging:- The Lotus Nail Paints are packed in long sleek cylindrical glass bottles with a large handle applicator. The Curves in the handle gives a firm grip. The bristles in the brush are densely packed which eases up the process of painting the nails.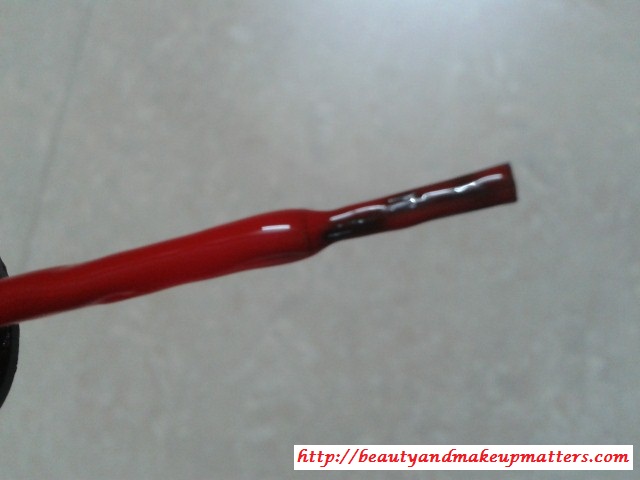 My experience with Lotus Herbals Color Dew Nail Enamel-Crimson Red:-
Color:-The Lotus Herbals Crimson Red is bright Red Nail Paint with slight Orange under-tones. It doesn't have any maroon undertones. Even if you go for multiple application it would never look dark or maroonish, It is a proper red color. It made my hands look bright and beautiful.
Pigmentation:- Like all other Lotus Herbals Nail-paints it is also well pigmented and gives an almost opaque application in a single coat but to get completely opaque look I go for another coat.
Consistency:-The Nail has the right consistency which doesn't go patchy even after multiple applications. Though the formula is slightly runny but comes easily on the brush and gives a smooth and even application. I have been using this nail paint for last few months but it never goes streaky.
Finish:- The nail paint dries with a glossy creamy shine. I cant take my eyes off my super-glossy nails.
Dry Time:- The nail dries at a lightening fast speed and as soon as I am done with nail paint application on my toe nails the nail paint on my finger-nails dries up. It doesn't take more than 10 seconds to dry up completely.
Lasting Power:- I was happy to see such a long lasting nail paint at just Rs.99. The nail paint stays good for 4-5 days with a top-coat without any chipping. Without a top-coat the staying power is reduced to 2-3 days. The nail paint chips or fades from the nail tip but doesn't chip badly even after 4-5 days of application.
NOTD:-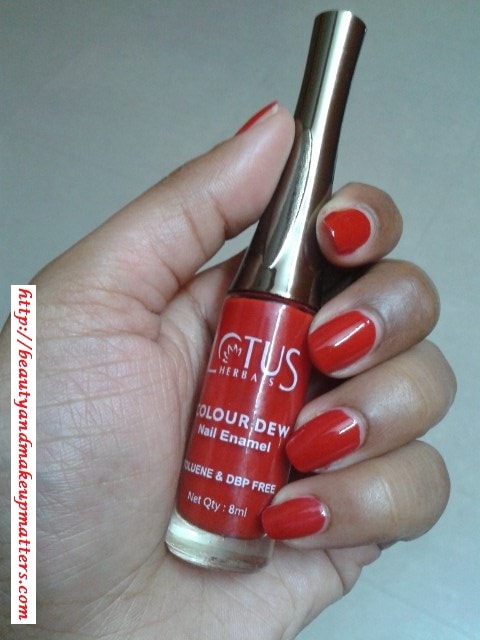 Pros of Lotus Herbals Color Dew Nail Enamel-Crimson Red:-
It is a gorgeous Bright Red shade which is neither too orangey nor has any maroon undertones.
Good quality brush and long applicator handle that gives an effort less application.
Sleek Cylindrical bottle which stands out from the regular nail-paints
Consistency is good which gives a streak free, even application.
Richly pigmented and goes opaque in 2 coats.
Dries up quickly so no need to worry about messing up the nail polish post-application
Gives a super- glossy finish
Quantity is good for the price paid.
Free from harmful chemicals like Acetone, DBP and Toluene free.
Available in 20 beautiful shades to choose from
Cons of Lotus Herbals Color Dew Nail Enamel-Crimson Red:-
Does smell like a nail–paint. It has a strong Alcoholic smell but the smell doesn't stay for long and goes off as soon as the nail-polish dries up.
The polish may start fading off on the 2nd day of application from the nail-tips if you do a lot of cleaning and washing.
It is bright Red color which may not be liked by everyone.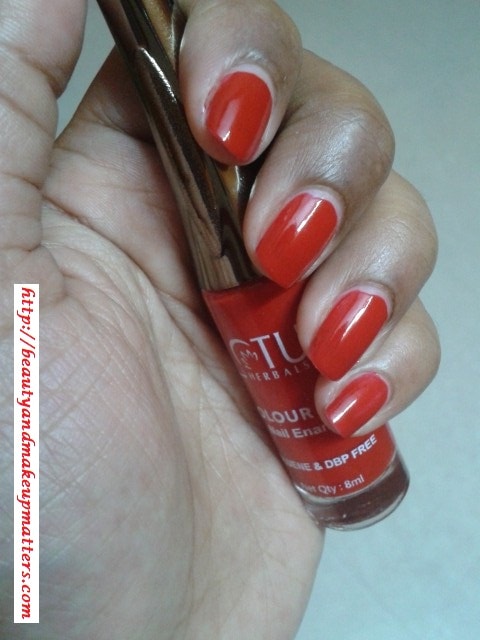 Recommendation:- The Lotus Herbals Color Dew Nail Enamel-Crimson Red has taken my love for Red Nail paints to a next level. It is lovely rich Red shade which brightens up my hands and can be carried easily with western as well as ethnic wear. This is one shade that can make head turns at your nails. It is an excellent quality nail paint that is available at pocket friendly price. It is herbal nail paint which is from harmful chemicals like Acetone, DBP and Toluene which is a plus point.

It has a nice formula which gives non-streaky application and goes opaque in 2 coats to give the rich red color to your nail. It also dries up quickly to a creamy glossy finish and stays for long. It is one of my favorite Red Nail paint and I liked it better than the Lakme True Wear Siren Red nail paint which goes patchy and move towards maroon with multiple applications. I would definitely recommend it to everyone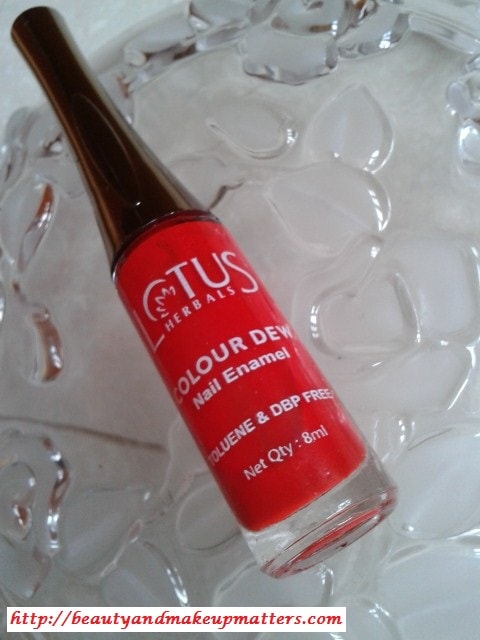 Rating:- 4/5
Have you tried Lotus Herbals Color Dew Nail Enamel-Crimson Red? Which is your favorite Red Nail Paint?