Lotus Herbals Cherry Bliss Daily Body Lotion Review
Before you get it wrong, I must tell you that it isn't my fresh or recent purchase. I bought it along with Biotique Winter Cherry Body Lotion last winters but as I ordered both of these just when the winters were about to end. As, I prefer light and fresh scented lotion during summers so, didn't really got a chance to put them to use and they were lying with me since last year. But with the onset of winters, finally it's time to indulge in this heavy duty body lotions and keep my dry skin moisturized.
Lets read on to find out how I liked this Lotus Herbals Cherry Bliss Daily Body Lotion.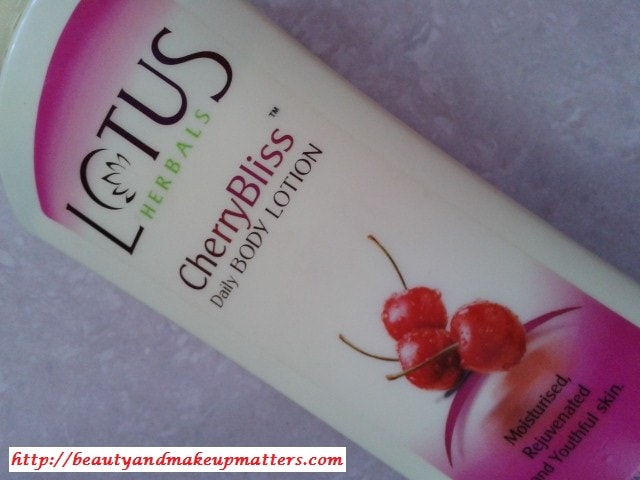 Product Claims: Cherry Bliss body lotion is a moisturizer enriched with Cherry and Strawberry extracts that smoothens out your skin. Cherry is rich in Vitamin A and E while Strawberry is rich in Vitamin C. It promises the production of collagen, refreshes, moisturizes skin and aides in reducing fine lines and wrinkles.
Direction for Use:- Apply liberally all over body, ideally after a shower or bath on damp skin for sealing in the moisture. Focus on dry area or stressed areas such as elbows, heels and knees. Can be used any time your skin is feeling particularly parched and dry.
Result :- Moisturized, rejuvenated and youthful skin.
Ingredients:-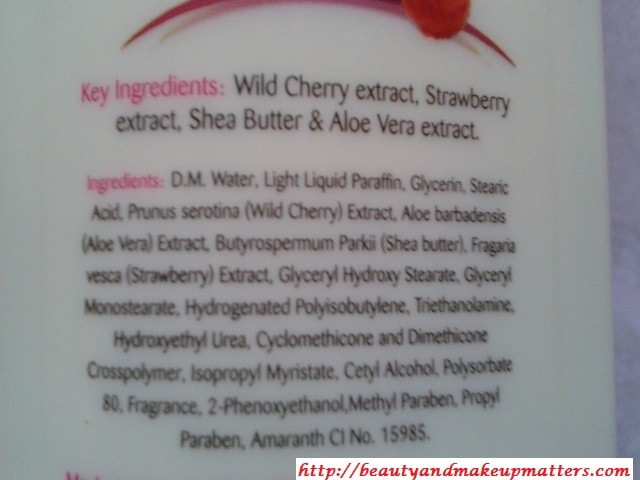 Price:- Rs.255 for 300ml
Shelf Life:- 3 years from the Mfg date.
Packaging:- The body lotion comes sealed with a transparent plastic sheet. The lotion is contained in the long yellow plastic bottle with a pump dispenser which is very easy to use and hygienic too. The bottle can be easily distinguished from other Lotus Herbals Body lotions which comes in similar packaging's but each variant has its distinct color and with this Cherry Bliss Body Lotion its dark pink the color of cherries.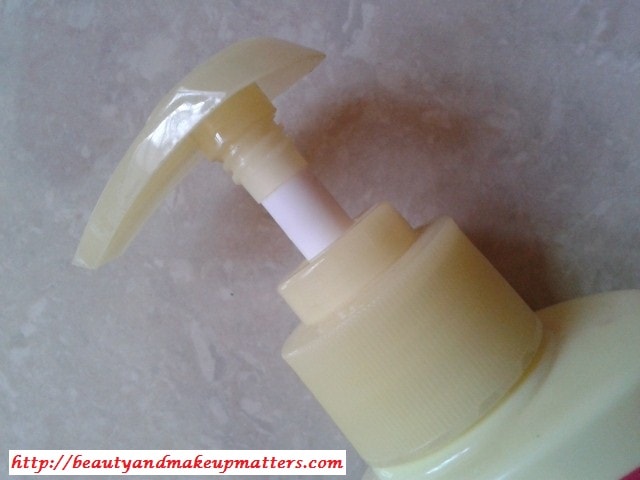 My experience with Lotus Herbals Cherry Bliss Daily Body Lotion:-
Cherry Bliss lotion has medium-thick consistency but it spreads nicely all over the body. The lotion is light pink in color to resemble with its name but has slightly overwhelming bubblegum fragrance. The rich creamy texture of the lotion blends easily into skin and gets absorbed much faster with slight rubbing compared to its counter parts ( Lotus Herbals White Glow Body Lotion ). Another, good thing is that it doesn't leave and slippery or uncomfortable oily layer on skin unlike Lotus Herbals Almond Nourish Body Lotion  even if used lavishly.
The ingredients list sounds delicious as it claims to contain Strawberry and Cherry extracts with glycerin which act as natural moisturizers for my dry skin. The lotion does a pretty good job to take care of the moisturizing needs of my super dry skin in winters but I need to slather this lotion excessively all over my body. The lotion is not intensely moisturizing and on those harsh dry winter days I need a reapplication by the end of the day.
Don't Miss to Checkout:
Swatch:-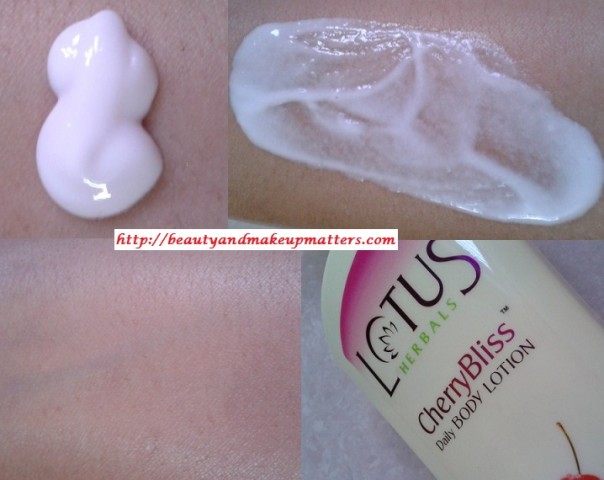 Pros of Lotus Herbals Cherry Bliss Daily Body Lotion:-
Texture blends nicely
Doesn't take too long to get absorbed
Moisturizes my dry skin pretty well
Doesn't feel heavy or leave residue on skin
Enriched with natural ingredients
Hygienic packaging
Reasonably priced
Cons of Lotus Herbals Cherry Bliss Daily Body Lotion:-
Overtly sweet and artificial bubblegum smell
Not intensely moisturizing for dry skin in winters requires re-application sometimes.
Contains Parabens
Recommendation:- Lotus Herbals Cherry Bliss Daily Body Lotion has slightly thick consistency but spreads nicely all over the body without feeling heavy. It is a non-sticky and non–greasy body lotion which soaks easily into the skin and fastest when applied immediately after bath. A decent product with nature's goodness and natural extracts of Cherry and Strawberry at an affordable price. The lotion does a fairly good job at nourishing my dry skin but it's not an excellent moisturizer. It can be given a try in winters but must be avoided at all costs in summers. It is definitely not a must have but if you don't mind its sugary sweet bubblegum scent and doesn't have flaking dry skin you can it give a try, quite skippable though.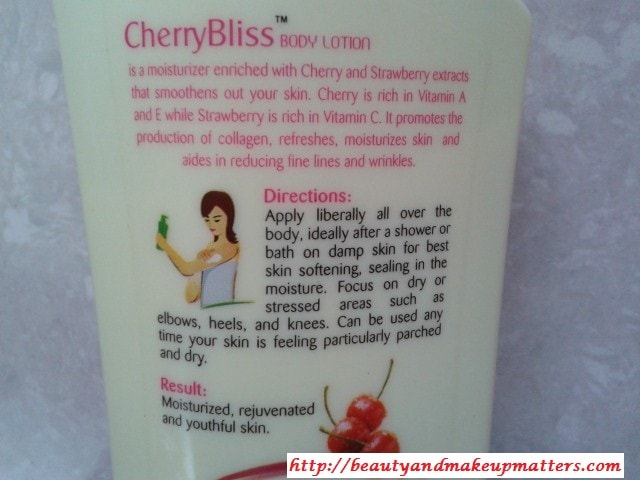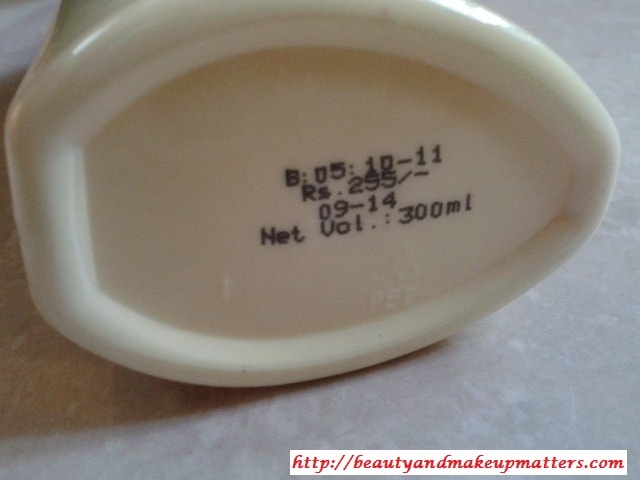 Rating:- 3.4/5
Have you tried Lotus Herbals Cherry Bliss Daily Body Lotion? Are you okay with such sweet fruity fragrances?