Lotus Herbals Berry Scrub Strawberry & Aloe Vera Exfoliating Face Wash Review
I love Lotus Herbals for the wide range of skin-care products it offers at pocket-friendly prices. It has something or the other for each skin type and its products rarely fails on anyone. Lotus Herbals includes the goodness of nature in its products and pack them in travel friendly and easy to use packagings.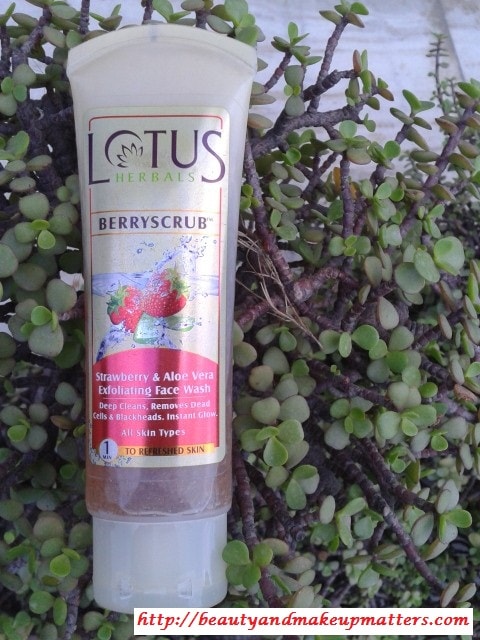 You can check my reviews on other amazing Lotus Herbals products here:-
Today I am reviewing another innovative product from Lotus Herbals. The face wash cum scrub "Lotus Herbals Berry Scrub Strawberry & Aloe Vera Exfoliating Face Wash".
Product Claims: For skin that looks as great as it feels, try our BERRYSCRUB. The creamy lather cleanses and natural exfoliators polish your skin to reveal dazzling complexions
Direction for Use:- Massage over wet skin concentrating over rough spots like nose tip, forehead etc. Wash off. Follow with Lotus Herbals ALPHAMOIST for best results
Active Ingredients:
Strawberry seeds: Exfoliating agent removes dead skin cells. Prevents formation of blackheads & gives instant glow.
Aloe Vera:- Excellent moisturizing and skin healing properties, anti-inflammatory & soothing properties.
Lemon Extract:- Antioxidant, natural skin cleanser
Orange Peel Extract:– Good antimicrobial & anti-inflammatory properties
Ingredients:- Water, Sodium Lauryl Ether Sulphate, Glycerin, Sodium Lauryl Sulphate, Propylene Glycol, Citrus sinensis (Orange Peel) extract, Aloe Barbadensis (Aloe Vera) Gel, Citrus Medica Limonum (Lemon Peel) extract, Fragria Vesca (Strwberry Seeds), Cocoamidopropyl Betain, Cocodiethanolamide, Cocomonoethanolamide, Disodium EDTA,  Fragrance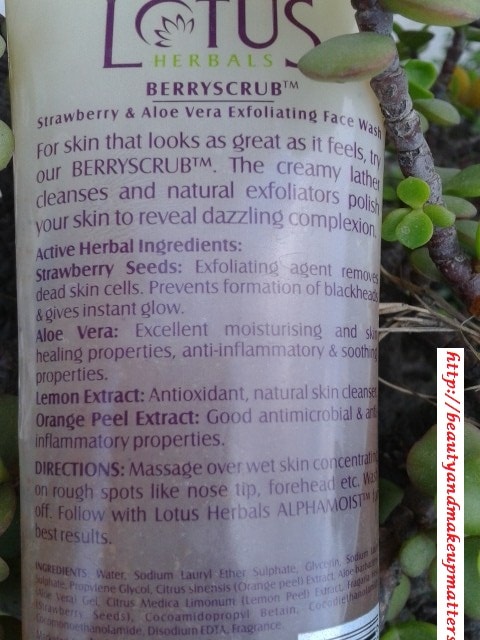 Price:- Rs.125 for 80gm
Shelf Life:- 3 years from the Mfg date.
Packaging:-  The face comes in a sleek semi-transparent plastic tube with a flip top. The cap shuts tight with a click sound and won't open under pressure.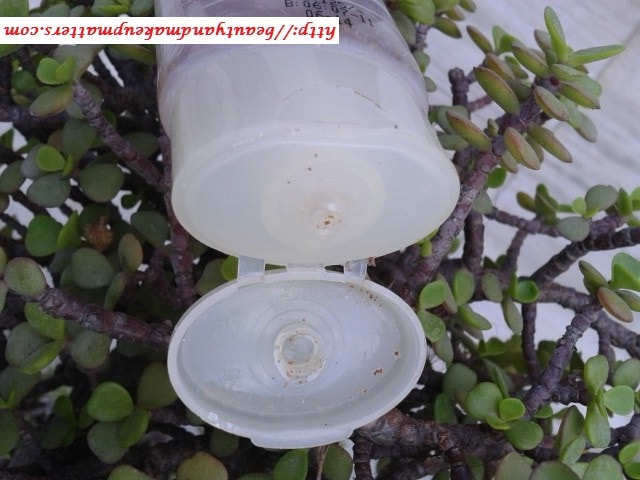 My experience with Lotus Herbals Berry Scrub Exfoliating Face Wash:-
The Lotus Herbals Berry Exfoliating Face Wash or you can say the scrub has a runny gel type consistency which rushes out of the tube as soon as you open the cap and bend the tube to get the face wash out. So, be careful while pouring out the face wash or you will end up wasting or pushing the product down the tube again.
The gel is transparent and has tiny scrub granules. The gel seems to be matching the consistency of Aloe Vera gel and the granules appears to belong to Strawberry seeds. The granules are really tiny, much smaller compared to the size of granules in normal scrubs.
These exfoliating granules are not densely packed and only small amount of granules will come out with the gel so that it can serve both the purposes of being a face wash with mild exfoliating particles that does the job of a scrub. It has a mild fruity fragrance with hint of strawberries. I love its natural, refreshing fragrance. The face wash gives a mild lather. Its mild exfoliating particles remove all the dirt and grime from your facial skin while you massage it over your face like normal face washes.
It feels gentle on skin and won't hurt existing eruptions that you might have. It gets rinsed off easily with few splashes of plain water and you can notice the difference in your skin. The skin feels fresh and rejuvenated. But skin becomes dry and stretchy after sometime and following up with a moisturizer is a must for dry skin ladies.
Don't Miss to Checkout:
Swatches:-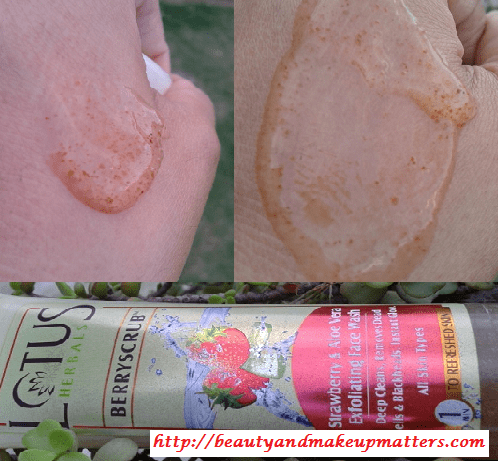 Pros of Lotus Herbals Berry Scrub Exfoliating Face Wash:-
Has a mild refreshing fragrance.
Contains the goodness of Strawberry, Aloe Vera, lemon and orange peels.
Gently removes dirt, oil and dead skin cells and leave behind clean and fresh skin.
Leave my skin soft and smooth and brightens up the face instantly
Reasonably priced, worth each penny
Suitable for all skin type but it will work better on oily/combination skin.
Cons of Lotus Herbals Berry Scrub Exfoliating Face Wash:-
The runny consistency makes it a difficult task to control the amount of the facewash rushing out of the tube.
Doesn't lather much and gives a mild soapy lather
Skin becomes dry and stretchy after few minutes of face wash but the dryness can be easily take care by normal face moisturizer.
Contains SLS and SLES.
Recommendation:-  I don't go out much and my 8 to 6 white-collar job doesn't let me even if I want to. So, I don't feel the need of exfoliating it everyday but if you have a field job and love to roam around, just wash your face with this when you return. Lotus Herbals Berry Scrub Exfoliating Face Wash does a great job in removing impurities and dead skin cells from the skin in a minute's time and gives a refreshing clean feeling to it.
I don't use it regularly but whenever I don't have time for regular scrubbing and skin needs to be cleansed immediately I use this. I am still undecided whether to go for exfoliation on daily basis. Won't it be too much for our delicate facial skin?
Rating:- 3.1/5 (Extra points deducted for containing SLS)
Have you tried Lotus Berry Scrub Exfoliating face wash? Do you like the idea of scrub in a face wash?