Lotus Herbals ApriScrub Fresh Apricot Scrub Review
I bought this scrub long back during a trip to Gangtok. I had forgotten to take up any scrub with me and all the travelling and dust has made my skin look dull and lifeless. I wanted to get rid of the blackheads that have started appearing on my nose and the dead skin cells that have accumulated on my skin surface. So, bought this Lotus Herbals ApriScrub Fresh Apricot Scrub's small tube from a local shop there.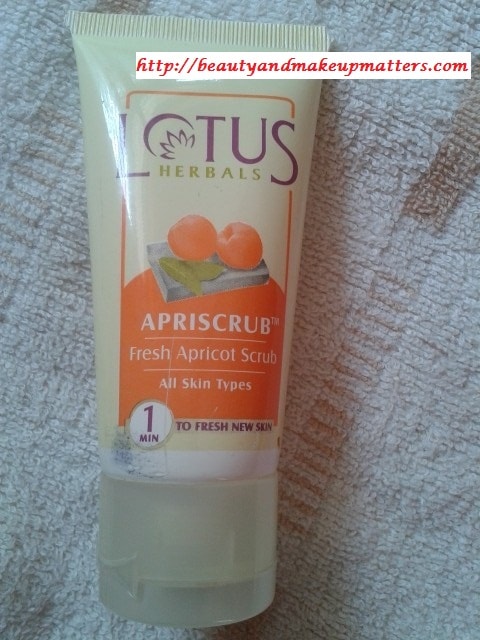 Product Claims: As your hair and nails grow, your skin also grows. Upper skin cells become dead and new cells are developed underneath. It is necessary to remove these dead cells to reveal the younger, radiant skin from underneath. Lotus Herabls ApriScrub is the perfect scrub to scrub away these dead cells gently without rupturing your skin. A young, radiant skin is what you get after using this scrub.
Direction for Use:- Moisten face & neck. Apply Lotus Herbals Apriscrub in dots all over the face and rub with wet fingers in clock wise and anti-clockwise direction massaging gently. Rinse well and pat dry Apply ALPHAMOIST Oil free moisturizer Or Safe Sunblock Lotion before stepping out.
Ingredients:- Water, Prunus Armeniaca ( Apricot Kernel) Powder, Glyceryl MonoStereate, Glycerin, Stearic Acid, IsoPropyl Myristate, Cetyl Alcohol, Light Liquid Paraffin, Sodium Lauryl Sulphate, Methyl Paraben, Propyl Paraben, Fragrance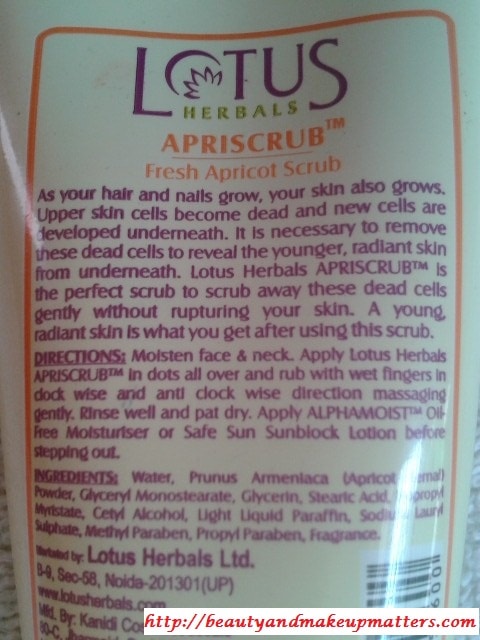 Price:- Rs.60 for 60 gms
Shelf Life:- 3 years from the Mfg date.
Packaging:- The scrub comes in an opaque plastic tube with a flip cap. This small tube is extremely travel friendly and hygienic to use.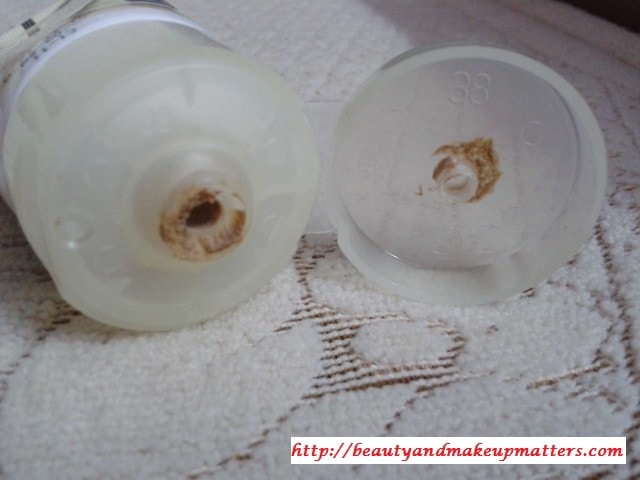 How I use scrubs:–  After washing my face with a normal face wash or cleanser I squeeze out a coin sized amount of the scrub on my palm. Spread it and apply it evenly on the wet face. Start exfoliating with fingers gently in circular motions (clock wise and Anti clock wise) for 3-4 minutes. Rinse it off with fresh water and pat my face dry. I normally follow scrubbing with a face pack but I am running out of time Then after exfoliating I let the scrub dry on my face for few minutes before washing it off.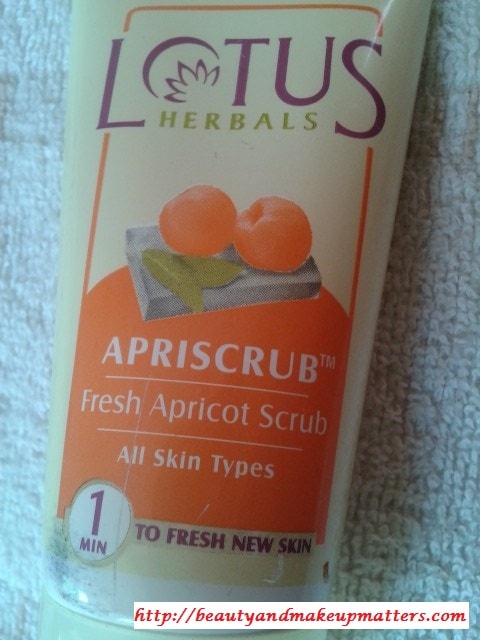 What I liked in Lotus Herbals ApriScrub Fresh Apricot Scrub:-
Scrub is thick and creamy with granules which are small and mild enough to be used on facial skin. It works well on facial skin without irritating or breaking it out. It cleansed away the impurities, dirt and oil without making my skin dry and stretchy.
Skin feels clean and fresh after usage. Due to creamy texture, the scrub provides moisturisation to my dry skin and leaves it soft and smooth.
Has a mild apricot smell which is not overwhelming. The smell is quite different from Everyuth Walnut scrub and I liked it better than the latter.
I used it as a body scrub too with special attention to feet and hands and it did an amazing job. Due to the densely packed granules, it worked great as a body scrub.
Hygienic tube type packaging. Available in various sizes including travel size packs that will easily slip into your handbags.
Reasonably priced
Lotus doesn't test on animals and are easily available everywhere
Don't Miss to Checkout:
Swatches:-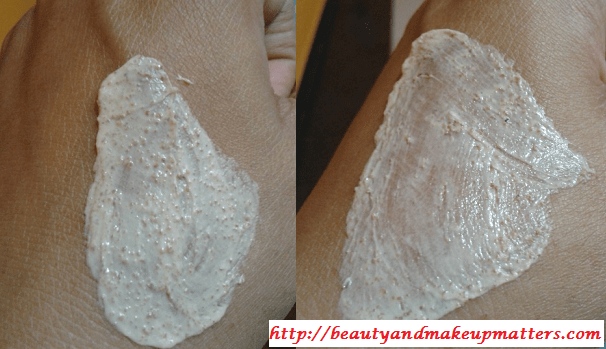 What I disliked in Lotus Herbals ApriScrub Fresh Apricot Scrub:-
The exfoliating granules feel slightly harsh on facial skin is scrubbed aggressively. So you need to use this with gentle and light hands on face.
Not much effective in removing stubborn blackheads that are embedded deep down the pores.
Oily skin may feel slightly oily or greasy film on their skin after using this scrub.
Contains Parabens
Recommendation:-My skin felt clean and smooth after using Lotus Herbals ApriScrub Fresh Apricot Scrub and I liked this scrub to some extent. But Apricot scrub, it's so boring. 😛 . Nowadays, we have many more options available in scrubs which are available in competitive prices.

The exfoliating granules may feel slightly harsh for sensitive facial skin but overall a good scrub that can very well work as a body scrub.  If you want to give this a shot, get the travel sized pack and try it.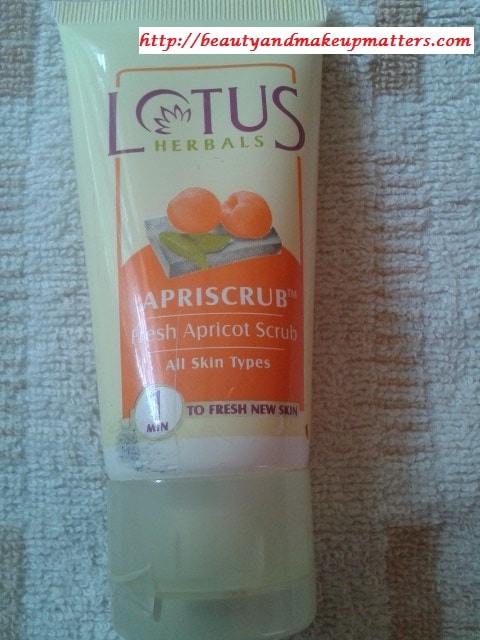 Rating:- 3.2/5
Have you tried Lotus Herbals ApriScrub? Which is your favorite Apricot scrub?