Lotus Herbals Almond Nourish Daily Nourishing Body Lotion SPF 20 Review
I was looking for a lotion with some SPF protection to save my arms and legs from harmful sun rays. I have been using Lotus White Glow Hand & Body Lotion and was quite happy with it but for the time it takes to get absorbed I was looking for a fast absorbing lotion.
As we don't have many options available when it comes to SPF protection in Body lotions and when I saw that Lotus is offering another Lotion with SPF protection and which also contains Almond Oil to take care of the skin dryness I wanted it immediately. So, I ordered "Lotus Herbals Almond Nourish Daily Nourishing Body Lotion SPF 20" from an online shopping website.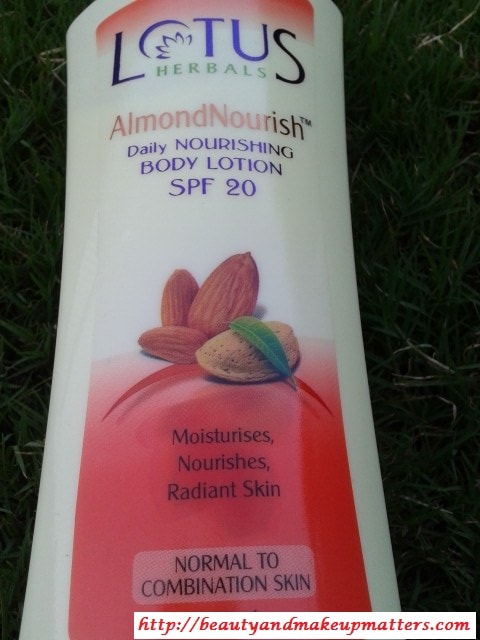 Product Claims: Almond Nourish Body Lotion is a nourishing moisturizer enriched with the goodness of Almond Oil that moisturizes and nourishes your skin. Almond Oil is rich in Vitamin E that helps in delaying the ageing process. It also aides in improving the overall complexion and skin tone
Direction for Use:-Apply liberally all over the body, ideally after a shower or bath on damp/skin for best skin softening, sealing in the moisture. Focus on dry or stressed areas such as elbows, heels and knees. Can be used any time your skin is feeling particularly parched and dry
Result:- Supplies your skin vital nourishment. Skin looks supple, healthy & radiant.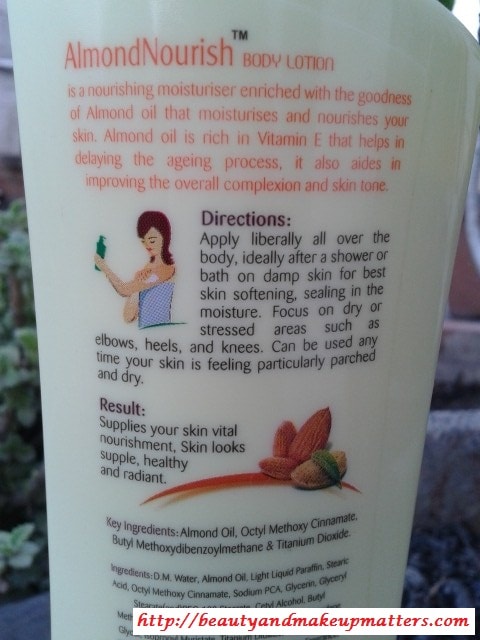 Key Ingredients:- Almond Oil, Octyl Methoxy Cinnamate, Butyl Methoxydibenzoylmethane, Titanium Dioxide
Ingredients:- Water, Almond Oil, Light Liquid Paraffin, Stearic Acid, Octyl Methoxy Cinnamate, Sodium PCA, Glycerin, Glyceryl Stearate & PEG 100 Stearate, Cetyl Alcohol, Butyl Methoxydibenzoylmethane, Glyceryl Monostearate, Propylene Glycol, Isopropyl Myristate, Titanium Dioxide, Polysorbate 80, Triethanolamine, Hydroxypropyl Starch Phosphate, Fragrance, 2-Phenoxyethanol, Butylated Hydroxytoulene, Methyl Paraben, Propyl Paraben
Almond Oil Skin Benefits:- Almond oil is a rich source of Vitamin E and is an excellent emollient  which  soothes and softens the skin. It also relieves skin irritation, rashes and burns. It also helps in improving complexion and delaying ageing process.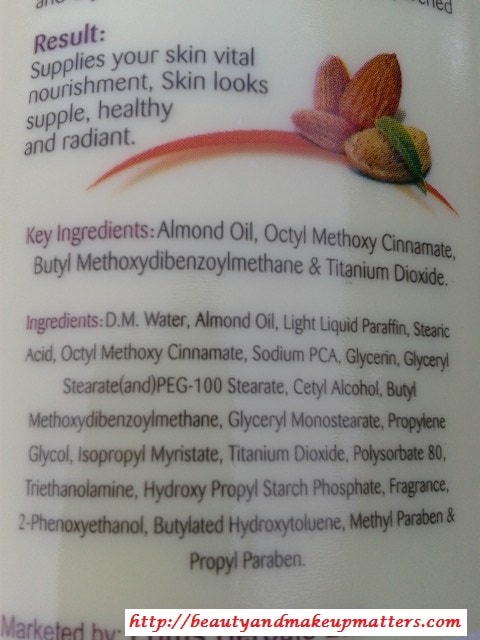 Price:- Rs.255 for 300ml
Shelf Life:-  3 years from the Mfg date.
Packaging:- The lotion comes in a yellow plastic bottle with an easy to use pump dispenser type packaging. The bottle is translucent and will show the amount left in the bottle when you hold it against light. The dispenser has a locking mechanism which prevents the lotion from dispensing while traveling. I like its pump-dispenser packaging,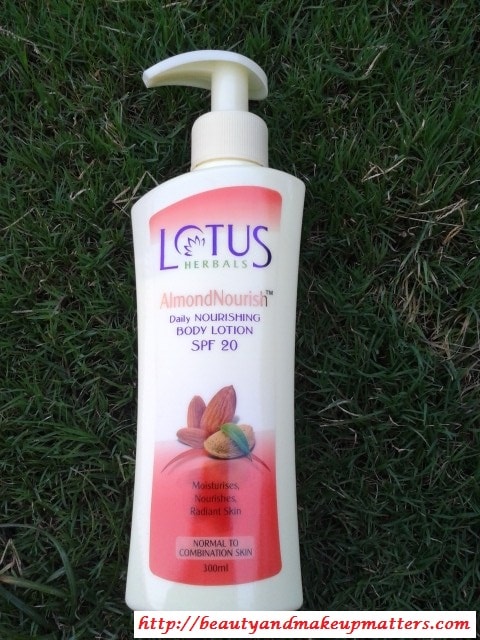 My experience with Lotus Herbals Almond Nourish Daily Nourishing Body Lotion SPF-20:-
Consistency:- The lotion is white in color and has a slightly thick consistency which is definitely thicker than Vanilla Velvet Body Lotion variant. The lotion spreads with a little effort but goes streaky at first and forms a white creamy layer on the skin. It has to be rubbed hard against the skin to make it get absorbed completely into the skin.
Fragrance:- The lotion has a smells nice. It has a mild almond fragrance but has some artificial notes to it. The fragrance is not OTT or overwhelming. It doesn't stay for long. It lingers on for few minutes after which it fades away completely.
Moisturisation:-Though it has a thick consistency it doesn't provide enough moisturisation to the skin. To get proper nourishment for the skin you need to pour a generous amount of this lotion and have to really work hard to make it seep completely into the skin. But even after that my super-dry skin would require a reapplication in 5-6 hours during harsh winters. Even after all the efforts I made to get it absorbed it left an oily film on my skin
Don't Miss to Checkout:
Swatch:-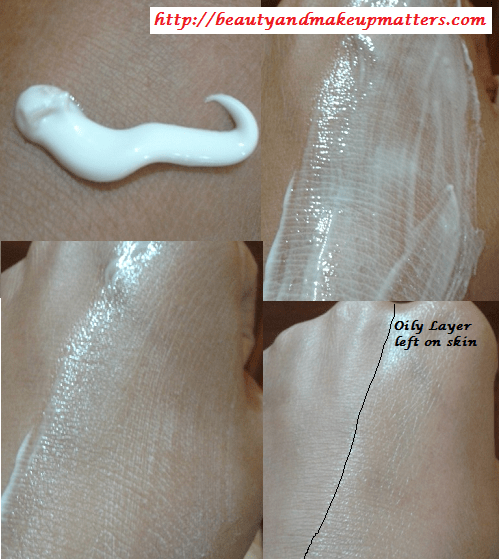 Pros of Lotus Herbals Almond Nourish Daily Nourishing Body Lotion SPF 20:-
Has SPF 20 which provides sun –protection
Has a mild almond fragrance which lingers on for few minutes
Skin feels soft and moisturised for few hours of application
Claims to contain Almond Oil and work on evening out the skin tone but I couldn't see any difference in my complexion or skin tone.
Hygienic pump dispenser packaging
Reasonably priced
Cons of Lotus Herbals Almond Nourish Daily Nourishing Body Lotion SPF 20:-
Takes hell lot of time to get absorbed
It leaves an oily film on the skin which gives a feeling of Almond oil. It's not that I don't like using almond oil on my skin but in summers I really don't like the greasy thing on my skin.
Not enough moisturizing and dry skin will feel the need of re-application after 5-6 hours.
Contains Parabens.
Recommendation:- Lotus Herbals Almond Nourish Daily Nourishing Body Lotion SPF 20 has thick and rich creamy texture which makes it better to be used in winters. Moisturisation may be enough for normal /combination skin but dry and parched skin will require re-application after few hours. A definite No in sweaty summers and a hesitant yes for dry winters.

Overall, this Body lotion which can be easily ignored unless you are a die hard Almond fragrance Lover and dont mind the time it takes to blend completely and the greasy film it leaves on the skin.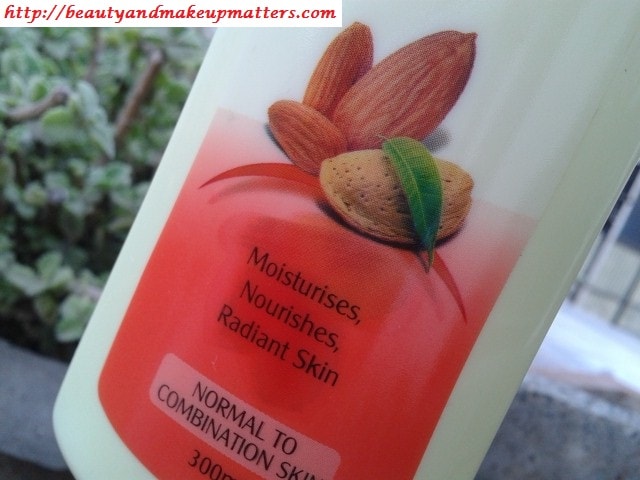 Rating:- 2/5
Have you tried Lotus Herbals Almond Nourish Daily Nourishing Body Lotion SPF 20? Do you prefer using body lotions with SPF in summers?