Lotus Alpha Moist Alpha Hydroxy Skin Renewal Oil Free Moisturizer Review
Product Claims:- Plant derived alpha hydroxy extracts present in this oil-free moisturizer replenish moisture, provide a vibrant smooth complexion and reveal fresh newer skin. The complexion is rejuvenated into looking and feeling younger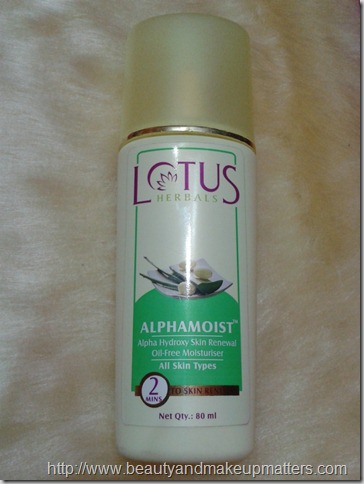 Direction for use: Cleanse face thoroughly. Apply lavishly all over face and neck. Use regularly in morning and evening.
Ingredients:- Water, Almond Oil, Glyceryl Mono Hydroxy Stearate, Triticum vulgare(Wheat Germ) oil, Light Liquid Paraffin, Vitis Vinifera(Grape) Extract, Aloe Barbadenesis(Aloe Vera) Extract, Lactic Acid Glycerin, Stearic Acid , Milk Enzymes, Sodium Lactate, Propylene Glycol, Ceto Stearyl Alcohol, Cetyl Alcohol, Triethanolamine, Tocopheryl Acetate, Methy Paraben, Propyl Paraben, Fragrance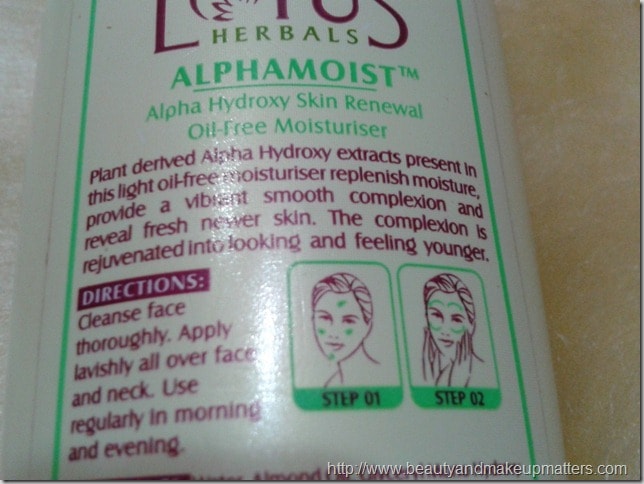 Price:- Rs.175 for 80ml
Shelf Life:- 3 years from the Mfg date.
Packaging:- The moisturizer comes in an opaque creamish yellow colored bottle with a translucent cap. The bottle has a pump dispenser which dispenses just the right amount. The packaging is hygienic and travel friendly. It is an easy to use packaging which can be carried carelessly in bag and would not leak or creates a mess.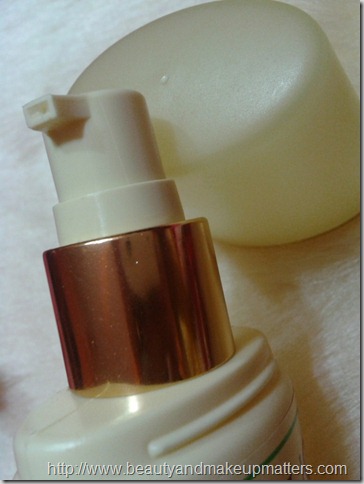 My experience with Lotus AlphaMoist Alpha Hydroxy Skin Renewal Oil Free Moisturizer:-
The moisturiser has slightly runny texture and is translucent white colour. It gets blended into the skin in no time. It is an oil free moisturizer but still it takes care of my dry skin pretty well. Just 2 pumps of this moisturiser and I am good to go. It has a mild herbal fragrance which I find quite refreshing. It leaves my skin Soft and supple without any greasy or oily feel.
I have started using this in winters and I love the moisturisation it provided to my skin and now in summers I love to wear this water-based moisturiser under my sunscreens as well without worrying about getting shiny or oily skin. I usually avoid applying face moisturizers in summers as they always make my skin oily/shiny and dull but had no such issues with this one and was quite surprised too see how fast it gets absorbed into my skin. With this moisturiser, it feels just perfect irrespective of the weather or place.
Don't Miss to Checkout: 
Swatches:-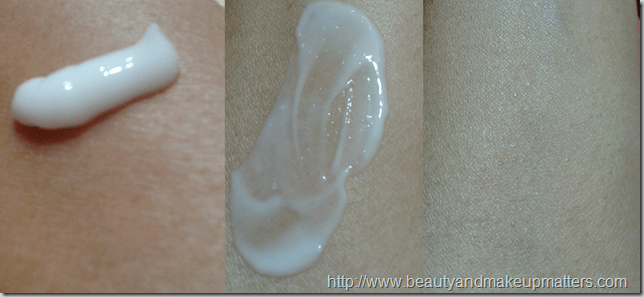 Pros of Lotus Alpha Moist Alpha Hydroxy Skin Renewal Oil Free Moisturizer:-
Oil free moisturizer which never feels heavy on skin and wont make it greasy or shiny.
It is a light moisturizer that gets absorbed super quickly into the skin
Keeps my dry skin well moisturized in summers as well as in winters. My skin feels really soft and supple. It also gives healthy glow to my skin without adding oily or shiny sheen
Never broke me out.
I like its mild herbal fragrance.
Hygienic and easy to use pump dispenser packaging. (full points for that). So, you don't have to worry about dispensing extra product by mistake.
The bottle will last long as only small amount (2 pumps) is needed at a time. It has been with me for more than 6 month and I am still left with 20% of the moisturizer.
Contains natural ingredients like Glycerin, Aloe Vera, Grapes and Wheat Germ Extracts which are good for skin.
Suitable for all skin types. I have a dry skin but I am sure it will suit oily skin too
Decently priced
Cons of Lotus Alpha Moist Alpha Hydroxy Skin Renewal Oil Free Moisturizer:-
Contains Parabens
Rating:- 4.5/5
Recommendation:-Lotus Alpha Moist Oil Free Moisturizer is one of the most effective oil-free moisturizer I've used till date. Anyone who is looking for a good moisturizer either oily or dry skin should give this a try. It makes a good day time moisturizer due to its light texture and super absorbing property. It is suitable for all skin types. It can be used all through the year (summers or winters) without worrying about greasy film on skin during hot months and enough nourishment during colder months.
This moisturizer is a must have for me. I am going to re buy this again and again.

Highly recommended!!
Have you tried Lotus Herbals Alpha Moist Alpha Hydroxy Skin Renewal Oil Free Moisturizer? Which is your favorite day time moisturizer?