L'Oreal Total repair 5 Instant Smoothening and Nourishing Oil Serum
I have predominantly oily scalp and dry hair which flies in every direction as they start drying out after wash. Though, they get tamed by 2nd day but if I have to go for a party instantly I am left with no other option but to clutch them and comb them pretty often so as to calm them down.
I haven't used any serum or leave-in conditioner before because of the fact that they are loaded with lost of harmful chemicals which in long-term can lead to hair-fall and other hair related problems but I still I wanted to have one for occasional use. So, thought of starting with L'Oreal Total repair 5 Instant Smoothening and Nourishing Oil Serum and use it for emergency purpose.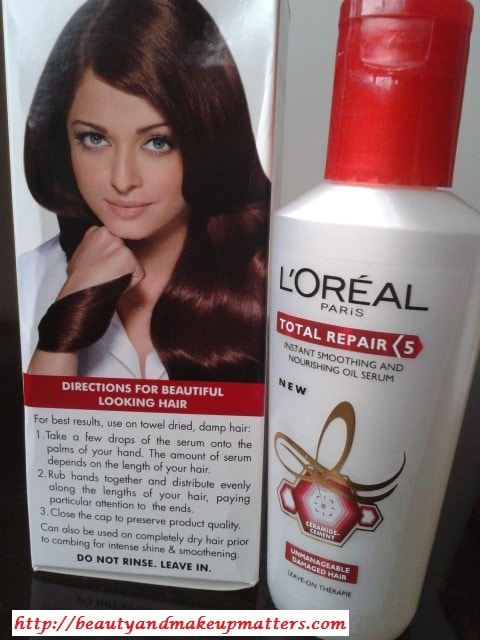 Product Claims: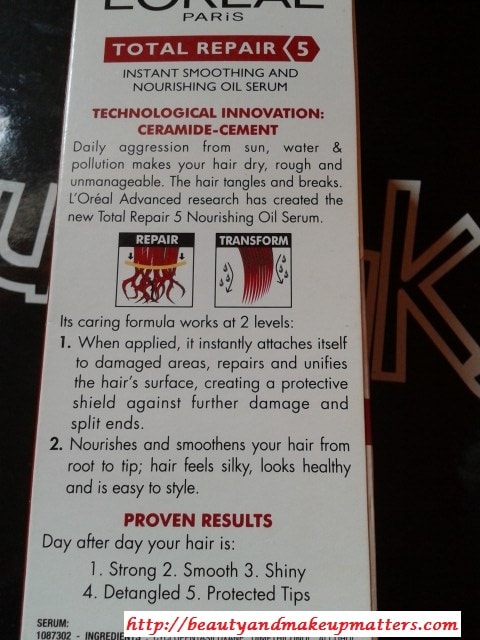 Direction for Use:-
Take a few drops of serum onto the palms of your hand. The amount of serum depends on the length of your hair
Rub hands together and distribute evenly along the lengths of of your hair, paying particular attention to the ends.
Close the cap to preserve product quality.
For best results, use on towel dried, damp hair for intense shine.
*Do not Rinse. Leave In.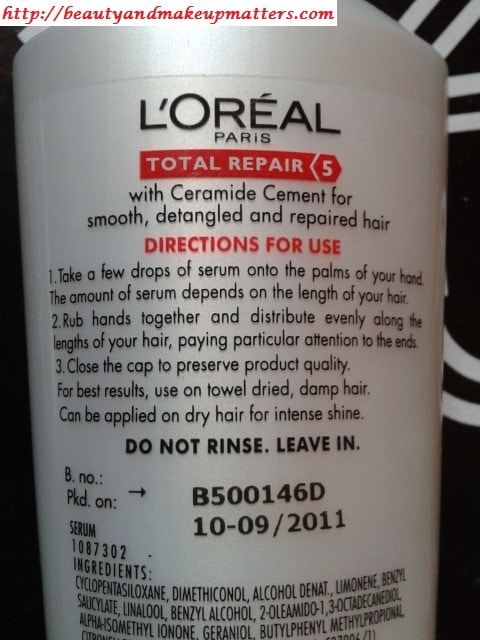 Ingredients:- Cyclopentasiloxane, Dimethiconol, Alcohol Denat, Linolene, Benzyl Salicylate, LinaLool, Banzyl Alcohol, 2- OleaMido, 3-OctaDecaneDiol, Alpha Iso-Methyl Ionone, Geraniol, ButylPhenyl, Methyl Propional, Citronellol, Hexyl Cinnamal, Fragrance (F.I.L c37906/1)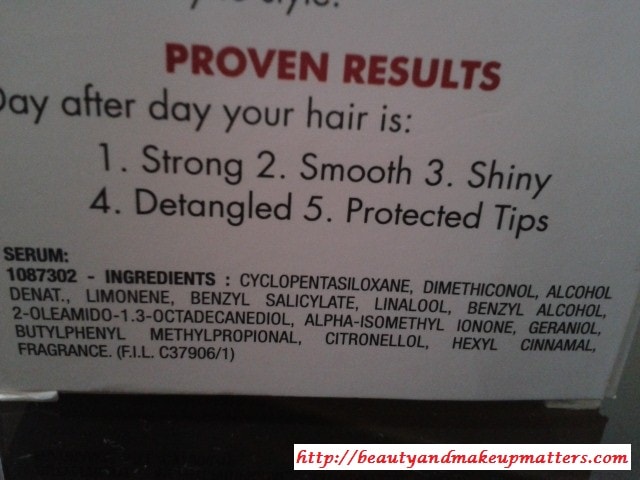 Price:- Rs.140 for 40ml
Shelf Life:-  36 months from the Mfg date.
Packaging:- The serum is packed in a glass shaped creamy bottle with a red colored flip cap. The opaque plastic bottle will show the amount of the serum left in it when hold against light. The bottle is sturdy and easy to use, as the small opening helps to control the amount of the serum to be dispensed.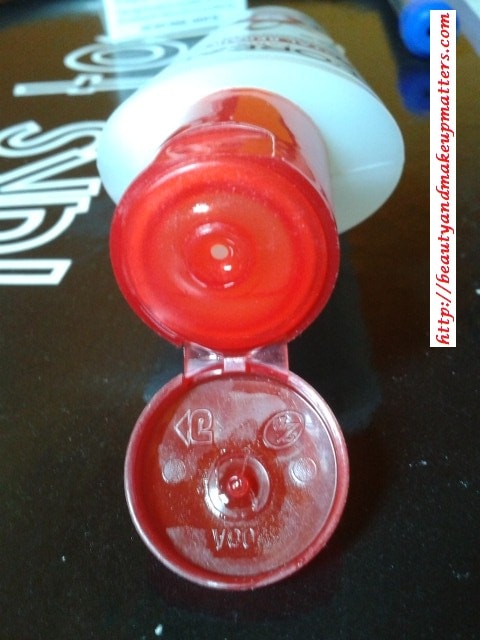 My experience with L'Oreal Total repair 5 Instant Smoothening and Nourishing Oil Serum:-
The serum is a clear liquid with an extremely runny consistency just like any hair oil. Serum is meant to be rubbed between both the hands before applying on hair for an even application. I make sure that the serum gets applied only to the hair-strands and not on the scalp. It leaves my hands feeling slightly slippery post–application. It also has a strong alcoholic smell but thankfully it doesn't stay for long.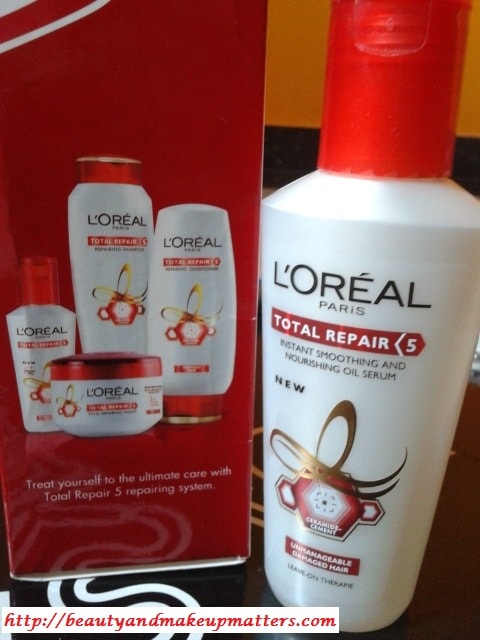 For first few applications, I tend to pick lot of amount from the bottle which resulted in oily-limp hair. But I guess now, it is faring much better with a small quantity ( few drops) of the serum. The serum hasn't made my hair oily or greasy when used judiciously.
The serum can be used on both towel- dried wet hair and dry hair, but I prefer using it on towel-dried hair as I think it works better that way. The serum adds a little shine to my hair and makes them soft without weighing them down. I can't really comment on the detangling ability of the serum as I don't have tangled hair but coming to the frizz or flyways control ability of this serum, I would say that I am not much satisfied with the results. It fixed the frizz to some extent but nothing extra-ordinary.
Don't Miss to Checkout:
Swatches: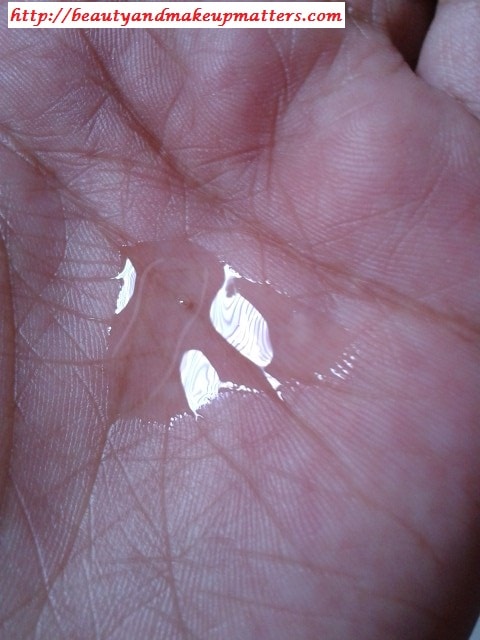 Pros of L'Oreal Total repair 5 Instant Smoothening and Nourishing Oil Serum:-
Few drops of the serum are required for single-application. So, the bottle is going to last me long, really long
Doesn't weigh down my hair.
Doesn't made my hair oily
Adds a bit of shine to hair
Makes hair softer and smoother post-application
Reasonably priced
Hygienic and user-friendly packaging
Cons of L'Oreal Total repair 5 Instant Smoothening and Nourishing Oil Serum:-
Loaded with lots of chemicals and Silicons.
Strong alcoholic smell which however gets lightened post-application
Wasn't much effective in controlling frizz and flyways.
Tend to make my hair oily when applied in excess.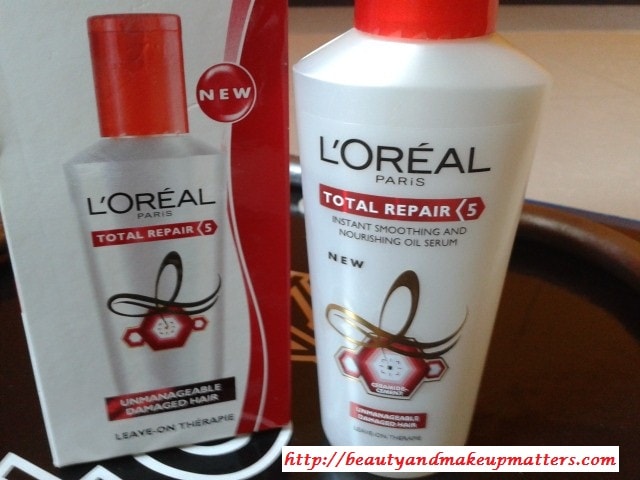 Recommendation:- L'Oreal Total repair 5 Serum did added some softness and shine to my hair but wasn't much effective in controlling frizz and taming flyways. It didn't hurt me much as it was quite inexpensive. I bought this serum when I was unaware of the side-effects of silicones in hair products. If you are okay with silicones as the main ingredient in the serum and have tangling issue you might like to give this a try.

It is not a must-have product and will not re-purchase this serum. Now, I have started looking for a hair-care product which is from such harmful chemicals like silicones and parabens. Do leave your suggestion in comments for the best frizz/flyway control products.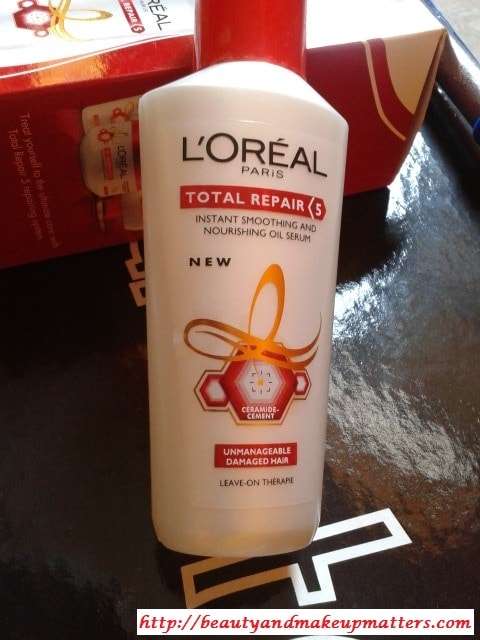 Rating:- 3/5
Have you tried L'Oreal Total repair 5 Instant Smoothening and Nourishing Oil Serum? Are you okay with silicones in your hair-care products?