L'Oreal Paris UV Perfect Aqua Essence SPF 30 Sunscreen Review
Hello Girlz,
We need sun protection but don't want to trade-off its effectiveness with an oily mess and white cast on face which is a common problem with most of the sunscreens. I have been hunting for a good sunscreen since forever but most of the sunscreens felt sticky except Louts Herbals 3 in 1 Matte which worked well for my dry skin and didn't make it sticky or shine with a greasy layer. But girls today I have cute surprise for you here revealing a sun screen that protects your skin from sun damage while you look natural with no oily/ whitish cast.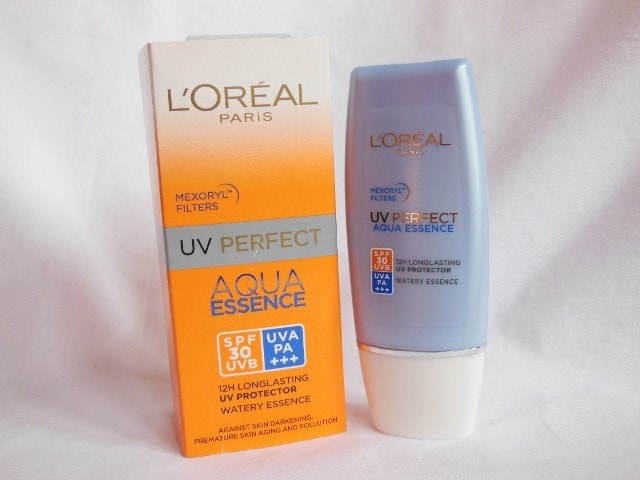 Product Claims:
Product Benefits: Ideal for everyday use, UV Perfect Aqua Essence not only provides expert sun protection but also keeps the skin hydrated and feeling fresh, supple and smoother.
Application: Aqua Essence is the first product from the L'Oréal Paris UV perfect range that is a lightweight composition making it feel like water when applied on the skin. It is fresh, non-greasy, and non-sticky and quickly gets absorbed in the skin.
Innovation: L'Oréal Paris UV Perfect Aqua Essence with SPF 30 PA+++ and a PPD of 15.5, thus ensuring a high level of protection against both UVA and UVB. It is also enriched with Advanced Mexoryl XL Filtersthat protect against broad spectrum UVA/UVB rays, Adenosine that repairs deep skin damage and fights wrinkles, and Vitamin E that helps fight against free radicles and external stress.
Price: 475 INR for 30 ml
Shelf Life – 36 months
Packaging: L'Oreal Paris UV Perfect Aqua Essence Sunscreen comes in a slim flat tube type packaging with blue body and white screw cap. There is long nozzle to dispense the product only when pressure is applied on the tube and this allows me to control the amount. I loved the styling and practical design of this L'Oreal Sunscreen over the usual tube type packaging for sunscreens where the product accumulates around the opening creating a mess after few usages. The packaging is so tiny that it can be easily thrown in your smallest handbag and your pockets as well, full points for the packaging.
My Experience with L'Oreal Paris UV Perfect Aqua Essence SPF 30 Sunscreen:
L'Oreal Paris UV Perfect Aqua Essence Sunscreen is white colored creamy sunscreen with light weight texture that blends beautifully into the skin. Unlike, regular creamy sunscreens it never feels heavy on skin and gets absorbed with few strokes and no white cast to scare you away. It feels lightly moisturizing to my dry skin and imparts a dewy shine but no greasy feel at all. My dry skin loves its finish but if you have oily skin and prefer matte finish top it up with a compact and you are done.
It's winters so it doesn't make me sweat or give a suffocating feel that is usual with sunscreens but I am sure it will perform with same ease in summers owing to its light weight formula. We don't need a SPF 50 or SPF 70 protection on daily basis but to keep skin safe from harmful sun rays even when you are home or in office some sort of sun protection is a must and this L'Oreal Paris Aqua Essence Sunscreen with SPF 30 is a perfect candidate for that job.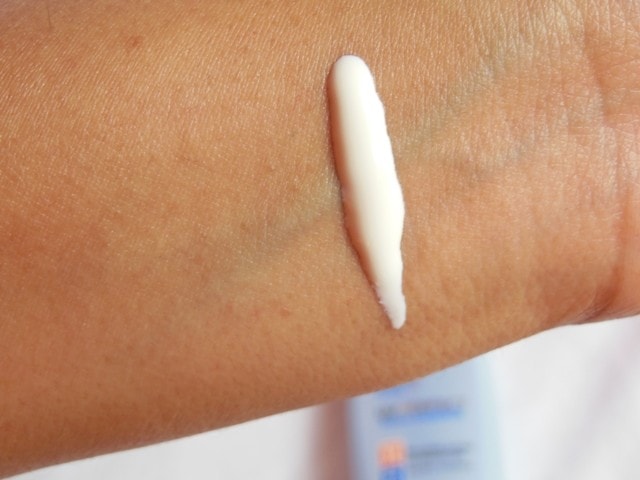 L'Oreal Paris UV Perfect Aqua Essence SPF 30 Sunscreen makes a great everyday sunscreen that will let your skin breathe while shielding from UV rays.
You Must Checkout: Other sunscreen that I have used in the Past
Pros of L'Oreal Paris UV Perfect Aqua Essence SPF 30 Sunscreen :
Light weight texture
Blends easily
Absorbs Quickly
Slightly Moisturizing
Doesn't create a white cast
Non-sticky/non-greasy formula
Imparts a dewy finish (My dry skin loves it!)
Easily available
No Weird fragrance
Cute and Convenient to use packaging
Cons of L'Oreal Paris UV Perfect Aqua Essence SPF 30 Sunscreen:
Pricey compared to other sunscreen but it's totally worth it!
SPF 30 might not suffice if you spend long hours in sun
Oily skinned girls might not like its dewy finish 😛
Recommendation: L'Oreal Paris UV Perfect Aqua Essence SPF 30 Sunscreen is a perfect sunscreen with its super light texture that absorbs magically into the skin leaving behind no residue just a dewy finish to make your skin look soft and supple. I can easily skip on a moisturizer beneath but even with that it never feels heavy. If you will be going out for few hours in the Sun or plan to stay indoors whole day this L'Oreal Sunscreen is your perfect partner which will protect your skin.  You can easily replace your day cream with this sunscreen as it provides both hydration and UV protection. I needed this sunscreen in my life, Best sunscreen for dry skin. Highly recommended!
Rating: 4.5/5
Have you tried L'Oreal Paris UV Perfect Aqua Essence with spf 30? Which is your favourite Sunscreen?