L'Oreal Paris Super Liner Instant Impact Felt Eye Liner Black Review
There are many types of eye liners available nowadays including Liquid, Pencil and Gel/Cream liner, that I get confused at times which one to pick next. The newest in the list are felt tip liners, was it able to solve the problems faced with the rest of them.. Let's figure it out by putting L'Oreal Paris Instant Impact Felt Eye Liner Black to test.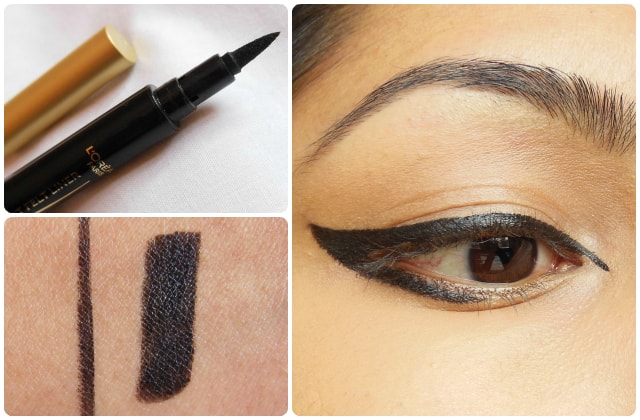 Product Claims:
A sponge tipped felt pen with deep colour for instant impact. Light up your eyes!
Superliner is a liquid eyeliner in a special sponge tipped pen and thus the colour can be applied with ease and precision as thin fine lines or thick sultry flicks.
Directions for use: Thanks to its soft and supple sponge tipped pen, Superliner Instant Impact Felt gives a quick, easy and uniform application. Create a line as thick or as delicate as you wish. Hold the eyelid taut with your other hand to facilitate application.
Ingredients:- Mentioned on the plastic wrap but I tore it off. :-/
Price:- Rs.725
Shelf Life:-  36 months from the Mfg date.
Packaging:- The liner comes in Sketch pen kind of packaging with black colored plastic pen and a sturdy golden colored cap. The cap closes tightly actually too tight to open it with ease. Some sort of gripper or cut around the opening would have made it easier to use as it is impossible to unlock the cap if you have even a little amount of slippage in your hands. The packaging is travel-friendly but a bit difficult to use.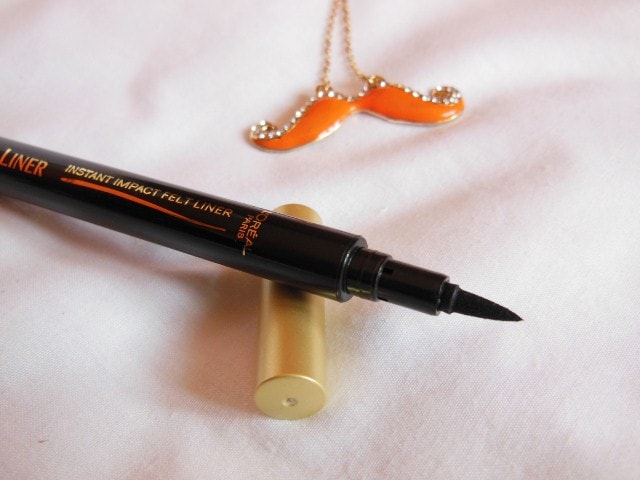 My experience with L'Oreal Paris Instant Impact Felt Eye Liner Black:-
L'Oreal Instant Impact Felt Eye Liner has a chubby Sponge tip just like Sketch pens which is tapered at the top for a pointed tip. The felt tip is firm enough to give a smooth application but isn't that hard to fell pointy or hurt lids during application at all. The pointed tip is thin enough to give precise application and you can draw thin or thick lines with ease. I found it best for winged eye liners; it is even easier than using gel liners with angled brush.
The liner looks medium Black on wrist but looks jet black but it is highly pigmented and in a single swipe it gives a rich color payoff but on lids I need a minimum of 2-3 swipes for that deep black liner look. Over eye shadows I need to build up the pigmentation and swipe it more as the tip picks some of the eye shadow from lids, which is inevitable. The finish is not super glossy like Maybelline Hyper Glossy liquid liner but it not matte either and has a beautiful glossy sheen.
The liner dries pretty fast which saves it from transferring and it doesn't cause any discomfort even if applied close to the lash line. The formula isn't smudge-proof or waterproof and the liner fades by the end of the day and if you have oily lids it will smudge and transfer considerably. Definitely not recommended to be used in summers or if you have super-oily lids. One more issue I faced with this liner is occasional leaking of the liquid from the holes on the sides of the tip. There are only tiny drop of liquid leaked but can result in a big mess if you touch it with fingers
If you have shaky hands or in a rush and didn't want to take the risk of using liquid eye liners dreading some mistake during application then this will be the perfect liner for the moment. With its firm tip you can create your desired eye liner design with just few swipes of this liner
Don't Miss to checkout: 
Pros of L'Oreal Paris Instant Impact Felt Eye Liner Black:-
Pointed tip gives controlled application
Easy to draw thin or thick lines
Glides on smoothly
Doesn't tug or pull lids
Great color payoff
Semi-glossy finish
Comfortable wear
Dries quickly
Travel friendly packaging
Easy Removal
Cons of L'Oreal Paris Instant Impact Felt Eye Liner Black:-
Expensive
Fades after 5-6 hours of application
Smudges/ Transfers on oily lids
Not Waterproof
Nothing fancy about packaging
Recommendation:- L'Oreal Paris Instant Impact Felt Eye Liner Black is a felt tip eye liner which gives precise and easy application. The formula is richly pigmented and gives dark black lines within 2-3 swipes. The liner can give that flawless eye liner application which you have been always looking for but wasn't possible with liquid, Gel or Pencil eyeliners. It is easiest to use eye liner and a great help for Makeup beginners just wish the formula was smudge–proof. Recommended!
Rating:- 3.8/5
Have you tried L'Oreal Paris Super Liner Instant Impact Felt Eye Liner Black? DO you like Felt Tip Eye Liner over regular Liquid Liners?