L'Oreal Paris Mat Magique All In One Matte Transforming Powder
Hello Everyone,
I am sure you are already stormed by numerous reviews on L'Oreal Mat Magique Transforming Powder which has been launched by L'Oreal Paris last month but here are my 2 cents on this. I guess this is the first time in past many months that I have seen a drugstore brand actually launching products at drugstore prices because most of the times, they are so heavily priced that I forget I am buying a drugstore stuff. Let's see if this product is any different from other drugstore compacts, L'Oreal Paris Mat Magique All In One Matte Transforming Powder.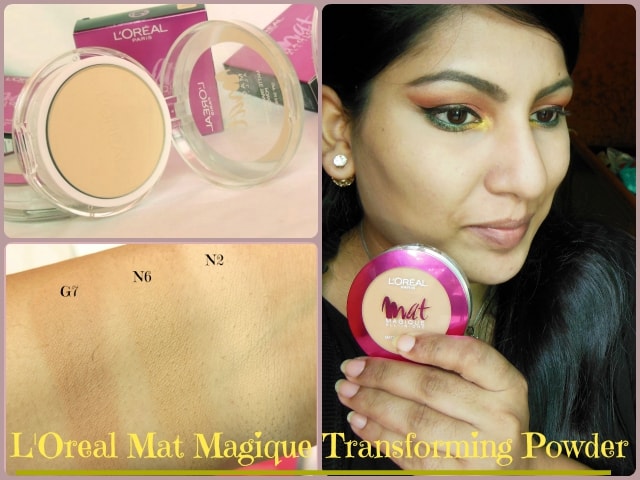 Product Claims: With 5 shades, specially created to suit Indian skin tones, Mat Magique compact blends smoothly into your skin to give an impeccable coverage without looking cakey. At a special price point of just Rs. 399, L'Oréal Paris Mat Magique compact is easy to apply and frees you from touch ups, every time you decide to go out. The new compact from L'Oréal Paris is also enriched with SPF 34 PA+++ to help protect your skin from the sun and make it look blemish free, healthy and radiant all day long. Mat Magique compact – It's the Matte that does it all! Infused with Volcanic Perlite Minerals Mat Magique compact lets you stay shine-free, worry-free,and flawless for 12 hours.
Price:  Rs.399 for 6gms
Shelf Life: 36 months from the Mfg date.
Shades Available:
G1 – Vanilla Ivory
G2 – Golden Ivory
N2 – Nude Vanilla
N6 – Nude Honey
G7 – Golden Amber
Packaging: When it comes to drugstore compacts I haven't seen much of the prettier packaging but L'Oreal Paris has changed the game for this one. L'Oreal Paris Mat Magique Transforming Powder compact comes in a bright fuchsia box which looks so chic. The powder case has a metallic pink border on the transparent lid with L'Oreal is embossed on the powder and I love that there is a round mirror under it with a sponge for emergency applications. One of my favorite packaging's in drugstore compacts so far!
My experience with L'Oreal Paris Mat Magique Transforming Powder:
Shades: I can't complain enough about the unavailability of shades in drugstore compacts but L'Oreal Paris got you this time by launching this beautiful powder in Available in 5 Shades – N1, G1, G2, N6, G7. N6 Nude Honey will be a good match in general for most of the indian skin tones (NC 35-40 ). I am planning to use the lighter shades like N2 Nude vanilla for setting concealer under the eyes for a brightening effect and darker shade like G7 Golden Amber for contouring.
Texture: L'Oreal Paris Mat Magique Transforming compact powder has a silky soft texture which is pressed well in the pan so that not a lot of product is kicked off when used with brush. I am happy to see that it doesn't feel or look powdery like many other drugstore compacts.
Coverage: The powder is decently pigmented so that it gives light coverage to the skin covering mild blemishes, so if you need to dash out of the house in 1 minute just mattify your skin with it and go. Though, it works best when used over a cream/liquid foundation as a setting powder for better coverage and finish.
Formula: L'Oreal Paris Mat Magique Transforming compact has a soft powdery texture which doesn't look uncomfortably matte on skin rather gives a wearable matte finish which works for all. It might not be the best oil controlling compact but I like that it isn't super drying on my dry skin, though my T-zone shows signs of oil in 2-3 hours of application if I am out in heat.
Finish: The powder gives a soft matte finish and doesn't look overtly dry and chalky on face. It doesn't enhances dry patches.. so yayy!!
Don't Miss to Checkout:
L'Oreal Paris Mat Magique Transforming compact is one of the best pick in drugstore compacts and a must have for those sweaty summer days when you can't imagine putting anything creamy ( be it BB or CC cream ) on face. Just roll your brush over the pan and buff the powder into your skin for an instant fix, plus the powder also has SPF 34 and PA+++ which it ideal for day time!
Tip: Use it with a fluffy powder brush when applying over foundation as setting powder. Pick a densely packed brush when using alone for better coverage.
Recommendation:- L'Oreal Paris Mat Magique All In One Transforming Powder makes a superb drugstore compact with pocket friendly price tag and 5 different shades to suit most of the skin tones. The satin soft texture picks up well with a brush and applies nicely on skin without being too dry or chalky (issue with most drugstore compacts). It gives a light coverage and has a good shade range for everyone to choose from. Though it doesn't stand true to its 12hr Oil control in any condition but if you don't mind touch ups, this is the best budget pick. Recommended!
Rating:- 4/5
Don't Miss to Checkout:
Have you tried L'Oreal Paris Mat Magique All In One Matte Transforming Powder? Which is your favorite drugstore Compact?