L'Oreal Paris Infallible Eye Shadow Endless Chocolat 012 Review
Today's review is dedicated to all the "Chocolate addicted makeup lovers", so that you can indulge in chocolates even when you are getting ready for the party and finding it hard to resist chocolate temptation. Let you temptation cave in to L'Oreal Paris Infallible Eye Shadow in Endless Chocolat.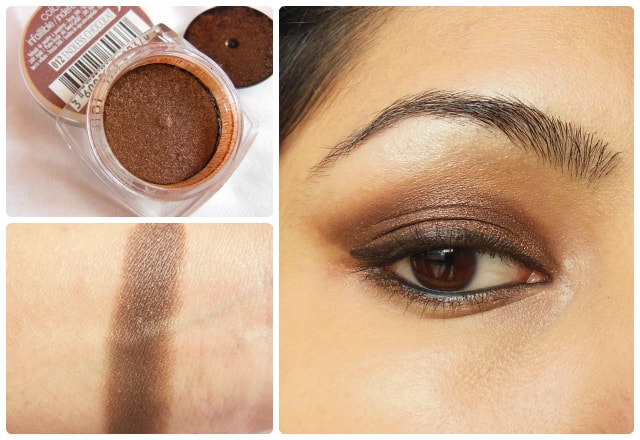 Product Claims:
ENHANCED COLOUR INTENSITY: Infallible Eyeshadows contain an exceptionally high level of colour pigments, for an intense colour finish. Additional binders (oils), coat and magnify the colour pigments revealing beautiful shimmer and maximized colour.
24 HOUR HOLD (CREASE-PROOF AND WATERPROOF): The colour adheres to the eyelid as durably and comfortably as a second skin. The Infallible formula stands up to the average woman's 11,000 blinks per day. It also resists to rubbing, creasing and does not run into the fine lines around the eyes.
A VELVETY, SENSUAL TEXTURE: With a formulation that lies between the comfort of a cream and the ease of application of a powder, Infallible eyeshadow contains an exceptionally high proportion of binders (oils) for the softest, most velvety eyeshadow. The eyeshadow melts gently from the fingertips to the eyelid on application. The result is a rich and satiny look.
Price:- Rs.475 for 3.5gms
Shelf Life:-  30 months  from the Mfg date.
Shades Available:
Endless chocolat
Eternal Black
Permanent Khaki
Burning Black
Hourglass Beige
Forever Pink
Purple Obsession
All Night Blue
Flashback Silver
Packaging:- The eye shadow comes in a see-through glass type plastic packaging with a gray screw cap and a color coded sticker carrying all the information regarding the eye shadow. It also has a black colored plastic separator under the outer screw cap to secure to eye shadow. The transparent bottom and the colored sticker on the lid makes it easy to identify the shade.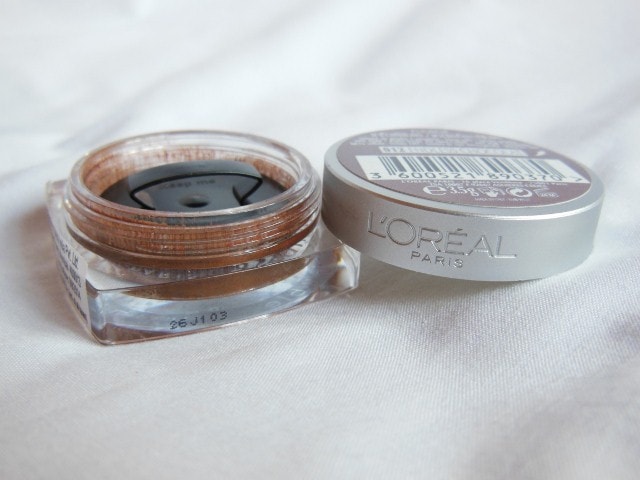 The packaging looks nice but is a bit difficult to use as I need to remove the lid and separator to use the eye shadow.
My experience with L'Oreal Paris Infallible Eye Shadow Endless Chocolat:-
Endless Chocolat is a beautiful dark chocolaty brown shade with hints of bronze and golden shimmer specks scattered in the formula. The shimmers are finely milled and give a soft pearlescent metallic sheen to the eye shadow without looking OTT. The shade can be easily worn as an all over lid colour and will go with all sorts of traditional outfits. It makes a purfecctt shade for Bridal/Festive looks.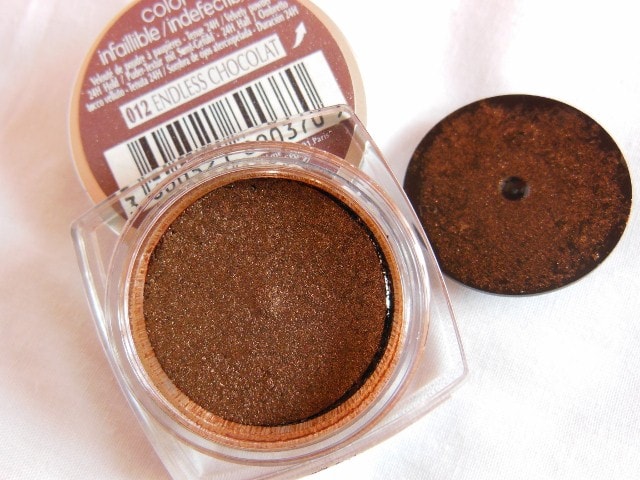 Formula/Texture: The eye shadow feels creamy to touch and has a cushiony soft texture with a silky smooth finish. It is like loose colored pigmented bonded together to form a pressed eye shadow which gets applied as easily as the powder eye shadow giving a super intense rich color pay off.
Color Pay-off: The color pay-off is magnificent as it comes out absolutely opaque with finger tips in a single swipe. Though needs a little bit of work with a brush but its not an issue. It has a buildable pigmentation which can be intensified to rich, dark brown or applied lightly for soft neutral brown eyes depending on your mood ;). The shimmers give it a wearable metallic sheen which adds on to the beauty of the shade.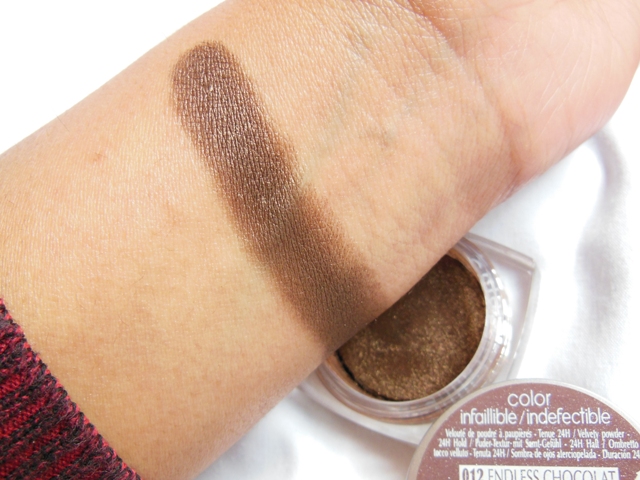 Staying:– The staying power is simply superb as it lasts more than 8 hours and still going strong without showing any signs of creasing, fading. It looks as good as freshly applied even at the end of the day. The glitters stay in place and no fallout or whatsoever post application.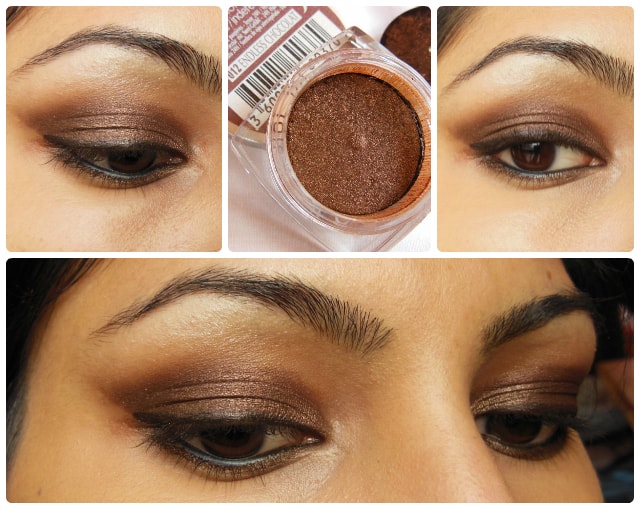 It is a versatile shade and can be used in multiple ways like as all-over lid color, in the outer-crease for the smokey effect, smudging the kohl on lower lash line or applied as a liner using a wet brush.
Don't Miss to Checkout:
Pros of L'Oreal Paris Infallible Eye Shadow Endless Chocolat:-
Velvety smooth texture
Finely milled shimmers
Superb color pay off
Lasts forever on lids
No creasing, fading or smudging
Work for oily lids and without a primer
Blends easily
Buildable pigmentation
Perfect for traditional/festive looks
Lovely packaging
Available in 9 appealing shades.
Cons of L'Oreal Paris Infallible Eye Shadow Endless Chocolat:-
Bit pricey for a single eye shadow but it's worth it
Tiny miny fall-out during application
Doesn't come with applicator or Mirror ( I don't mind that at all.. 🙂 )
Recommendation:- L'Oreal Paris Infallible Eye Shadow Endless Chocolat is a rich bronzy brown chocolaty eye shadow with a soft golden shimmery finish. The shimmers aren't chunky or gritty and are blended well in the formula. It has velvety soft texture with satiny smooth feel just like creamy eye shadows. It is fabulously pigmented and goes opaque even without a primer. It refuses to budge once applied and stays intact whole day. This is my first eye shadow from L'Oreal Infallible range and now I want to try more of these. I am love-struck by this eye shadow, an absolute must-have shade for everyone, Highly recommended!

I really wish L'Oreal Paris to come up with an Eye Shadow palette of these gorgeous Infallible eye shadows keeping the formula same and no doubt it will be one of the best Eye Shadow Palette in India. 🙂
Quick Tips:
To avoid fallout during application: Tap off excess from the brush before applying.
For best application: Either use finger tip or a flat shading brush to pack the color on lids and then use a fluffy brush to blend in the harsh lines.
Rating:- 4.9/5
Have you tried L'Oreal Paris Infallible Eye Shadow Endless Chocolat? Which is your favorite Eye shadow/palette from Indian Drugstore brand?