L'Oreal Paris Color Riche Star Pure Red Lipstick – Pure Garnet
Hello Everyone,
I am sure all of you must be hit the latest buzz in the makeup world are these newly launched Star Pure Reds Lipstick collection by L'Oreal Paris. The collection is full of reds and everyone could easily find a lipstick that looks flattering on her. I have enough red lipsticks with me to last this life time but still my heart start panting heavily whenever I cross a pretty red lipstick.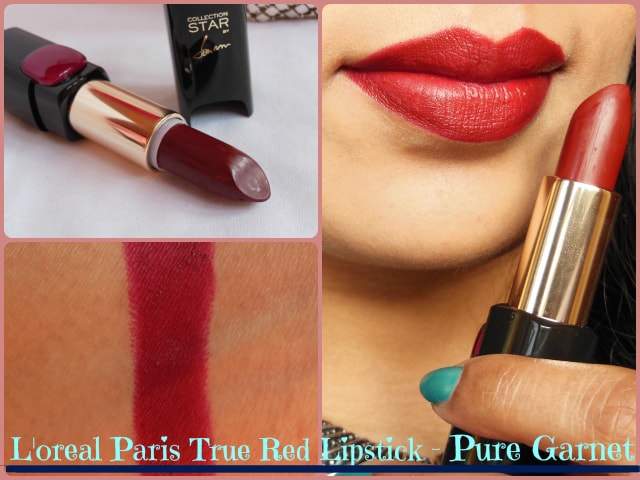 I kept convincing myself that I have enough reds with me but you know.. how this Makeup Magic works.. It overpowers your sense and ability to think and resist!! You have no option but to bow down before the urge of "buying just this one" and that's what happened when I saw these beauties from L'Oreal Paris Color Riche Star Reds Collection.
I wasn't yet over the last Lipstick collection from L'Oreal the L'Oreal Paris Infallible Lipstick from which I have Ravishing Red shade and if that wasn't enough L'Oreal came up with this all red collection to sweep you off your feet. I got to try this deep wine red from the collection sported by the style Icon "Sonam Kapoor", L'oreal Paris Color Riche Star Pure Red Lipstick – Pure Garnet
Product Claims: The Color Riche Pure Reds Collection is created with a revolutionary and innovative formula that delivers bold, luscious colour that lasts for a full 6 hours, making it the ultimate beauty indulgence. The range is enriched with new Light Illum Complex that delivers a rich matte effect. The Velvet Fusion Capsules and Ultra Gliding Shine Oils provide a smooth and silky application. Pure pigments deliver intense colour and Jojoba oil gives perfect hydration upto 4 hours.
Price: Rs. 995 ( I know it hurts)
Shades Available:
Pure Scarletto  – Blake Lively
Pure Fire – Li Bing Bing
Pure Amaranthe – Gong Li's
Pure Rouge – Frieda Pinto
Pure Garnet – Sonam Kapoor
Pure Vermel – Fan BingBing
Pure Brick – Aishwarya Rai
Packaging: L'Oreal Paris Color Riche Star Red lipstick comes in a classy all black glossy packaging, similar to the L'Oreal Color Riche Collection launched during Cannes 2014 but with gold replacing the black. There is a Shade button on the tube which will help you identify the shade on the go. Also, the lipstick packaging carries the signature of the star endorsing the lipstick, which in my case is Sonam Kapoor.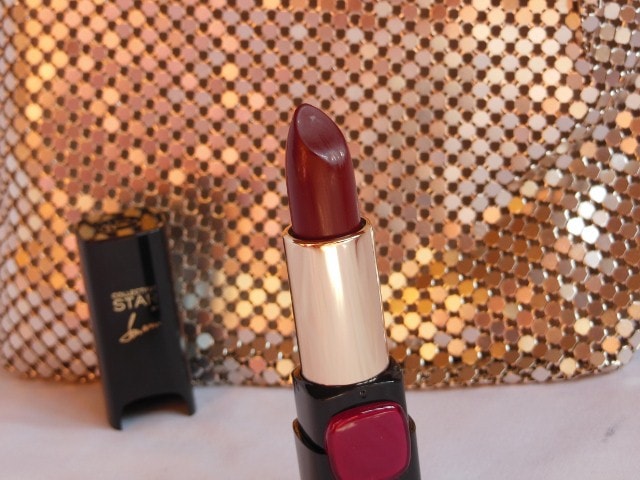 My Experience with L'oreal Paris Color Riche Star Pure Red Lipstick – Pure Garnet:
Shade: Pure Garnet is a deep Berry Red shade with subtle plum undertones. It can be termed as a perfect Wine red shade for Indian skin tones. I was scared to look at it in the bullet but it came up beautifully on the lips, absolutely perfect for winters. The lip color made me feel like diva instantly 😉 . The shade would work for all skin tones but you have to be sure that you need such rich wine red on your lips.
Formula: L'oreal Paris Color Riche Moist Mat lipstick has a super smooth texture which is very unlikely for a matte lipstick. I wouldn't call it creamy but it is extremely light weight and glides on easily across lips with barely any tugging or pulling. I love that this doesn't settle in fine lines or catches lip imperfections unlike other Matte lipstick formula which embarrasses my lips like anything. I can skip on exfoliating and prepping my lips before application and it still gives a smooth even application. The formula is not hydrating but it wasn't drying either, which made it comfortable to wear throughout the day.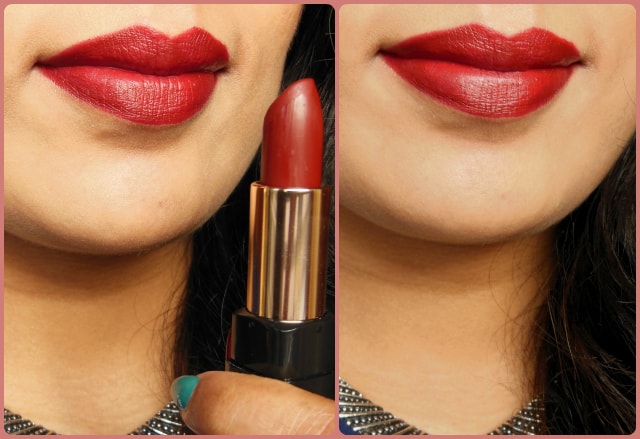 Pigmentation: Pure Garnet has a super rich pigmented formula which delivers intense color in a single swipe. The coverage is absolutely opaque and hides all the lip pigmentation under its color.  The bullet gives an even application but I would suggest using a lip liner to define lips before-hand for a clean and precise application.
Finish: There is barely there sheen when it is freshly applied but wait for few minutes to let the color settle on lips and enjoy that perfect matte finish. It can also be patted with tissue for a flat matte finish instantly.
Staying Power: This is another department where the lipstick outshines its counterparts. The brand claims for 6 hours of stay but I have worn it for around 12 hours (9 am to 9 pm) and it was very much there on lips (more than 80%)  even with lots of munching during the day. The color itself refuses to leave the lips easily and for the rest we have a super staining formula which will need a good makeup remover to take it off the lips.
Don't Miss to Checkout:
Pros of L'oreal Paris Color Riche Star Pure Red Lipstick – Pure Garnet:
Glides easily on lips
Smooth and Even application
Intensely pigmented formula
Comfortable Matte finish
Super long-lasting formula
Sets to a transfer proof finish
Doesn't settle in fine lines
Doesn't dry out the lips
Doesn't emphasize lip imperfections or catches lip flakes
Perfect winter lip shade
Best ever matte formula
Classy Packaging
Collection has 7 drool worthy red shade
Cons of L'oreal Paris Color Riche Star Pure Red Lipstick – Pure Garnet
Heavy on Pocket 😛
With such dark shades using a lip liner would help you achieve a defined lip look.
Recommendation: L'Oreal Paris Color Riche Star Red Lipstick Pure Garnet is a rich wine red shade that will brighten up your complexion instantly. The bullet glides smoothly, painting lips with its rich colored pigmented in a single stroke. It has feathery light texture that feels super comfy on lips and sets to a transfer proof finish within minutes which make you forget that you are actually wearing such a deep shade on lips. L'oreal Paris Color Riche Star Red are perfect matte lipsticks that one could get and  an absolute must have for Red Lovers. If you are a Matte finish freak and still looking a comfortable matte long lasting formula, I am sure these L'Oreal Color Riche True Reds Matte lipsticks would fulfill all your desires. Highly Recommended!
Have you tried L'Oreal Paris Color Riche Star Red Lipsticks? Which is your favourite Red from the Collection?