L'Oreal Paris Color Riche Le Vernis Copper Cuff Review
There are newbie's from Maybelline color show nail color collection, packed with tones of glitters but before I could get my nails on them, I am going to share this beautiful copper toned glittery nail paint from L'Oreal Paris Color Riche collection launched last year in Cannes, L'Oreal Paris Color Riche Le Vernis in Copper Cuff.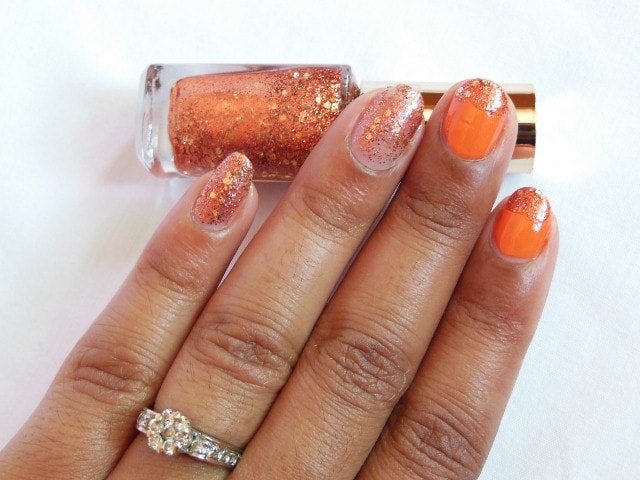 Product Claims:Add a finishing touch to your party look with this '821 Copper Cuff' Color Riche Le Vernis nail enamel from L'Oréal Paris. Long lasting and chip resistant, this nail enamel has ultra-fine ingredients that are combined in a liquid gel base for an excellent finish. What's more, its patented brush will ensure ease of application
Price:- Rs.235 for 5 ml
Packaging:- L'oreal Color Riche Nail Paints come with my favorite brush with curved tip that fits in the contours of nail bed offering a precise application. The simple sleek packaging looks pretty and I loved the golden carton in which the bottle came secured.
My experience with L'Oreal Paris Color Riche Le Vernis Copper Cuff:-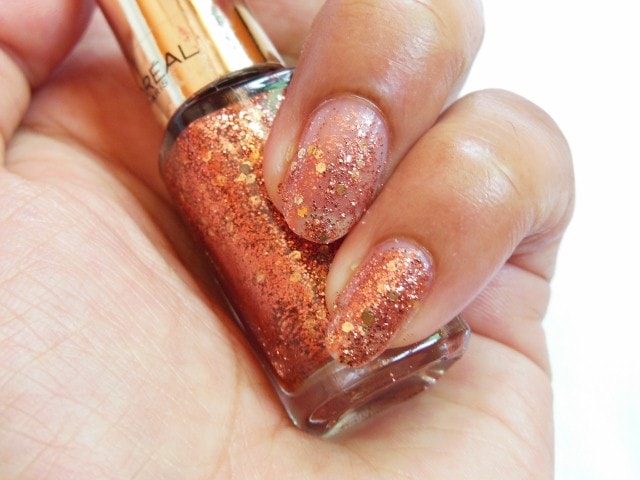 Copper Cuff  is a mix of copper shimmers and golden hexagonal glitter suspended in a clear gel based liquid which gives an intense shimmery effect. It goes sheer in 1st swipe but build up to maximum opacity in 3 coats , just let the prior coat dry up completely before going for a 2nd one which doesn't more than few seconds to dry up completely.
The texture of this nail paint is not thick or gloopy which comes easily on the brush and applied well. The glitter stays in place without much pushing and pulling. The shade looks pretty all by itself provided you apply 2-3 coats of it but I like to use it as a top coat over a Bold Orange Nail Color to add shimmer accent to nail tips.
It adds a glamorous touch to the hands but like other shimmery nail paints , it is quite painful to remove it from the nails
Pros of L'Oreal Paris Color Riche Le Vernis Copper Cuff:-
Gorgeous shimmery copper shade
Can be used alone or as a top coat
Applies evenly
Beautiful packaging
Goes opaque with 2-3 coats
Dries quickly
Stays on well with a top coat
Decently priced
Cons of L'Oreal Paris Color Riche Le Vernis Copper Cuff:-
Chips quickly without top coat
Removal is painful
Recommendation:- L'Oreal Paris Color Riche Le Vernis Copper Cuff is a beautiful sparkling copper nail paint which comes in a luxurious packaging and a brush that fans out and spreads the glitters evenly on the nails. Two thick is all I need to quickly glam up my nails and it doesn't take long to dry up. Highly Recommended! 

This is a limited edition nail lacquer from L'Oreal Paris and there re 3 more in the range I am eying at least two of them… 😉
Rating: 4.5 /5
Have you tried L'Oreal Paris Color Riche Le Vernis Copper Cuff? Do you like such shimmery nail paints alone or over a solid base color?