L'Oreal Paris BoldInGold Collection Lipsticks
I have shared the first look on the new L'Oreal Paris BoldInGold Makeup Collection in my previous post and lot of you guys asked me to do a Lipstick swatches and review. So, today I will be talking about these lipsticks from the L'Oreal Paris BoldInGold collection. L'Oreal Paris Bold in Gold Collection consists of 7 gorgeous lipsticks along with an eyeshadow palette and 2 nail paints. I will reviewing the Eye Shadow palette next but today let's get started with the L'Oreal Paris BoldInGold Lipsticks Review.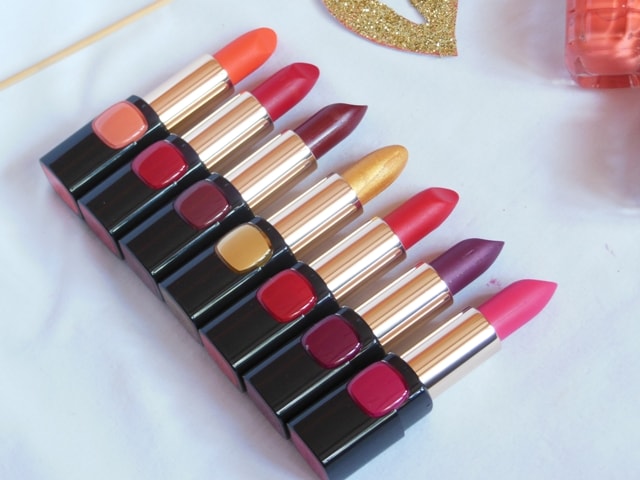 Lip Swatch video coming soon!!
Product Claims: Get Set to be #BoldInGold. L'Oreal Paris introduces the latest beauty trend from Paris – Gold Obsession by Color Riche. Infused with precious 24 carat gold* for illuminated lips. (Note – *Particles coated with 24 carat gold. )
L'Oreal Paris Color Riche Gold Obsession delivers intense moisture while providing a velvet matte finish. It's unique formula contains Jojoba oil for unrivaled moisture and comfort along with matte gel technology to create an intense matte look.
Jojoba Oil keep lips hydrated
Highly pigmented for a rich matte effect
Available in 7 different shades.
Easy to apply and long lasting
Price: Rs 1025
Shades Available:
Rose Gold-Bright rosy pink
Rouge Gold-Bright Orange toned red
Plum Gold-Deep purple
Scarlet Gold– Deeper Blue toned red
Mocha Gold-Deep maroonish red
Coral Gold– Bright Orangey coral
Le Gold-Pure Shimmery Gold
Packaging: L'Oreal Paris BoldInGold Lipsticks comes in a stunning ombre gold black packaging. The packaging is similar to the L'Oreal Color Riche Star Pink Collection Lipsticks but has a different color theme. Each Lipsticks carries the signature of the L'Oreal Paris Ambassador just like the Reds and the Pinks collection from the brand. I am in love with the packaging, absolutely these till date from the brand.
My experience with L'Oreal Paris BoldInGold Lipsticks:
Texture: L'Oreal Paris BoldInGold Lipsticks have a super creamy texture. The lipsticks almost melt like butter on lips. So, you have to be careful during application as they can easily move outside the lips. I will suggest use a lip liner to avoid any bleeding issues.
Formula: As the lipsticks are from the BoldInGold Collection, they do have shimmers in the formula. But the shimmer is very finely milled and barely visible in other shades except the pure gold lipstick Le Gold. Le Gold has visible golden shimmers and I absolutely love the look of it.  Also, the formula is very moisturizing owing to its creamy texture
Pigmentation: The lipsticks are richly pigmented but owing to their super soft buttery texture they might not look opaque in a single swipe. But I love the glossy wet lip look finish they impart. Also, the shimmers in the formula is barely visible on the lips but just a super glossy shine. I am so happy that they don't look frosty or shimmery at all because for that they have crafted this beautiful lip topper Le Gold shade
Staying Power: The lipsticks are prone to transfer so they don't last for more than 3- 4hours. However, you can set them with a powder for a long lasting finish. Also, the dark colors are a little staining so they will stay on lips for longer duration.
Overall, I am in love this collection with such a nice range of colors and that beautiful packaging. I just wish for the formula to be a little less creamy because it slips like crazy. My favorites from the collection are Le GOLD, Rose Gold and Plum Gold!!
Rating: 4/5
Don't Miss to Checkout:
Would you like to try the GOLD from L'Oreal Paris BoldInGold Lipsticks? Which is your favorite shade from the collection?
PS: Product sent by brand for consideration but honest and unbiased opinion!