L'Oreal Infallible Color Riche Eye Shadow – Cosmic Black, 040, Review, Swatches EOTD
Today, I am going to review another eye shadow from L'Oreal Infallible Color Riche collection which was released in L'Oreal Electric collection during Cannes Film Festival, 2013. It is a Limited Edition shade which I bought during a Blog Sale. So, lets checkout this newbie in my eye shadow collection, the L'Oreal Infallible Color Riche Eye Shadow in Cosmic Black.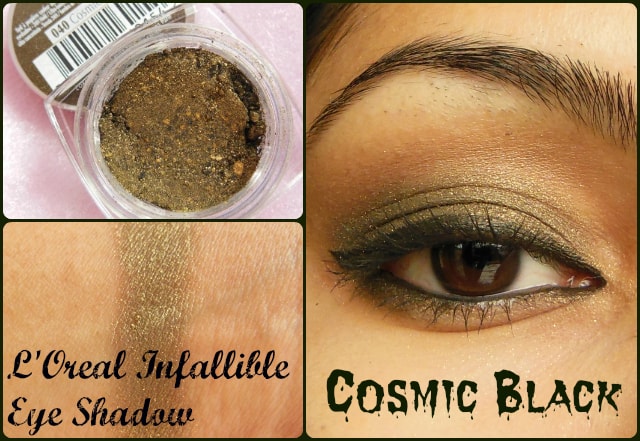 Product Claims:
ENHANCED COLOUR INTENSITY: Infallible Eyeshadows contain an exceptionally high level of colour pigments, for an intense colour finish. Additional binders (oils), coat and magnify the colour pigments revealing beautiful shimmer and maximized colour.
24 HOUR HOLD (CREASE-PROOF AND WATERPROOF): The colour adheres to the eyelid as durably and comfortably as a second skin. The Infallible formula stands up to the average woman's 11,000 blinks per day. It also resists to rubbing, creasing and does not run into the fine lines around the eyes.
A VELVETY, SENSUAL TEXTURE: With a formulation that lies between the comfort of a cream and the ease of application of a powder, Infallible eyeshadow contains an exceptionally high proportion of binders (oils) for the softest, most velvety eyeshadow. The eyeshadow melts gently from the fingertips to the eyelid on application. The result is a rich and satiny look.
Price – Rs.475 for 3.5gms
Shelf Life – 30 months from the Mfg date.
Packaging:– The eye shadow comes in a see-through glass type plastic packaging with a gray screw cap and a color coded sticker carrying all the information regarding the eye shadow. It also has a black colored plastic separator under the outer screw cap to secure to eye shadow. The transparent bottom and the colored sticker on the lid makes it easy to identify the shade.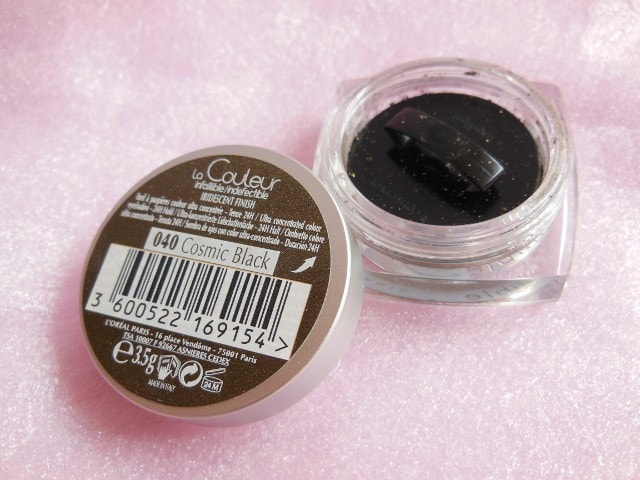 The packaging looks nice but is a bit difficult to use as I need to remove the lid and separator to use the eye shadow
My Experience with L'Oreal Infallible Eye Shadow – Cosmic Black:-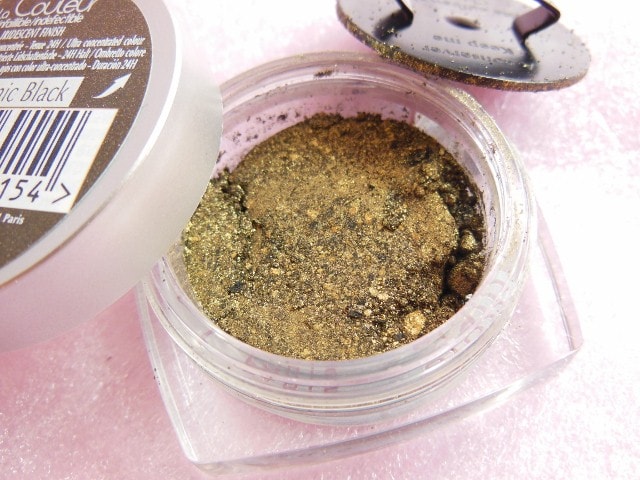 Cosmic Black – Going by the name I imagined it as dark black eye shadow with some shimmers but on the contrary it turned out to be a deep Olive green shade with large chunks of Gold flecks in the pot. The golden part looks massive in the pot, like golden metal has been melted and dropped in the pot. The gold shimmers aren't blended in the formula like the Endless Chocolat but are loosely packed like they are dusted over the olive green base which imparts a mix of metallic shimmery finish on lids.
The texture is super soft and has a velvety smooth feel to it but I find it more close to loose pigments than the powder eye shadows.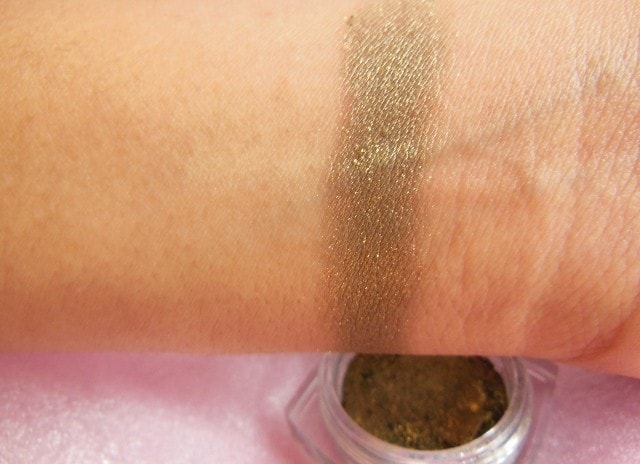 The formula looks pigmented and picks up well with fingers but I have to struggle a bit with brush. I applied it using E55 and it came out really sheer, have to build up the color for the desired intensity to get dark green color saturation on lids but damn… it falls out like anything! My whole under eye area was filled with olive and golden shimmer specks. I tried using it with a wet brush but as soon as the eye shadow starts drying I can see gold shimmers all over my under eye area.
The staying span however is excellent as it doesn't crease even without a base but do fades to somewhat medium olive green shade once all the loose powder and shimmers has fallen out. 😛
Cosmic Black makes a good complete lid color and can be paired with golden eye shadow for a brighter version or paired with a black eye shadow in the Outer-V for smokey eyes. I like such shades to be used on outer lower lash line for a dark smudged effect.
Don't Miss to Checkout:
Pros of L'Oreal Infallible Color Riche Eye Shadow – Cosmic Black:
Beautiful olive green shade
Soft and smooth texture
Decently pigmented
Metallic shimmery finish
Lasts long on my lids with slight fading
Doesn't crease
Best used as loose powder pigment
Easy to identify shade with transparent packaging
Available in number of shades
Cons of L'Oreal Infallible Color Riche Eye Shadow – Cosmic Black:
Color needs to be built up
Lots of shimmery fallout which is hard to clean (Gold shimmers all over the face)
Limited Edition shade
Recommendation: L'Oreal Infallible Color Riche Eye Shadow – Cosmic Black is a versatile blackish Green eye shadow with golden shimmers specks scattered over the olive green base giving it a metallic shimmery finish. It is better used as a loose pigment so mix it with some fixing medium so that it adheres better to the lids and hence less fall out because cleaning the under eye area after application turns out to be a big mess.

Otherwise, it is a fabulous shade with smooth shimmers, soft texture, pigmented formula which blends out easily and can be worn in a number of ways. The color sparkles with gold shimmers and would work out wonderfully with all sorts of looks Indian or western.
Rating:- 3.5/5
Have you tried L'Oreal Infallible Color Riche Eye Shadow – Cosmic Black? Do you prefer presses powder eye shadows or loose pigments?