L'Oreal Color Riche Lipstick – Red Rhapsody Review, Swatches, LOTD
Product Claims: Color Riche lipstick combines luxurious color with lasting hydration for an ultra-glamorous look.  This lipstick has a unique formula of Royal Jelly and Shea Butter to help keep lips smooth and soft all day long. The unique jelly formula melts onto your lips to provide nourishment and replenishment. The saturated pigments provide rich and lasting color to your lips and makes them shine like a gloss.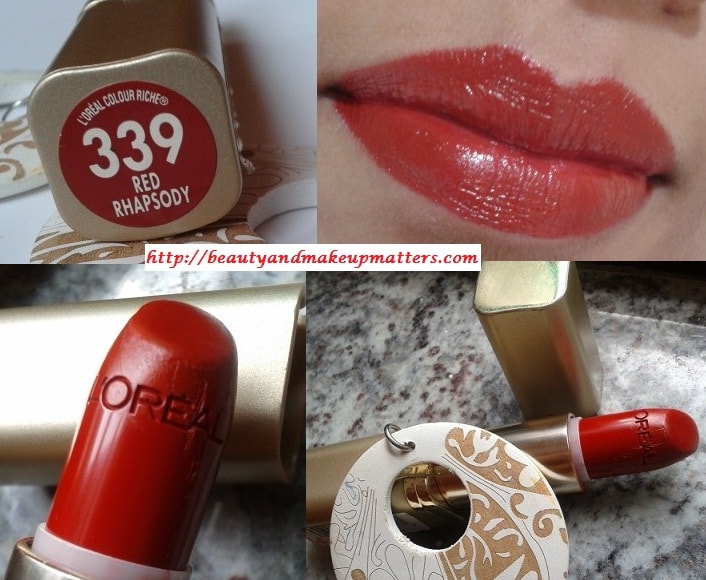 Shades Available:-
Nude
Taffeta
Earth Rose
Pink Lady
Price:- Rs.720 for 3.6gm
Packaging:- I really like the classy packaging of the lipstick. It comes in a squarish beige casing with a golden band in the middle of the tube. The shade of the lipstick is printed at the base of the lipstick. The packaging is sturdy and can easily take falls without breaking.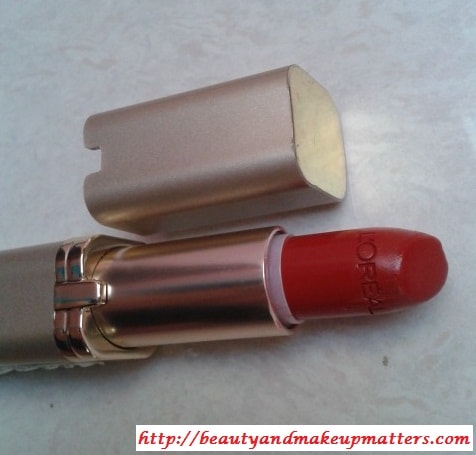 My experience with L'Oreal Color Riche Lipstick – Red Rhapsody:-
Shade:- Red Rhapsody is a rich red shade with subtle Orange undertones. It is a warm red shade which gives a nice deep red color to the lips. It is a plain red shade free from any shimmer or frosts. It gives a nice pop of color on the lips and brightens up my face instantly. You need to go easy with blush and eye make as it adds lost of color on it's own
Texture:-The lipstick is extremely creamy but the bullet won't break from the base. It glides super smoothly over the lips without giving any thick or heavy feel to the lips. It has a buttery texture which feels soft on lips. It is moisturizing to the lips and I don't feel the need of wearing a lip balm underneath.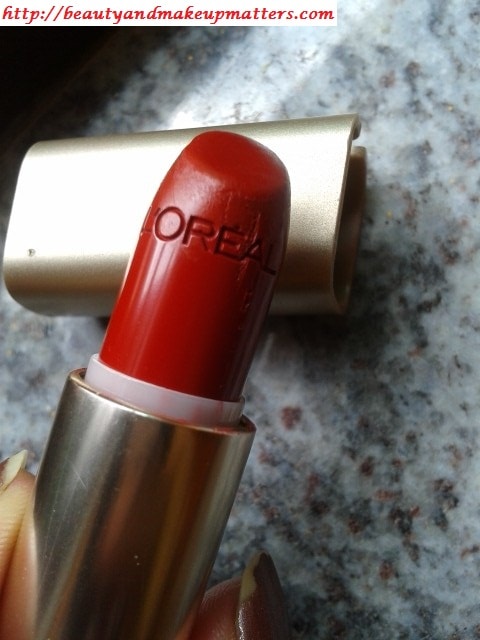 Pigmentation:- The bullet is awesomely pigmented and give a dark red shade in a single swipe. It has a versatile formula and can be worn in many ways. It gives opaque coverage in 2 swipes but the color is very intense that I have to apply it with light hands. Normally I just dab this lipstick over my lips instead of one complete swipe. It can also be worn as a matte shade by patting it lightly with a tissue.
Swatches:- In Natural Light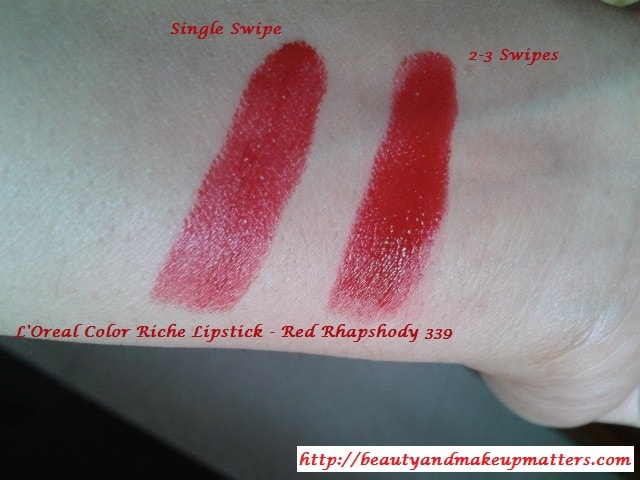 With Flash:-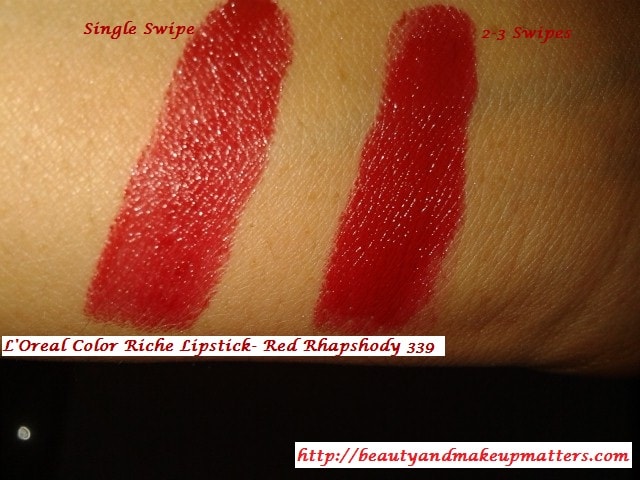 Longetivity:- It's a long wear lipstick and will easily stay for 6-7 hours on lips and survives light snacks as well. It doesn't wear off completely leaving you look washed out in the middle of the party but leaves a beautiful stain on the lips. Due to its soft creamy texture it bleeds slightly so I would suggest going for a lip liner with this.
Don't Miss to Checkout:
Lip Swatches:-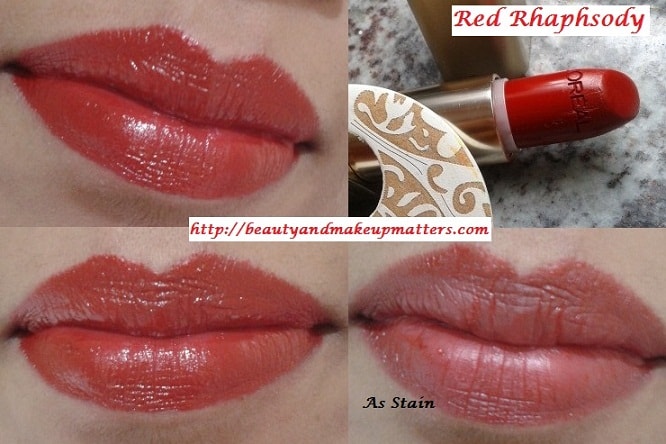 Pros of L'Oreal Color Riche Lipstick – Red Rhapsody:-
Awesome rich red shade
Extremely creamy and glides effortlessly on lips
Long wear lipstick and doesn't leave lips nude after meals or snacks but leaves a beautiful Red tint behind
Intensely pigmented and gives true color in single swipe
Moisturizing to the lips and doesn't settle into fine lines
Has a classy golden packaging.
Available in large number of shades both dark and light.
Cons of L'Oreal Color Riche Lipstick – Red Rhapsody:-
Price is steep but great quality
Smears without lip liner
Recommendation:- L'Oreal Color Riche Lipstick – Red Rhapsody is a rich deep red lip color with orange under tones. It is not a maroon based red which makes you look mature and aunty types but it adds a sophisticated touch to your lips. It is an intensely pigmented, creamy and moisturizing lipstick which doesn't settle into fine lines and is pretty long lasting.

I have fallen in love with its color and would highly recommend this lipstick. Red Rhapsody is a must have shade of Red in your lipstick collection. I haven't explored this brand yet but I am definitely going to get other shades from this range a try.
Rating:-3.8 /5
Have you tried L'Oreal Color Riche Lipstick – Red Rhapsody? Do you like wearing orange toned or pink toned red lip color?