L'Oreal Color Riche Le Kohl  – Portofino Blue, 108 Review
Hello Everyone,
I am a big fan of colored eye liner but after hauling almost all the shades in Faces Long Wear Eye Pencils, it comes to a stall. So, with new beginnings in New year I am going to revive my interest in colored liners and planning to add more shades and formulas like gel/liquid liners to my stash. No points for guessing that I am eyeing those lust worthy Urban Decay Eye Pencils.. yess all of them!
Today I am going to review L'Oreal Color Riche Le Kohl in Portofino Blue which I bought from Riya (MakeupandbeautyVanity) at a great price.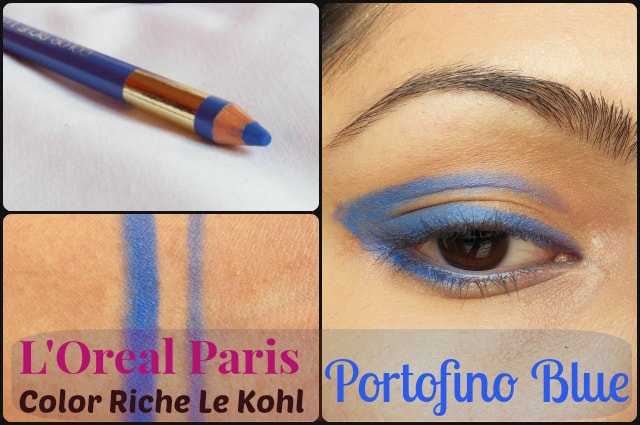 Product Claims: Color Riche Le Kohl softly glides over the eyelid to achieve a long-lasting, precise and intense color result. Seven beautiful and wearable shades.
Water Proof and Long Lasting
 Ophthalmologically tested
Price:- Rs. 375 for 1.6 gms
Shelf Life:-  30 months from the Mfg date.
Available in 6 shades:
Frosted Silver
Urban Grey
Pure Espresso
Deep sea Blue
Icy Capuccino
Midnight Black
Packaging:- The liner comes in a sharpenable pencil for with outer body carrying the shade of the liner and all other details related to the liner engraved in gold. It has a transparent plastic cap which fits nicely and a golden band near the tip for a classy appeal. The packaging is pretty (L'oreal Paris always does that …) and the liner can be easily located with color-coded body.
My Experience with L'Oreal Color Riche Le Kohl  – Portofino Blue:-
Portofino Blue: I read it Portfolio many a times..:P wondering what were in their minds while naming this liner so I googled for what "Portofino" means – An Italian fishing village. Seems like the shade is inspired from hues of water. Portofino Blue is a bright Indigo Blue shade with dominating violet undertones which makes it look more Indigo than blue in matte finish. The liner actually resembles the color that comes when . Ranipal/Ujala fabric whitener is dissolved in water.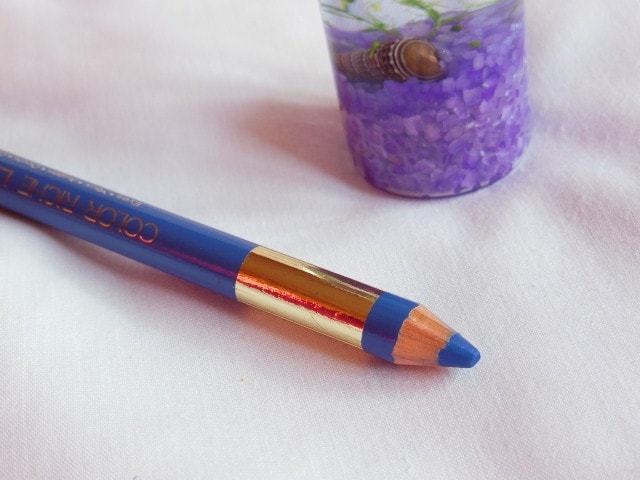 The liner has creamy texture but I feel there is some sort of stickiness that doesn't let the liner glide nicely over my eyes. It tugs slightly on the lids due to that stickiness and have to apply a bit more pressure to get the color transferred from pencil to lids.
The color payoff is average as it looks sheer in single swipe and I have to swipes it 4-5 times to get good enough pigmentation on lids. As it is marketed as a Kohl so I used it on my waterline too, it didn't caused any irritation or burning feel but again color payoff wasn't impressive.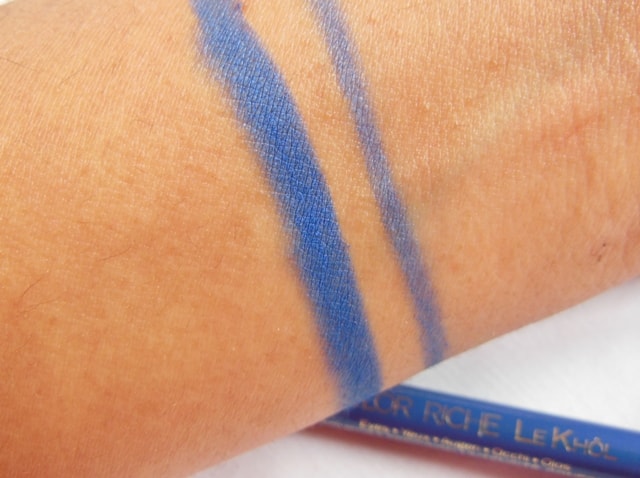 It doesn't sets to smudge-proof finish and smudges easily when fingers are moved lightly over the liner (not rubbed exactly) due to waxy feel in texture. I had this similar feel with Lakme Eyeconic kajal too.
The liner to my surprise lasts pretty long on my lids and transfers only a bit to upper lids. It will last longer on dry lids but keep your hands away from lids as it will smudge easily.
Portofino Blue doesn't only have unusual name but the shade is unique too and can't be easily found across brands. It is a shade that might not be liked by everyone but if you love to do it differently it is for you.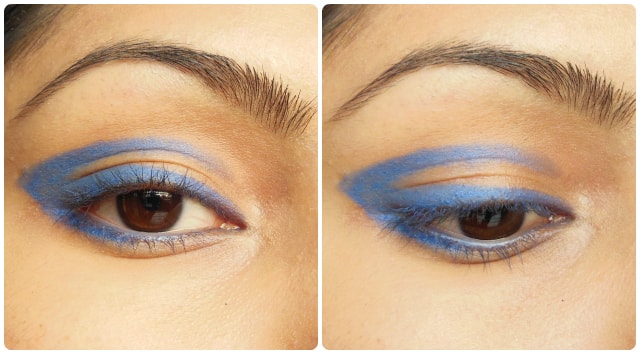 Compared to Other colored Eye Pencils:
Faces Eye Pencils are much smoother, creamier, pigmented and lasts longer of me.
Bourjois Eye Pencil goes on smoothly and doesn't tug on my lids at all.
Pros of L'Oreal Color Riche Le Kohl  – Portofino Blue:
Unique shade of Blue
Matte Finish
Safe to be used on waterline
Doesn't irritate sensitive eyes
Staying power is good
Removes easily
Convenient to use
Beautiful packaging
Cons of L'Oreal Color Riche Le Kohl  – Portofino Blue:
Bit pricey (but other than Lakme newly launched liner all other colored pencils are pricey too)
Doesn't goes on smoothly on lids
Requires 3-4 swipes for good color payoff
Prone to smudging
Recommendation :- L'Oreal Color Riche Le Kohl – Portofino Blue is a bright blue shade with violet undertones in matte finish. The formula is creamy but not super-creamy and has slight waxy feel to it due to which I have to swipe it hard against the lids for good color pay off. I tried to create some eye liner design and the application starts getting patchier with uneven color distribution..,the stickiness in the formula is to be blamed. Unless touched the liner lasts pretty long on the lids with tini- mini bit transfer to socket area on hooded eyes. It can be given a try for its unusual blue shade and the name but formula isn't the best available out there.
Rating: 3.5/5
Have you tried L'Oreal Color Riche Le Kohl  – Portofino Blue? Do you like colored Eye pencils on waterline?