L'occitane Volumizing Conditioner Review:-
I have already shared my experience with the L'occitane Volumizing Shampoo. L'occitane Volumizing Conditioner is another sachet that was sent to me along with the samples box by L'occitane. Can't thank L'occitane enough for introducing me to such a wonderful product. It's like you are being introduced to a new world or being to taken to the fairy land.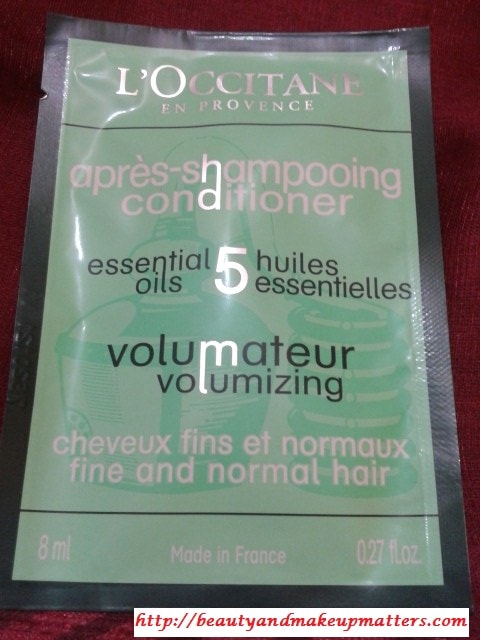 Product Claims: This silicone-free conditioner doesn't weigh down the hair and brings volume, shine, lightness and vitality. The hair is detangled, soft and stronger.
Price:- Rs.1095 for 250ml
Ingredients:-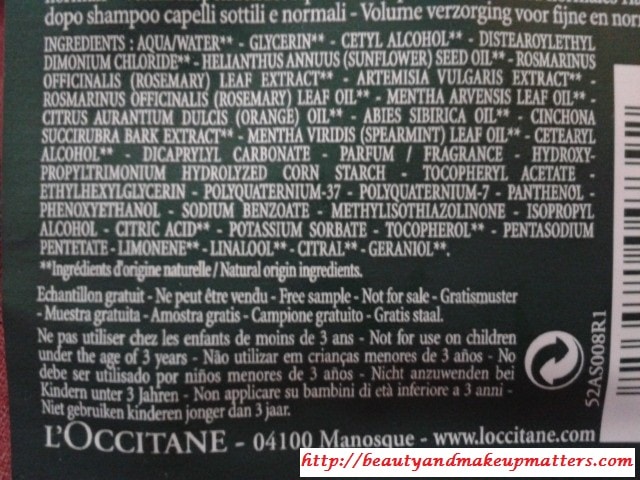 My experience with L'occitane Volumizing Conditioner:-
The conditioner is creamy white in color which goes sheer when spread. The conditioner has a medium consistency and feels light. The conditioner has rich floral minty fragrance which might not be liked by every one. The fragrance is same as that of shampoo. Personally, I feel the fragrance was quite bearable and doesn't bother my nose much. Being an herbal smell I really don't mind if it not that pleasing to my senses. The fragrance strengthens as you pour the conditioner on palms and apply it on hair strands but it lightens and faint away few hours of hair wash.
The sachet looks small and tiny but it easily gave me 3 applications, for my shoulder length hair. The best thing I liked about this conditioner is that it is Silicon free and is enriched with many other natural ingredients. As I have an oily scalp, I wash my hair every 3rd day (or 2nd day) if required. But to take care of my dry hair strands I have to follow with a good conditioner where rich creamy conditioners weigh down my hair and make my scalp oil the very next day of wash and light conditioners doesn't provide enough moisturisation to my dry hairs.
This conditioner is completely different from the ones I have used. It has provided proper nourishment to my hair without making the scalp oily. The bounce it has given to my hair was totally adorable. It was like they were living a dull and lame life till date. You may feel I am over-exaggerating it but believe me I felt so much better than what I am describing.
I don't like the weigh down hairs that make my face look dull and pale but this was like an antidote. I have never loved my hair like this as with this conditioner. My current conditioner Enliven Red Apple & Raspberry conditioner was also working fine but the volume effect was nowhere near this.  I can go on and on on this.. Stopping myself here and coming quickly to the Pros and Cons(are there any !!! :D)
Don't Miss to Checkout:
Swatches:-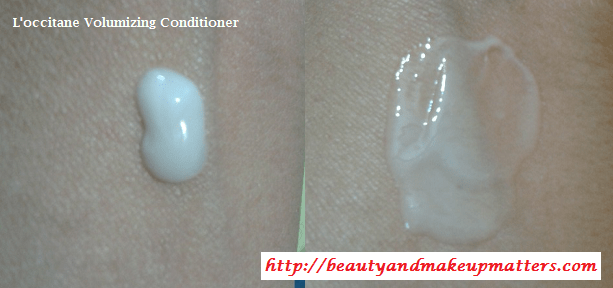 Pros of L'occitane Volumizing Conditioner:-
The conditioner has a light creamy texture and spreads easily
It washes off easily without leaving any traces behind.
Conditions my hair well and gives a healthy look and shine.
Hair feels soft .. soft like feathers yesss.. feathery soft and light
Doesn't cause any hairfall.
Adds Volume and bounce which I totally love. Even if I have used more than the required amount, it does not make my hair greasy. The volume stays pretty long (2 full days on me).
My hair stays good for 2-3 days and doesn't weigh down much even on the 3rd day. However, the scalp starts getting oily by 3rd day but can easily wait for a wash till the next day.
Silicone free conditioner which keeps hair soft without harmful buildup.
Cons of L'occitane Volumizing Conditioner:–
If you are not a big fan of Herbal scents you may not like this conditioner much. But it works well (Really well) on my hair so no issues.
It might not be the best choice for dry and frizzy hair because of it voluminous effect.
Price. L'occitane conditioner is expensive but THE BEST for limp hair.
Recommendation:-  I'm in love with this conditioner. I have used it along with its L'occitane Volumizing Shampoo and both of them together have worked wonders on my hair. I can't describe the way I started feeling for my hair due this hair care range. If you want to add that extra bounce to your hair, choose this one. It will keep your soft and nourished without any harmful chemicals.

The conditioner is Silicone free and contains natural ingredients, so dump those chemical laden conditioners and welcome this herbal beauty. I am going to pick this one on my next visit to L'occitane.. Yippeeee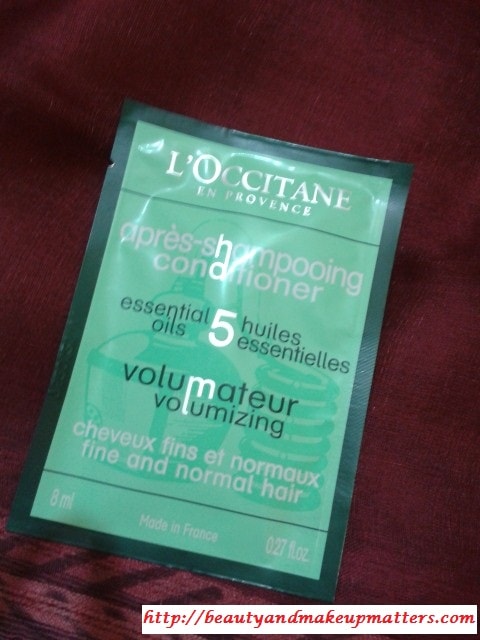 Rating:- 4.8/5
Have you tried L'occitane hair care range? Which one is your favorite conditioner?