L'occitane Repairing Mask Review
Today I am going to review another amazing product from the L'occitane Pack.
You can also check my reviews on:-
Normally, I oil my hair before hair-wash but for the last few times, I have not been able to follow this regime and as a result my hair had become dry and rough. As the texture of my hair is thick and coarse they started looking like a 'hay'. This is when I thought of giving L'occitane Repairing Mask a try which has been lying unused for so many months.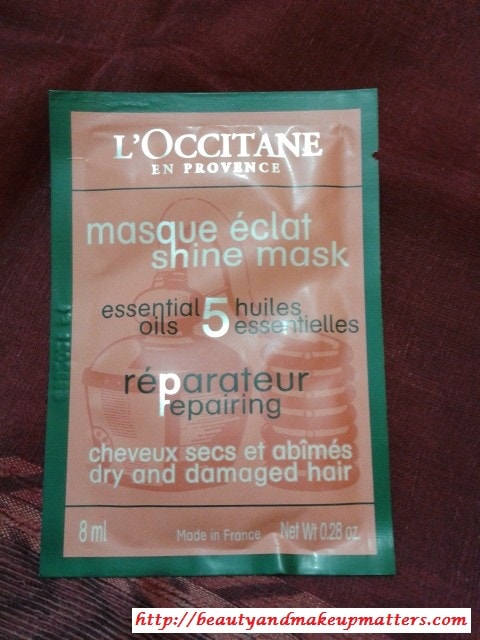 Product Claims: Particularly recommended for color and chemically-treated hair, this hair mask nourishes and deeply restores capillary fiber. Repairing, stimulating and regenerating, it protects against the damaging effects of environmental stresses. This rich and silky cream leaves your hair shiny, soft, and smooth.
Direction for Use:- Apply to towel Dry hair twice a week for 5-10 minutes and then rinse thoroughly.
Ingredients:-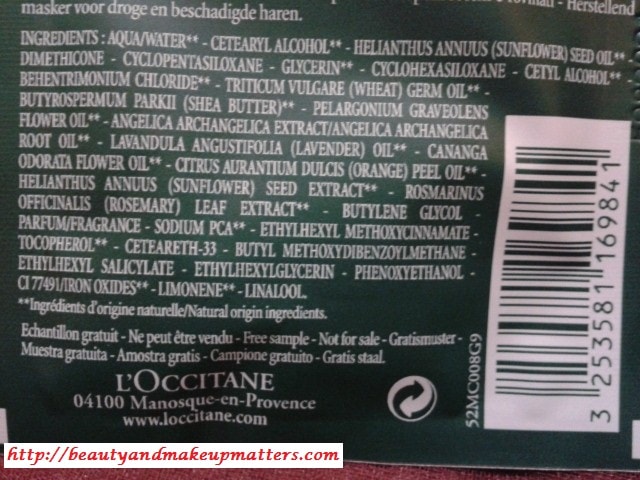 Price:- Rs. 1850 for 250 ml
My experience with L'occitane Repairing Mask:-
L'occitane Repairing Mask has rich creamy texture. The consistency is that of a body lotion which is slightly thick but not runny. I apply this mask over shampooed hair. After shampooing, I make sure to squeeze out the excess water from the hair. In the next step, I squeeze out the mask from the sachet and spread it evenly on the palms and then apply it over my wet hair. I just need a coin sized amount of this mask for my shoulder length hair. The sachet has lasted me about 3-4 application and still there was some left in it.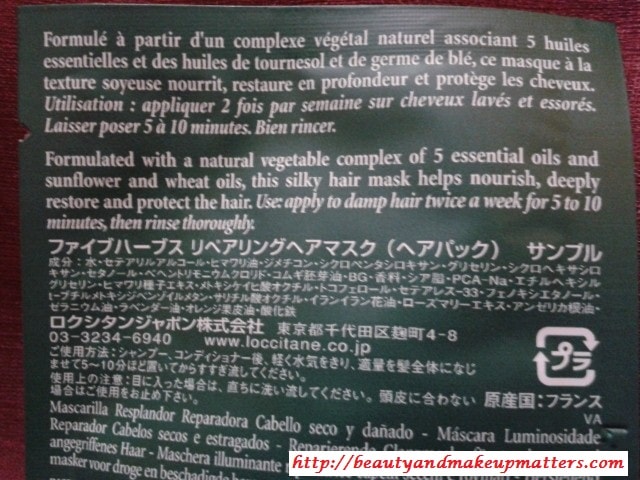 The mask spreads easily as I apply it from the roots to the ends. I leave the mask for 15-20 before rinsing it off.
As you must have noticed, I skipped conditioner and applied mask just after shampooing. I used it in place of a conditioner as it would have lengthened the procedure and also it could have resulted into greasy/oily scalp due to double conditioning. Also, it doesn't mention anywhere in its instructions that it should be followed after a conditioner, so I used it as a conditioner replacement.
It has a mild herbal smell which I am not very fond of but doesn't bother much. It lingers on for few minutes even after rinsing the mask. The mask rinses off easily without leaving any residue behind.
L'occitane Repairing Mask is highly moisturizing and helps in controlling frizz and counters the hair-dryness. It tamed my rough hair to a great extent and made them soft and healthy. It doesn't cause me any hair-fall but added a little volume to my hair. The mask doesn't make my scalp or hair greasy and adds a subtle shine to the hair. My hair which usually weighs down by 3rd day stayed good even after 3 days of wash and the scalp remained oil free.
The L'occitane Repairing Mask is intensively moisturizing and has provided nourishment to my dry and dull hair without making them greasy. It made my hair soft and smooth to touch. It adds a little volume and shine too. All in all, Its is an excellent moisturizing mask.
Swatch:-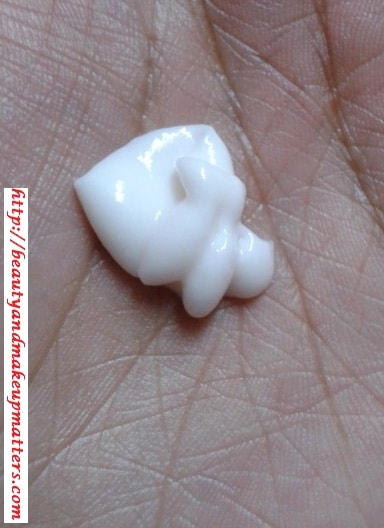 Pros of L'occitane Repairing Mask:-
Only a small amount is required for single application. So, a little goes a long way.
It has a nice creamy consistency which spreads easily.
I use this mask in place of a normal conditioner for extra moisturization and nourishment for my hair.
The mask rinses off easily without leaving any traces behind.
It has a mild essential oil kind herbal smell which is not bothersome.
It provides the required nourishment to my hair and makes them soft.
It controls the dryness and frizziness and makes them look healthy.
It adds a little bounce and shine to my hair which I like.
It left my hair tangle-free and hence less hair-fall.
It doesn't made my hair greasy and they stay in a pretty good condition even after 3 days of hair-wash.
L'occitane is cruelty free as it is against animal testing
Cons of L'occitane Repairing Mask:-
The mask was packed nicely in a sachet but originally comes in a huge jar type packaging. The wide mouth jar is a little unhygienic to use as you to dip your fingers to get the mask out of the jar
It contains Silicons as it mentions Dimethicone in its ingredients list which is not considered good for hair-care but it has lots of other good ingredients in the list. It has made my hair feel and look good, so I can ignore this part.
The price is on the expensive side.
Recommendation:- L'occitane Repairing Mask is like a blessing in disguise for my dull and dry hair. It has conditioned my hair really well and made then healthy with every wash. It has added shine and volume without giving any hairfall. It has a mild herbal scent but it works well on my hair so I have no issues with it.

If you are ready to pay the price then I would suggest you to invest in such a wonderful product. I will reach out to Loccintane Repairing Mask whenever I need heavy conditioning or if I forget to oil my hair before the Hair wash.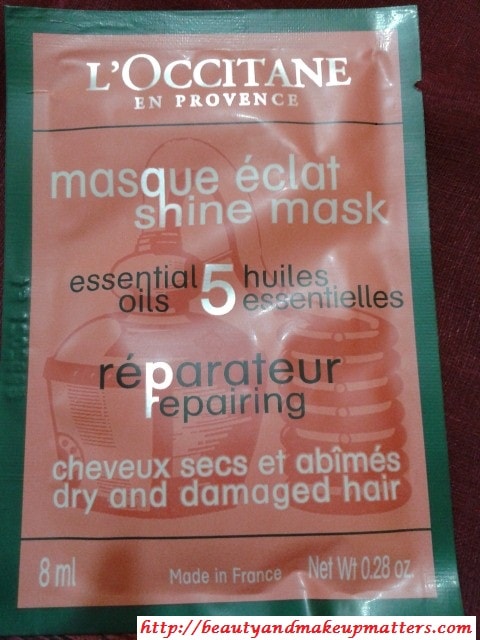 Rating:-4/5
Have you tried Loccintane Repairing Mask? Which is your favorite mask and how do you use it?