L'Occitane Magic Box
Today I will be sharing the most treasured product in my kitty, that too free of cost. 😀 :D. I got to know about this brand L'Occitane (pronounced as "LOX-EE-TAHN" :P) almost an year back and was spell bound by its products with exotic, natural ingredients list. The products come in a drool-worthy packaging's but their sky high prices makes my wallet cry in pain.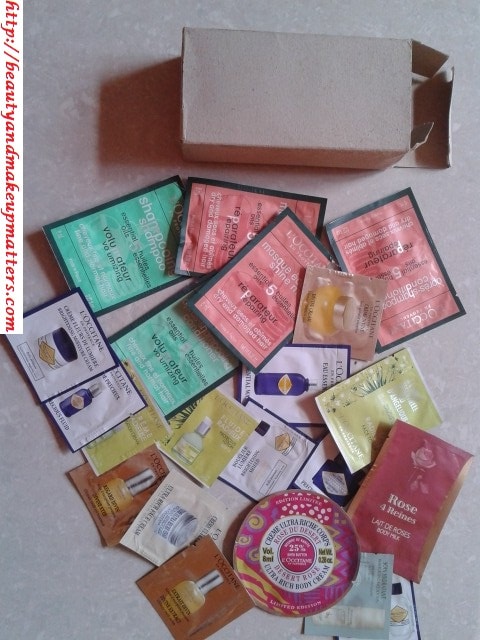 I am not able to afford this luxury skin care at this moment but I contacted L'Occitane through their official website and dropped them a message expressing my love for their products. I have forgotten about my message and L'Occitane but almost after 2-3 week, I received a parcel in a boring brown box packaging. The small box kept me guessing, what's inside as nothing was mentioned on it other than that its L'Occitane!
I jumped with excitement when I spotted L'Occitane samples inside. It was like a Magic Box, filled with such a huge number of L'Occitane Sample Sachets.
I didn't want these to finish so didn't use them for long but then I had to use them some day.
I started with their Hair care range and was totally floored by their results. I have never seen my bubbling with joy, so healthy, lustrous and bouncy. L'Occtiane Volumizing Shampoo, L'Occtiane Volumizing Conditioner and L'Occtiane Repairing Mask has been the best ever hair care range I have used, but their price didn't let me go for them.
I have these tiny skin care samples too and will be giving all of them a shot. It's not often that you get a chance to try such luxury products and then decide which product suits you the best. 😛 😛 .I might not be able to buy these at the moment but I don't  mind preparing a wish list before hand and jotting down my favorites.
Don't Miss to Checkout:
I totally favor luxury brands coming up with samples and let their customers choose what they like the best for them before investing in any of their product with which we can save your money from wasting on something that might not work for us.
Have you received surprise samples from any brand? Would you like to test products with samples before actually buying them?