L'Occitane Immortelle Precious Night Cream Review
Today I will be reviewing one of the most expensive night creams, L'Occitane Immortelle Precious Night Cream from my L'Occitane Samples.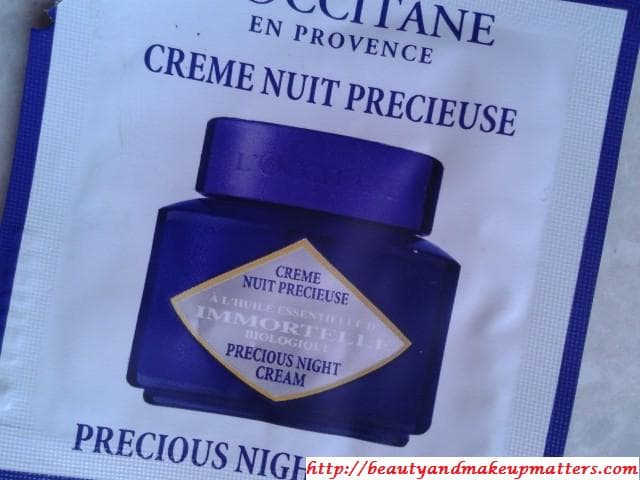 Product Claims: Immortelle Precious Night Cream is a silky smooth, skin-caressing cream that acts during the night to make skin firmer and facilitate skin regeneration. Our triple action formula reinforces the epidermis and fills in deep wrinkles through stimulated collagen production. Ruscus and Holly extracts also help lighten dark areas and relieve puffiness. L'OCCITANE has improved our anti-aging formulations by developing a new Immortelle Cell Extract, covered by a new patent, it boosts the natural occurring mechanisms that aid your skin's ability to correct deep wrinkles and maintain elasticity and smoothness.
Direction for Use:- Apply the rich and nourishing formula in a massaging motion in the evening to clean, dry face and neck.
 Massage with sliding movements all over the face, from nose to cheek and temples, from forehead to temples; then neck.
Gently press on the temples to release tensions
Ingredients:-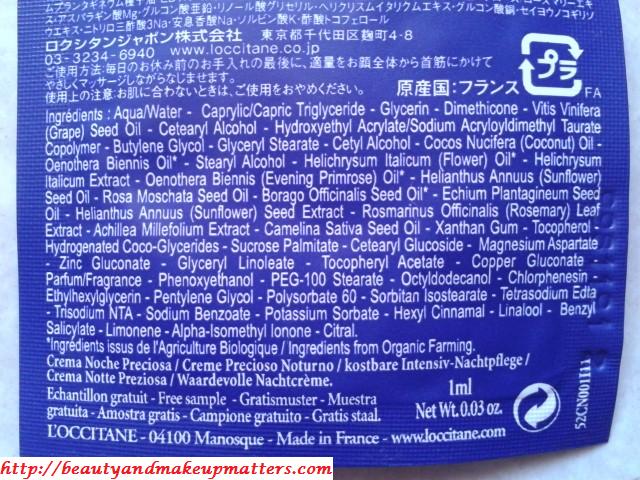 Price:- Rs. 4,650.00 for 50ml
My experience with L'Occitane Immortelle Precious Night Cream:-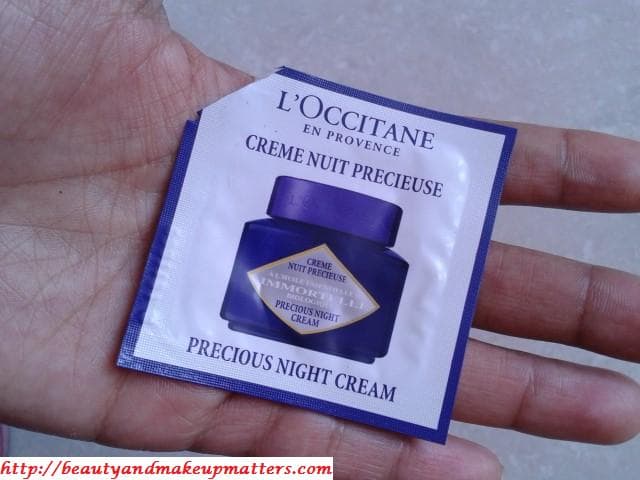 It is white colored cream with a medium thick texture which is just apt to blend smoothly over the skin. It dissolves into the skin with a slight massage or can I a say a few finger touches. It penetrates deep into the skin leaving no hint of oiliness but a healthy luminous shine.
It has a faint herbal floral smell common in all Immortelle products but I didn't like much. Though the smell is mild but it doesn't vanish quickly and lingers on for long. I must say the L'Occitane herbal scents are quite unique compared to any other herbal brands.
Usually, night creams are expected to be heavily moisturizing and Immortelle Precious Night Cream is excellent as a moisturizer but unlike most of the night creams which tends to leave a shiny layer on skin this get absorbed completely without leaving any residue behind. It is extremely nourishing but doesn't feel heavy, unique combination isn't it !
It can used as a makeup base as it is just aptly moisturizing & makes skin soft and smooth to touch .Within a week time it has upgraded my skin texture but I am pretty sure similar results can also be achieved with Home made recipes which are dirt cheap.. (:P just a way to console myself and not to lust for such an expensive night cream.)
I am liking L'Occitane stuff but their sky high prices are just impossible… Wish I own a Oil well in Dubai and then spurgle on L'Occitane.. 😛
Don't Miss to Checkout:
Pros of L'Occitane Immortelle Precious Night Cream:-
Gets absorbed quickly into the skin
Heavily Moisturizing
Doesn't leave any oily layer
Makes skin soft and smooth
Mild herbal scent
Can be easily worn under makeup
Cons of L'Occitane Immortelle Precious Night Cream:-
Do I need to mention the Price 😛
Recommendation:- L'Occitane Immortelle Precious Night Cream is an amazing night cream which repairs your skin while you sleep, but everything comes for a price and this one has an exorbitant price tag. I really liked the way it gets absorbed into my skin. It leaves skin soft and smooth to touch and I can feel the softness even after washing face in the morning. Loved what it did to my skin but not to my pocket!

If you are game for an expensive night cream then grab this beauty but if your pocket cries in pain looking at its price than worry not, grab the slice of your favorite fruit and rub it over your face for a week or so to get similar results!! 🙂
Blended once-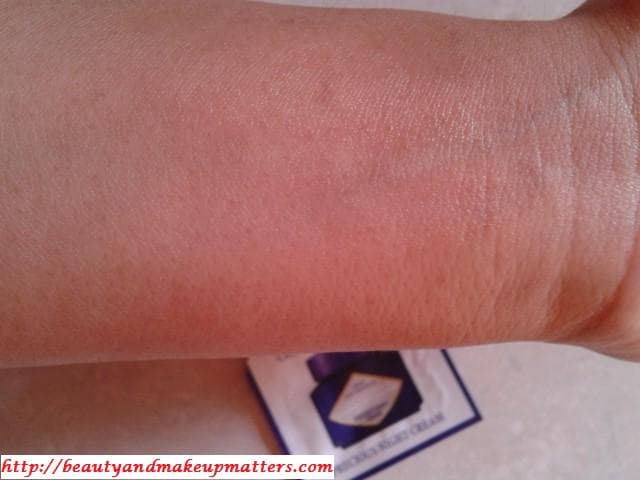 With slight massage-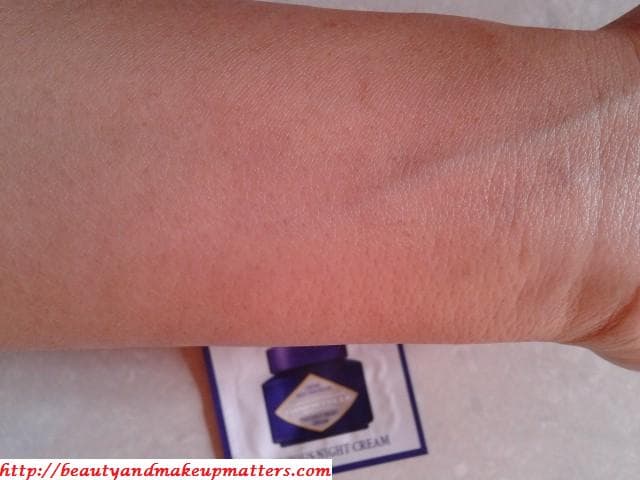 Rating:- 4.5/5
Have you tried L'Occitane Immortelle Precious Night Cream? Which is your favorite night cream?
PS- These samples I have received from L'Occitane but I am not paid for reviews and the review is based on my personal experience. I may update the post with its long term effects, if I ever chose to buy the full version of this product